Chelsea & Mitchell
We at Bula Bride are super partial to an island wedding….after all, it is Fiji! With the unmistakeable backdrop of perfect palm trees, lush grounds and blue skies, we are super excited to share Chelsea & Mitchells dream Fiji wedding at Musket Cove Island Resort.
We catch up with Chelsea:
We met 8 years ago when Mitch had been sent to Adelaide with the Army. I met him through a school friend who was in the Army too and we were introduced to one another at a friend's house.
We chose Fiji because we had always talked about having a destination wedding with only our closest friends and family as guests. Mitch's parents were also married in Fiji so we thought it must be a beautiful place for it.
We read plenty of reviews and also had the help of a Destination Wedding Planner who was able to help us make our decisions. We used Mandi Forrester-Jones from Viva Destination Weddings and Events. She was very helpful and had a lot of knowledge about weddings in Fiji as well as good suggestions for venues and suppliers. As a result we booked Musket Cove Island Resort & Marina.
My bridesmaids and I got ready in our Beachfront Bure. I organised for the resort to bring a light lunch for us during this time, which ended up being a great decision. The groom and groomsmen got ready in the Bure next door, which meant our parents were able to go between the two rooms to help out.
My bridesmaid did our makeup, we made sure to bring makeup which could stand the heat and humidity. We also did each other's hair, we practiced before we left for Fiji with my hairdresser as a teacher.
My dress was by Jack Sullivan. I bought the dress on Still White as it was pre-owned! The Bridesmaids dresses were from Show Me Your Mumu. They were so nice and light in the heat. We also bought barefoot sandals which were great as we didn't have to worry about tripping over or getting sand in our shoes.
The Groom & the guys wore outfits from YD, we wanted to keep them nice and cool so we had linen shirts. They wore boat shoes which we got from Betts, they went really well with the beach theme.
We organised our own welcome gift bags for our guests on arrival to the resort. Some of the items were ordered from Versatile Fiji, which we then distributed into the bags when we arrived.
We got married on the little island under the palm trees. We were so happy with our decision to have our ceremony in this spot, the backdrop is just stunning. The resort staff drove the bridal party over on buggies which was a lot of fun too!
We chose a simple tropical theme to go with the mauve bridesmaid dresses. The set up and the décor at the ceremony was provided Musket Cove. Their wedding co-ordinator Gloria organised everything and the resort staff set everything up as we wanted. Flowers & bouquets were also done by Musket Cove. I requested only white flowers with a lot of greenery, which the resort did so beautifully. I was blown away when I saw my bouquet!
We chose to write some of our own vows, this meant a lot to us. The celebrant said some beautiful words which tied in nicely with our own vows. The ceremony was very brief, which was how we wanted it to be.
Our photographer was Kezia from Ocean Studios Fiji. We chose her because we loved her previous work and she was also very reasonably priced.
We requested mostly candid shots and plenty of shots showing the beautiful Fijian landscape. We are extremely happy with our photos, Kezia captured our day so beautifully. The photos are full of colour and look so natural.
The reception was on the beachfront and was set up so beautifully. It looks amazing with the sunset as a backdrop and then fairy lights for when it gets darker.
The resort provided most of the decor, and set everything up for us. We brought our own wooden laser cut place names, palm leaf placemats and our own cake topper. Everything else was supplied.
Guests had a few hours between the ceremony and the reception. Most guests spent this time at the resort's Island Bar having a few drinks. We chose to have the feast which was part of our wedding package with the resort. There was a huge amount of food placed down the centre of the tables for guests to serve themselves. Our guests loved the selection and there was more than enough for everyone. The resort organised our wedding cake. We asked for a semi-naked style cake and they did an amazing job. The cake was chocolate and all our guests loved it!
We used Rhythm of the Pacific Entertainment as they had a package for DJ/MC and Fijian fire dancers. They did a great job and the performance was a huge highlight of our wedding! At the end of the reception we continued on the celebrations with drinks at the Island Bar with many of our guests.
On the first night we had a "welcome dinner" at Dick's Place Bistro in the resort so that our guests were able to mingle before the day. We also organised a group excursion to Cloud 9 after the wedding day. This was a great day out and a highlight of the trip for many of our guests.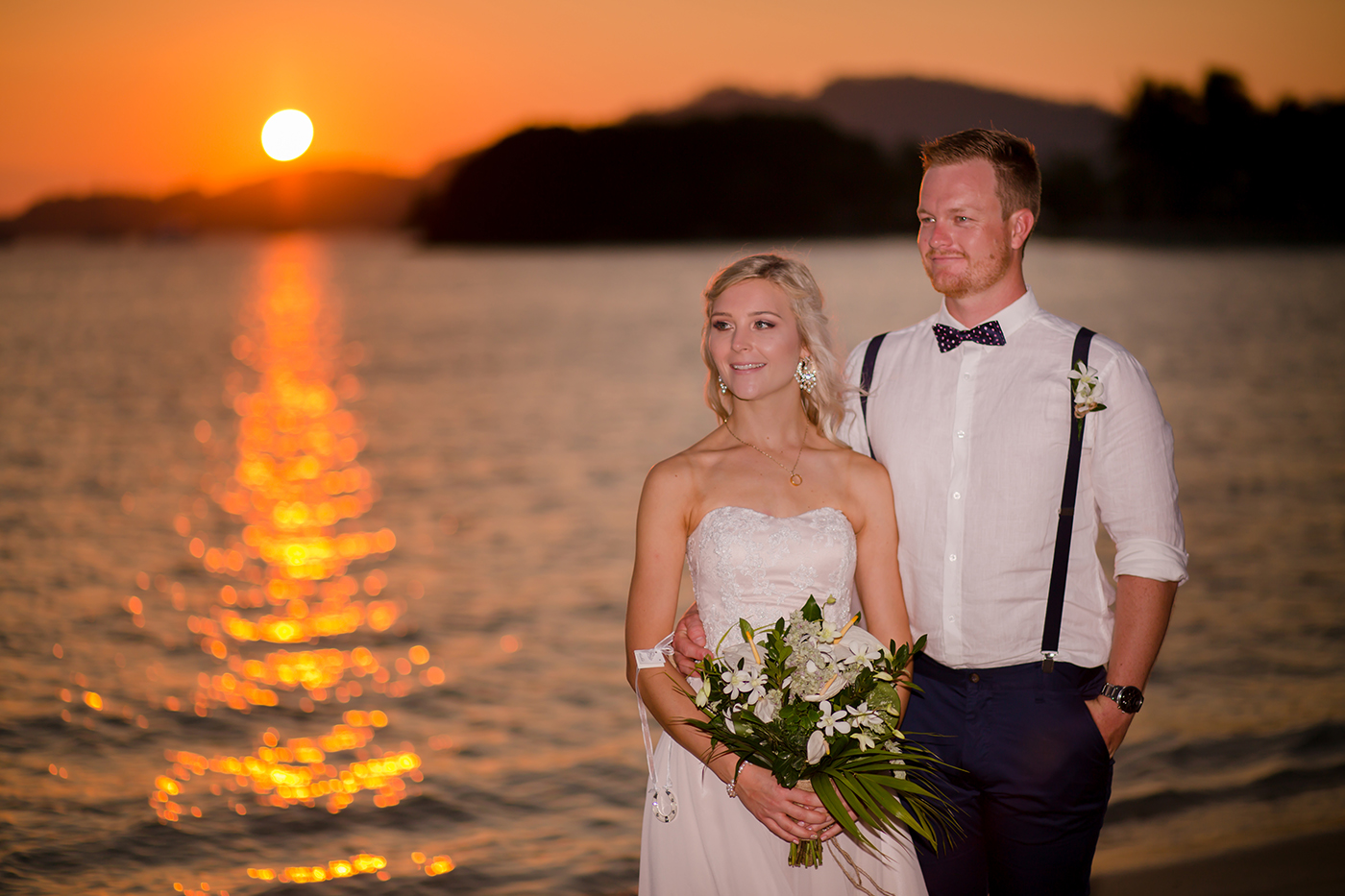 ADVICE FOR BRIDES PLANNING A FIJI WEDDING:
I would recommend using a wedding planner as it takes so much of the stress away. Don't forget that it will be hot while you are standing at the altar so wear something light! Relax and take it as it comes, the Fijians are very experienced and they will make your day amazing!
Fijian warrior escorts walking my Dad and I down the aisle, the amazing weather (I recommend getting married in June), the Fijian fire dance performance, the delicious food and cake