Alesha & Stuart – Sheraton Tokoriki Island
Presenting our first Bula Bride wedding feature with the groom in a kilt! How has it taken this long?!
The unique wedding attire caught our eye and then we were equally impressed by the beautiful sunset images captured by Ocean Studio Fiji at Sheraton Resort & Spa, Tokoriki Island.
Many of you may not be familiar with this resort as it is a fairly new addition to Fiji – opening just a few years back and then reopening again after the resort was devastated by Cyclone Winston. Boasting an upmarket resort situated on the island of Tokoriki, it's not hard to see why Alesha & Stuart choose this location for their wedding. It's easy to get too, has stunning beaches and turquoise water, plus the 5-star Sheraton Resort make wedding dreams come true. We catch up with bride Alesha on what went in to planning her Fiji destination wedding:
BRIDE & GROOM: Alesha Stone & Stuart Davis
THE DATE: 11th of March 2019
THE LOCATION: Sheraton Resort & Spa Tokoriki Island
THE NUMBER OF GUESTS: 12
We met in 2011 at a Birthday party for Stuart's Nephew who was turning 3. We had our first overseas holiday together to Fiji in 2015 and fell in love with the people, the culture and the Fijian life. We felt that returning to the place of that first holiday for our Wedding would be the perfect way to celebrate our union. We chose Sheraton Tokoriki Island because of the proximity to Nadi for guests to travel and the child friendly nature of the resort.
We spent a lot of time selecting where to stay and the logistics of getting everyone there as well as who we wanted for the various aspects. All in all it took about 4 months to organise however the help of our wedding planner Lavenia of Paradise Bride Fiji and the Sheraton staff made the process very simple.
GETTING READY:
We had breakfast together then parted ways, I returned to my room to get ready with the mother of the bride and my sister in law over a few glasses of champagne to settle my nerves!
Stuart and our son got ready together in the father of the grooms room to enjoy a quiet, relaxed beer.
Hair & Make Up: I chose Lodo from Totoka Hair & Make Up. He was simply amazing! Not only was hair and make up spot on, but his fun, spirited and relaxed nature helped to ease the my nerves and made the whole experience very fun and enjoyable for everyone. He definitely helped to make the experience special.
The Bride wore: La Petra, purchased from Wedding Whispers, South Australia
The Groom & the guys wore: Traditional Highland Dress. Stuarts kilt is a full weight Wilson Clan Tartan representing the family, while the Father of the groom and our son wore the Sept colours of Clann Gunn. All were tailor made specifically for the wedding.
THE CEREMONY:
Our ceremony was at the Sheraton Tokoriki Resort who also provided and set up the décor at the ceremony for us. Our flowers & bouquets were organised by Lavenia of Paradise Bride Fiji.
Our original plan was to get married on the beach underneath a floral arch. However on the day, the weather was not on our side and it rained around the ceremony time. Instead, the lovely staff set up our large floral arch on top of a traditional woven mat in the beautiful reception area, with large flower petals up the aisle and chairs on either sides for our guests. It looked absolutely stunning and we both felt the rain was a blessing in disguise as we actually preferred the new ceremony location.
I was running on Fiji time and was fashionably 20 minutes late. I was escorted down the long aisle by my father and three Fijian warriors in traditional dress. I walked past the other guests and staff who were all very excited to be part of the day and trio of serenaders played the music as I walked down, it was very special.
We selected a Fijian celebrant for a service that was short and sweet, but maintained our personal values. He was confident and passionate, absolutely perfect. We delivered our own personalised vows that we had both prepared individually, which expressed our love for one another and our promises for the future. There was not a dry eye in the house!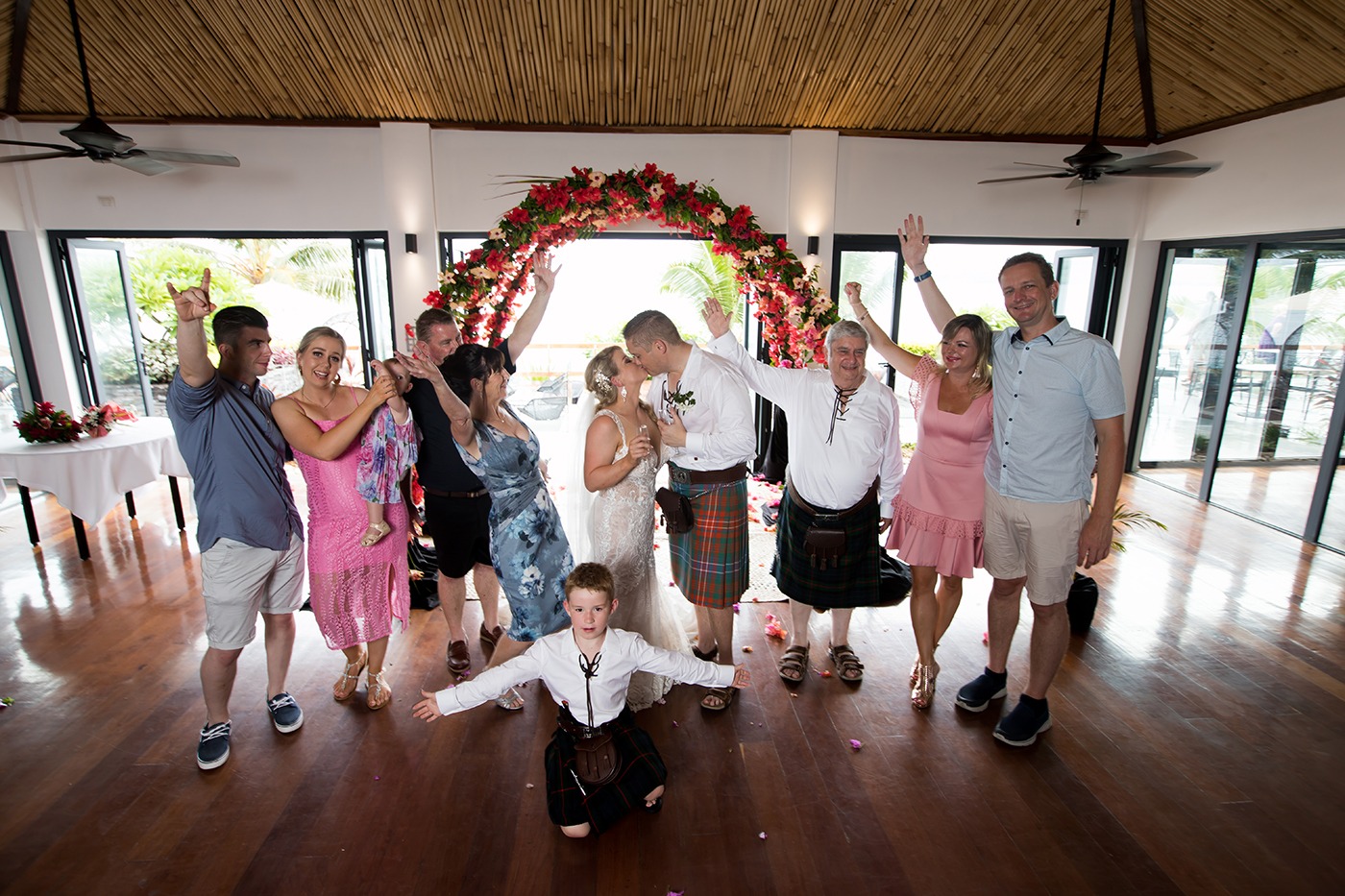 GETTING PHOTOS:
Our photographer was Yoshi Kawai of Ocean Studio Fiji (with special thanks to his assistant Alan). After a great deal of research, we selected Yoshi specifically. His displayed photos demonstrated a great eye for detail and creativity and really captured the essence of peoples day. We felt his photos stood out clearly from other photographers we looked at.
We were looking for romantic style photos which captured both our love and the beauty of Fiji. Thankfully the rain had cleared up by photography time!
The photos we have received are absolutely beautiful. Yoshi managed to catch some candid, natural moments which translate perfectly in print and his creativity with angles and lighting produced some stand out shots. We will have trouble selecting a couple to frame as they are all amazing!
Yoshi and Alan made us feel very comfortable and relaxed with their professional, considerate, helpful and fun attitudes enabling us to feel at ease when posing for our photos, which translated perfectly in our photos.
THE RECEPTION:
The reception location was The Reef Restaurant at Sheraton Tokoriki. We had the restaurant to ourselves with one centre table and everyone sitting together which made us feel like we were the only ones in the resort and the food and beverage staff were simply amazing. They made everything absolutely perfect. Plus our Wedding Planner organised a chocolate mud cake with buttercream icing, it was delicious!
The colours/themes we chose were simple white linens with some decorative flower items in the middle. We were very relaxed about this and enabled the staff and organisers to choose. The table looked beautiful and perfect. Everything was organised by Lavenia Domonakibau of Paradise Bride Fiji and the staff at Sheraton Tokoriki.
We had organised a personalised play list originally. However, upon arrival at the resort we heard the Sheraton entertainer sing and play guitar and knew that he would be perfect! We approached Aminiasi; he gladly agreed to play throughout our reception. Not only did he do this, but he also learnt our first dance song with a perfect, soft Fijian version. He did an amazing job and is very talented!
After the reception, we retired early as we were both exhausted from the emotions of the day. We shared a bottle of champagne on the balcony in our room, while our guests partied on until the early hours of the morning!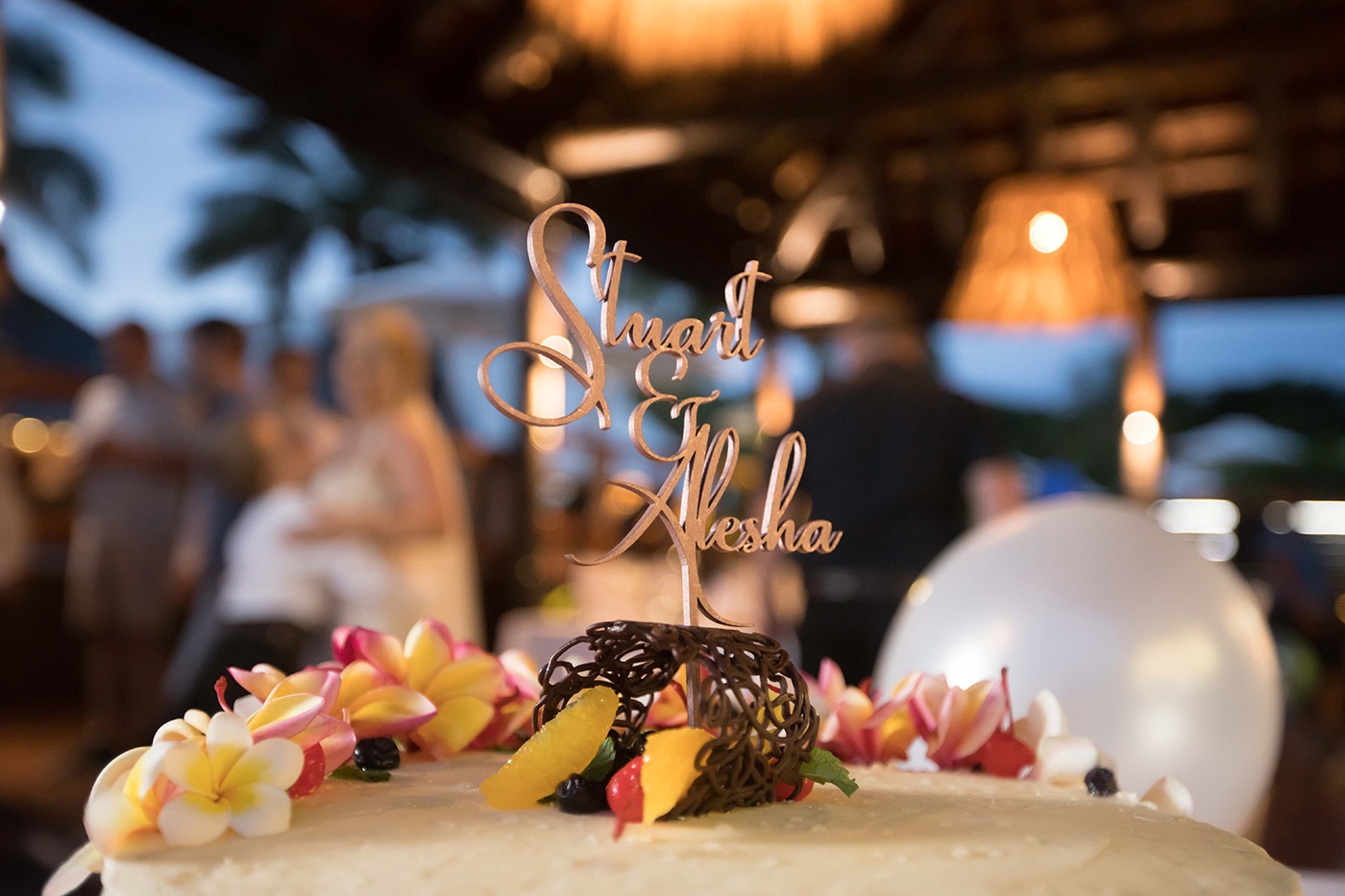 ADVICE FOR BRIDES PLANNING A FIJI WEDDING:
Try not to stress! Everything will work out as it is meant to. Remember that the resorts do weddings all of the time and run things like a well oiled machine, they will ensure your day runs perfectly for you. But also remember why it is you are planning a wedding in Fiji in the first place; usually it is because of the beautiful people, relaxed culture and stunning scenery. Things may run on Fiji time, but that is exactly part of the charm! Be flexible and adaptable. Your day will be perfect, you are marrying the love of your life!
Don't be too fussy on specific flowers and colour scheme. The tropical flowers that are in season at the time will be the most beautiful, trust the locals, they know best!
Lastly, everybody says this, but take a moment to enjoy your day, breath it all in, as it really does pass by so quickly. Even take 20 minutes to sit quietly with your new husband. In between photo shoots, my husband and I went back to our room, put on comfortable clothes and sat together having a glass of champagne for half an hour, it was a perfect way to slow things down a bit and soak it all in.
HIGHLIGHTS OF THE DAY:
It is difficult to pick select moments as the entire day was beautiful, but seeing each other for the first time all dressed up was pretty magical, we both cried. Saying our personalised vows to one another and being pronounced as husband and wife in the presence of our clothes friends, family and lovely Fijian people was pretty amazing and special.
However, there is one moment that was a particular stand out;
Our photographer took us up onto the helipad high up on a hill. (We took a buggy to get there, we got a lot of waves and 'Bulas!'). We had some beautiful pictures taken of us on a cliff side with the ocean and horizon in the background. For 5 minutes only there was the most incredible and unique lighting which our photographer managed to capture; the sun broke through the clouds and shone down across the water. It looked exactly like a beam of moonlight in the middle of the day; pure magic, we've never seen anything like it. We like to think it was our passed loved ones shining down us and wishing us their blessing.