About
Totoka Hair & Make Up – "Totoka" means beautiful in Fijian and this is central to the experience we want to create for you at Totoka Hair & Make Up. We offer mobile Hair & Make Up services and bridal beauty services all over Fiji.
Our team provide a full range of hair services & make up design. With an amazing team of Fiji's leading industry professionals, Totoka Hair & Make Up will ensure you feel fabulous about how you look on your big day. Stylists are trained in a wide variety of the latest techniques, and have experience catering to all ethnicities to produce flawless bridal looks and offer a wide range of bridal beauty services.
Services available:
-Bridal hairstyles
-Make Up
-Henna
-Spray Tans
-Nails
Please get in touch by leaving your details for us to provide more information on our wedding hair & make up services.
Denarau Industrial Park Denarau Island
Q&A WITH LEANNE OF TOTOKA HAIR & MAKE UP FIJI
Tell us a little about your background?
I originally got into hair and makeup in the late 90's after graduating from the Servilles Academy in Auckland. I now own Totoka Hair & Make Up Fiji, comprising of our salon and our specialist Hair & Make Up freelance team.
How did you begin your business?
I've been involved in freelance Hair & Make Up work over the years as I was constantly received a number of requests from people for wedding work, and really enjoyed being part of people's big day. In 2014 I decided to go full steam ahead and create a business focused on providing professional and beautiful hair and make up services here in Fiji. I no longer do weddings myself but have an amazing team of stylists that produce flawless work and we look after Hair & Make Up now for roughly 10 brides and their bridal parties per week.
I'm focused on building Totoka Hair & Make Up into a business known for its good communication, commitment to brides & beautiful hair & make up work on the day. We have an amazing team of stylists that always put in 100% to their work and I'm so proud of what we have achieved thus far.
What do you enjoy the most about what you do?
I enjoy the final moments when it all comes together, the lippy is applied, the veil goes in, the earrings go on and the bride looks in the mirror and sees herself looking incredible. I also love the moments between parents and their daughters when they see their baby all 'grown up'….so special!!!! It usually brings tears to my eyes I must admit.
Favourite location for a Fiji Wedding?
Everywhere in Fiji is beautiful and we are lucky to be able to visit some amazing weddings all around Fiji. I don't think I've had a bride yet that has been disappointed with her location which is fantastic.
Your favourite wedding you have worked on so far and why?
I can't narrow it down but I do love elopements. Often the bride will book me personally and has chosen a resort on some amazing location, and you get the opportunity to be a very special part of the day as they rarely have friends or family around, so you end up helping with everything! I've laced dresses, put on shoes, taken cakes in boats and done all sorts of things!
Favourite place to visit in Fiji?
Currently the Yasawas and from my glimpse of Taveuni that was gorgeous also. My personal fave to relax and spend time is Tropica Island Resort on Malolo Island – bliss!
Favourite Love Song?
It would have to be 'All My Life' by KC & JoJo which is what my husband and I got married too back in the day!
3 things you can't live without?
My kids, lip balm & nicely coloured hair.
Top tip for Bride & Groom on their day?
Relax and enjoy it! And make the day special, have a glass of nice bubbles, eat a delicious lunch, share some moments with your bridesmaids and enjoy being turned into an enhanced version of your usually beautiful self.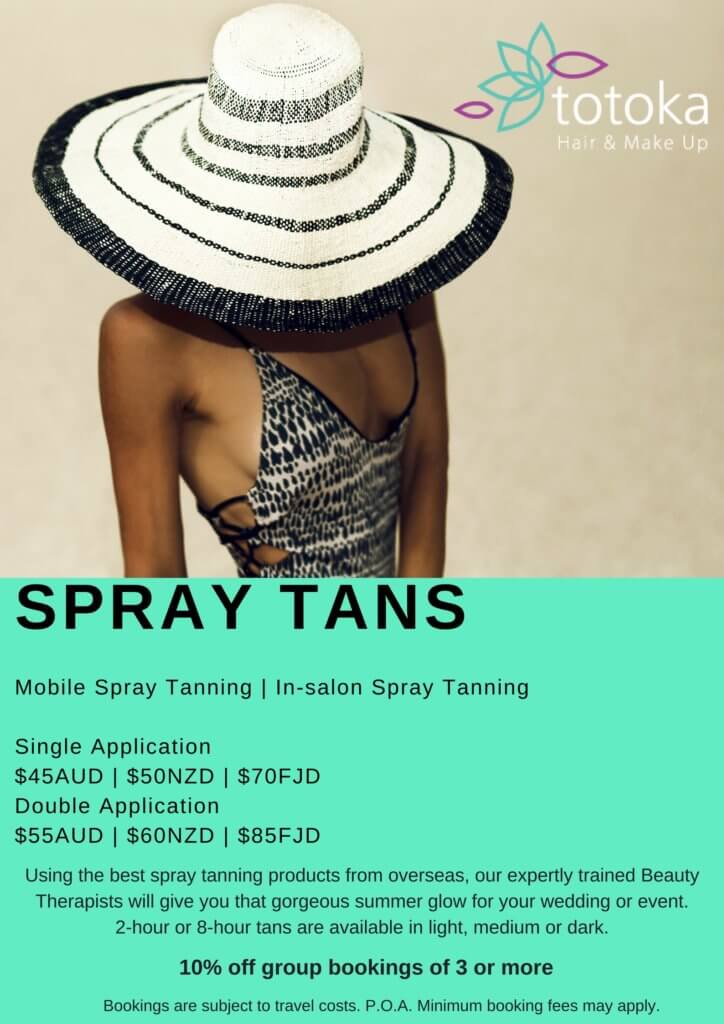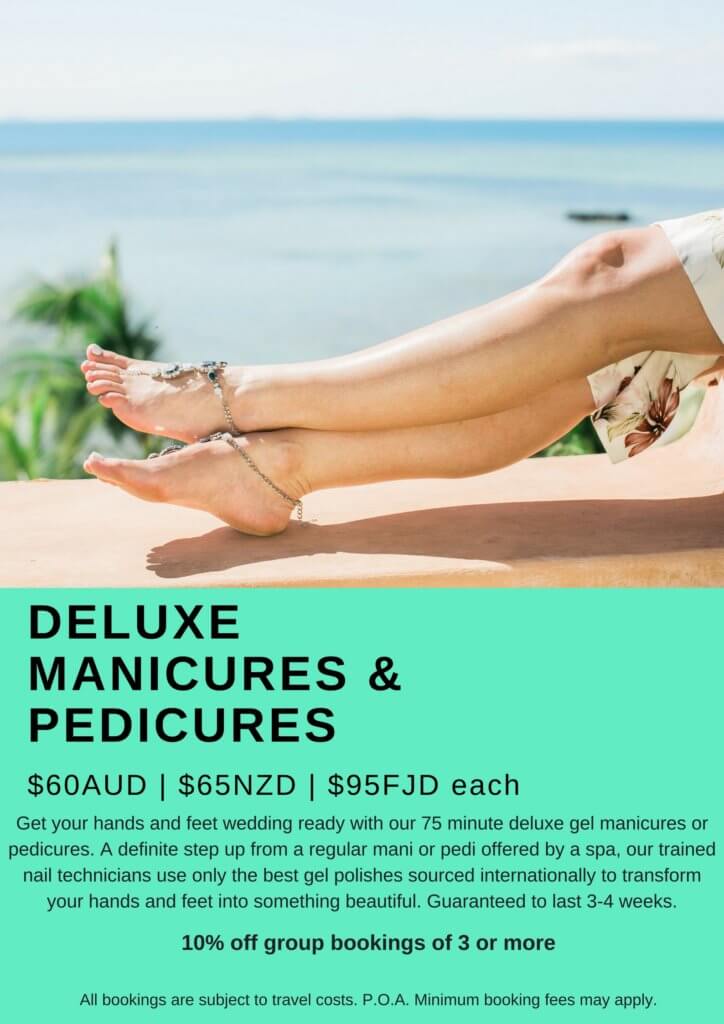 View our spray tan information here: