Tennille & Conor – InterContinental Wedding
At the end of September last year, a month that is usually warm and dry in Fiji, Tennille and Conor were instead delivered a rather wet day. They chose to embrace the rain and elected to continue with their ceremony outside at a spot on the lawn they had handpicked as the perfect place to say their vows. The colour of the skies didn't affect their joy at getting married, and as they promised to love each other forever they also got ready to reveal a special secret to their guests later on in the day.
We catch up with Bride Tennille to get the details on her destination wedding in Fiji:
BRIDE & GROOMS NAME: Tennille & Conor Murray
THE DATE: Sunday 30th September 2018
THE LOCATION: The InterContinental Fiji Golf Resort & Spa
THE NUMBER OF GUESTS: 146
Conor was raised in Sydney, NSW Australia and I was raised in Goroka, Papua New Guinea, we are both half Papua-New Guinean. Conor and I met back many years ago when we were teenagers, when he and his family were visiting family in Goroka, but nothing ever amounted of us being together. We fell out of contact until we were both in our early 20's when we met again at his cousins 21st birthday party. Conor went on to live in the UK for 2 years and I went on to study Interior Design in Brisbane, Australia. It was only by chance that we got back into contact again after a couple of years when Conor sent me a message via Facebook. It makes me laugh thinking about it now and how easily it could have been to not keep in touch at all. 6 and a 1/2 years later and after the arrival of our beautiful baby boy Cillian (pronounced Kill-Ian), Conor asked me to marry him on a secluded beach on a drizzly summers' day in southern NSW Australia. It was absolutely magical.
We both had visited Fiji several times and fell in love with the culture and the people as it reminded us both a lot of Papua New Guinea
We chose The InterContinental Fiji Golf Resort & Spa after spending the day playing golf and relaxing on the beautiful Natadola Beach. It made sense for us to have it at a location where all our guests could stay in one location but with enough space to spread out and enjoy their holiday as well as catching up with friends when it suited them. The InterContinental Fiji Golf Resort & Spa was perfect for that.
We did a lot of internet searches and reading up on wedding blogs such as Bula Bride. I also visited a wedding expo in Brisbane when I was in Australia. Pinterest was also my best friend leading up to the wedding. We only used the resort's wedding planner team, everything else was sourced and organised by me. Living in Papua New Guinea it made it very difficult to tie things together with such poor internet and phone connections on our end due to hush heavy rainfall but with perseverance we succeeded.
Video: Phoebe Galloway Films
Photos: Kamacatchme
GETTING READY:
Conor and I spent the morning with friends having a lazy breakfast and just hanging out. We then went our separate ways to slowly get ready for the afternoon. Us ladies had the Orchard Room at the spa to hang out and relax while sipping fresh coconuts and champagne and listening to music while the guys spent a few hours at the pool swimming with our son Cillian after breakfast. Conor then put Cillian down for a sleep while the boys started to get ready.
Our hair & make up done by Totoka Hair & Make Up – the ladies at Totoka were amazing and I couldn't be happier with how it all turned out.
My dress and cape were a Pronovias design which is available at Brides by Francesca out of Sydney Australia.
The Bridesmaids dresses were from Bianca Spender
The Groom & the guys wore a custom design from Brent Wilson
We had all our wedding party gifts made at Kara Jewellers from Papua New Guinea. We got my bridesmaids beautiful Pacific pearl earrings and my sister who was my maid of honour a pearl ring. The earrings and ring were all set in yellow gold. We got the groomsmen and both our fathers custom made individual white gold tie clips. Each tie clip had individual Papua New Guinean designs to suit each person.
Conor and I decided not to give each other gifts on the day of the wedding but instead to write each other letters to say the things we wanted to say to each other that weren't in our wedding vows.
THE CEREMONY:
Our location was The Navo Restaurant Lawn at the resort. We kept it very simple and natural. We wanted the setup for the ceremony to be simple as we thought the location and the backdrop of the view of the ocean was a beautiful feature of its own.
I wanted a clear Perspex box as our "welcome" sign along with a flat large frosted Perspex sheet for the "seating plan" for the reception and small clear Perspex sheets for table numbers. I had such a hard time trying to source someone in Fiji who could make what I wanted. After months of having absolutely no luck, I contacted Bula Bride for some help, and they put me onto Grace Creations Fiji who said they would be happy to make what I wanted and had envisioned.
The set up the décor at the ceremony was done by our amazing wedding planner Sue and her team at The InterContinental Fiji Golf Resort & Spa & Grace Creations.
Flowers & bouquets were by Grace Creations Fiji. We opted for a floor flower arrangement with tropical white flowers and greenery. We also had two floor arrangements with the same tropical flowers for the beginning of the aisle.
We wanted it to be a short ceremony that had a relaxed feel about it. We chose to write our own vows and in doing so we had a lot of tears and laughter. The whole ceremony was very emotional as we included our baby boy in a lot of it.
The day itself started off beautifully with sunshine and minimal wind but by the time 2'oclock rolled around, the weather had completely changed. It was now windy and raining. We had a wet weather back up plan but where we had decided to get married was so beautiful that Conor and I both made the decision to keep the ceremony outside without even discussing it with each other. I said to the wedding planner as she asked me for the final time about moving the ceremony inside that I said "the rain doesn't bother me so if Conor is still willing so am I" which is what Conor said to her also.
I don't know if the gods were looking out for us or by just some stroke of absolute luck that 10mins before I walked down the aisle, the rain had completely eased off and the wind had died down and when it came time for me to walk down the aisle, it was only drizzling ever so slightly which to my surprise made our ceremony feel very intimate. There was a certain feel of serenity and stillness in the air that made it all seem so peaceful and calming.
GETTING PHOTOS:
Our photographers were Kama Catch Me. I have been a fan of their photography for many years and thought that if we were to ever get married that we would have to have them, even if it meant we flew them overseas but as they are based in Fiji it worked out perfectly.
Conor and I cannot pose for photos to save our lives, either my eyes are closed, his eyes are closed, or both of our eyes will be closed so we wanted photos that weren't too set up and captured us as we went about our day intereacting with each other, our son and our guests.
Both Ropate & Faith captured our day so beautifully and made Conor and me feel so comfortable and relaxed and Gitte edited our photos beautifully. We couldn't be happier with how all our photos turned out.
OUR WEDDING VIDEO
Our videographer was Phoebe from Phoebe Galloway Films. I first came to know about Phoebe Galloway Films after she did the video for Conor's cousins wedding the previous year. After months of research I just couldn't go past Phoebe and her style. As she is based in Australia we asked if she would be willing to fly to Fiji to shoot our wedding and she didn't hesitate.
Phoebe asked for a couple of songs that we thought would be great for the video which we gave her but, in the end, we said to her that we were happy with whatever song from the list she thought would be best suited for the vibe of our video and of the day and she absolutely nailed it on the first go. We are so pleased with how our video turned out and wouldn't have changed anything
THE RECEPTION:
Our reception was at The Navo Restaurant at the resort.
Our reception had a bit more colour as we wanted to have a bright statement which we did with orange and pink bougainvillea for our table arrangements. The arrangements were long down the centre of each the tables. We had white linen table clothes and white chair covers which made the flowers stand out beautifully. We also had bougainvillea designed on the wooden features throughout the restaurant set along aside different glass vases with candles. Our wedding favours were all individually hand made by Annie's Pottery from Papua New Guinea. I told her what I wanted, and she knew exactly what I had imagined. We had small ceramic coffee mugs made for each guest featuring a Papua New Guinea's traditional design, 5 different designs in total.
Sue and her team at the resort set up the tables, our guest favours and our guests name tags while the flowers and signs were set up by Grace Creations Fiji.
For cocktail hour we had cold & hot canapés along with cocktails, beers, wines and champagne. The dinner menu were plated options, and the cocktails, beers, wines and champagne flowed freely throughout the night.
We chose a three-tier naked wedding cake that was a white chocolate mud cake with white chocolate butter icing. Decorated with bougainvillea on each of the tiers. The resorts pastry chef made our wedding cake. We decided not to serve the wedding cake at the reception but instead to serve it around the pool with all our guests the following day.
DJ Works Fiji did all our music. It was very important to us to have our own playlists which DJ Works were more than happy to play. We had fire dancers which gave our guests who had never been to Fiji before a taste of the culture. After we had our last song we moved to the Kama Lounge at the resorts main cocktail bar to continue on with the celebrations.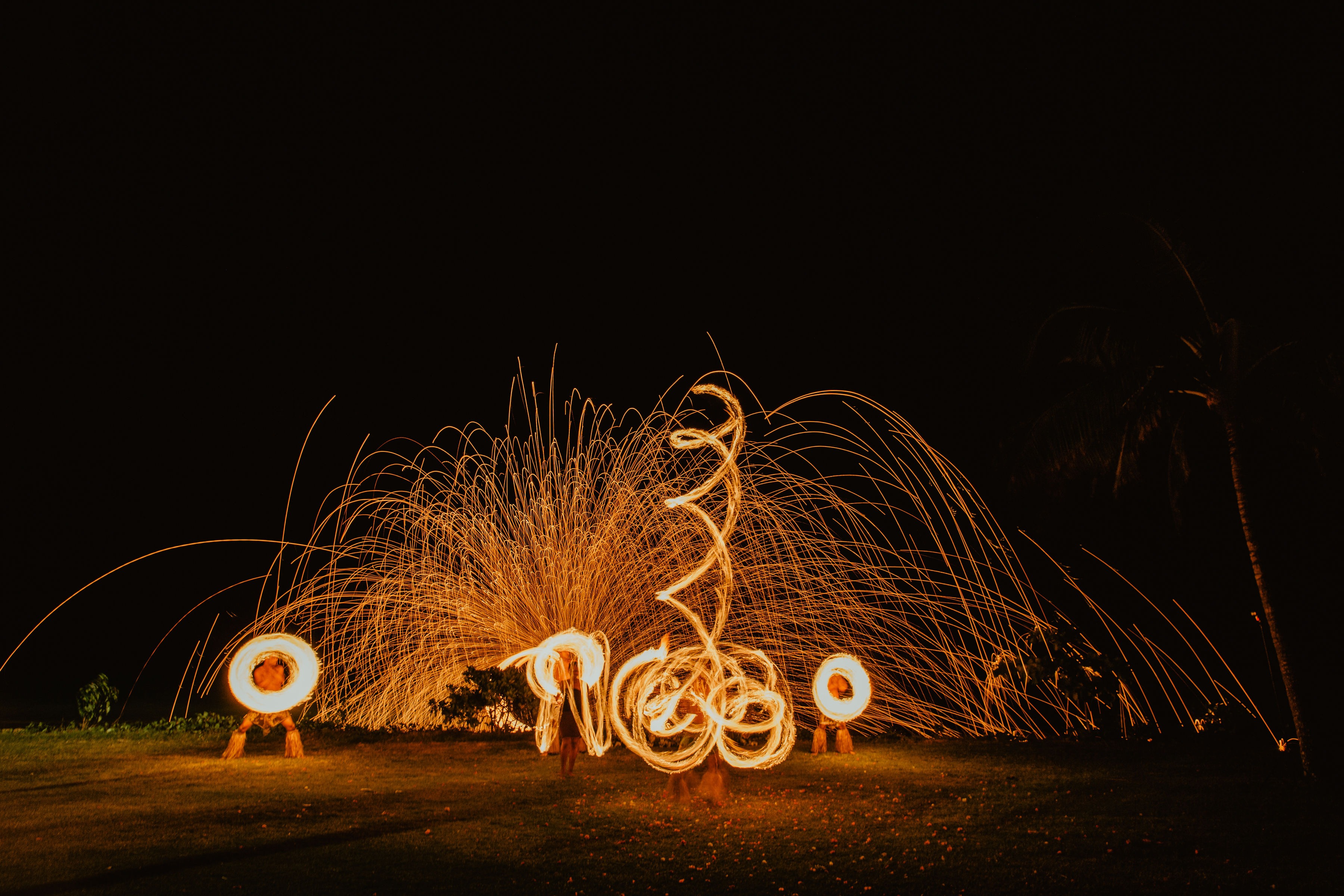 ADVICE FOR BRIDES PLANNING A FIJI WEDDING:
Do your research and don't be afraid to ask the hard questions. Also, Fiji is a tropical country so don't be too disappointed if it ends up raining on your wedding day. In the end it rained on mine and our photos turned out amazing and we weren't too hot in our outfits.
HIGHLIGHTS OF THE DAY:
We had huge news to share and kept very quiet leading up to the wedding. During my husband's speech at the reception he announced that we were expecting baby number 2 and the reactions from everyone in the room is hard to describe as anything but electric! It was tough trying to keep it on the down-low as most of our guests arrived a few days before the wedding to take advantage of having a holiday so seeing people having cocktails by the pool and drinking at night made it hard for me to keep such huge news quiet. I ordered mocktails and pretended that I was drinking the whole time but somehow to my surprise no-one suspected anything…even my bridesmaids.
Over all it was such a magical day with the rain adding a bit of spice into the mix which made it all the more special in my eyes.