Rachel & Michael
When we saw Rachel and Michael's 120-guest wedding at Leleuvia Island Resort over on photographer Zoom Fiji's page, we knew instantly this would be a stunning feature! Not only is it the first time for Bula Bride to feature a wedding here, but the set up is simply gorgeous. Add the stunning background and the romantic story and we were hooked!
We catch up with Rachel on her wedding day:
Michael & I met in Suva about 16yrs ago at a poetry reading session. It was a whirlwind romance where we dated, got married and had our 3 beautiful girls and in the time it took to raise our girls and build our businesses we never found the time to have a large wedding ceremony. So finally after 16yrs and after much prodding from our girls, we decided to have a wedding.
Whilst it was a wedding ceremony, it was also a renewal of our vows and our 16 year wedding anniversary, which was made even more special because we were able to have our 3 girls involved.
We chose Fiji, because I'm from Fiji and all my kids were born in Fiji. My husband is also a Fijian citizen now. And we chose Leleuvia island resort because we are one of the owners of the resort, and also it's one of the most beautiful and magical islands in the Pacific and a place where we have shared and created many beautiful memories with our families and friends.
I didn't have to do much research on my wedding, I knew exactly what I wanted because in a sense I had been dreaming about this day since we first exchanged vows many many years ago. It also helped that I had the best people working on my wedding. Sydel was our events person and she did not disappoint, she went over and beyond and I would gladly recommend her for wedding events. Thank you Sydel, so much for all your hours and the time you put into making our day super special. And the biggest thanks goes to Fancy Pants, (Gwen Fong), they were our decorators and creative directors for our wedding and they helped create magic for us! I just told her what I wanted and the rest was all her, I didn't have to do anything really, Gwen understood exactly what I had in mind and created such a fabulous theme, she is so talented. She really transformed the island into a magical wonderland. 
The day of the wedding was Perfect, sunny all throughout, but Leleuvia is always beautiful like that. It was quite a relaxed day for me, no rush, everything was on time, the wedding ceremony was set for 4pm. We made sure that it was all held on time. My hair was done by Elaine from Edge hair design, and my makeup was done by the gorgeous Ilai. Our celebrant was Faraz Ali, a very dear friend. From planning, decorating, hair and makeup to our serenaders singing as we walked down the aisle, our wedding was so special because all of our closest friends were involved in some way. It's the love we all share, our strong bonds of friendship and family.
I purchased my dress from Brides by Francessca in Sydney. The dress itself was by Berta bridal, a very popular wedding designer at the moment. Bridesmaids dresses were made by Ilai Jikoiono.
Michael's attire was beige linen pants from Tommy Bahama & a white linen shirt from Tommy Bahama.
The Ceremony at Leleuvia island had a color theme of Floral Pastel. Decorations and overall theme was done by Fancy Pants. Fresh flowers were brought in for me by Turners & Growers and the bouquets and flower arrangements were done by Fancy Pants. Most of the props were built by PBS, by Fancy Pants and the rest were flown in.
I was walked down the aisle by my brother Sam. Our serenaders Jess and Memphis were Michael's sister and niece. The style of the ceremony was very relaxed, but extremely meaningful. We exchanged our own vows which was to continuously love, respect and cherish each other for the rest of our days.
I had heard Zoom Fiji was one of the best in the industry and I was absolutely impressed and grateful for the attention to detail and professionalism that we received. I wanted it all to be as natural as possible and Zoom Fiji captured the mood and the entire vibe in every picture and in every video frame, that is a huge skill so kudos to Bruce and his team. My hot tip to brides and grooms – Don't compromise on your photos or videos, opt for the best because it is a memory that you can keep and share with your kids and grandkids forever. 
Mojitos, beers, wines and champagne were served at the reception.
Our cake was by Sweet Endings, If you have not tried their cakes then you're truly missing out. Marina and her team really understand what you want and they care about each and every detail right up to carrying it on a boat for us then setting it up at our island venue, it was decorated so well by Gaby and it was delicious, all four tiers of it. The flavours of the cake were passion fruit and chocolate ganache.
We had a band perform called The Gang from Suva. Also a DJ. Chris Mallam aka DJ Chrustonite. The Band and DJ ensured we were dancing and entertained till the early hours of the morning!
I know I might sound bias because it was my own wedding, but in all seriousness, it couldn't get any better than what we had that day. Beautiful people, who mean a great deal in our lives, the setup was amazing, and the weather was just perfect. That's what it is all about!
IN THE KNOW
Who Did They Use?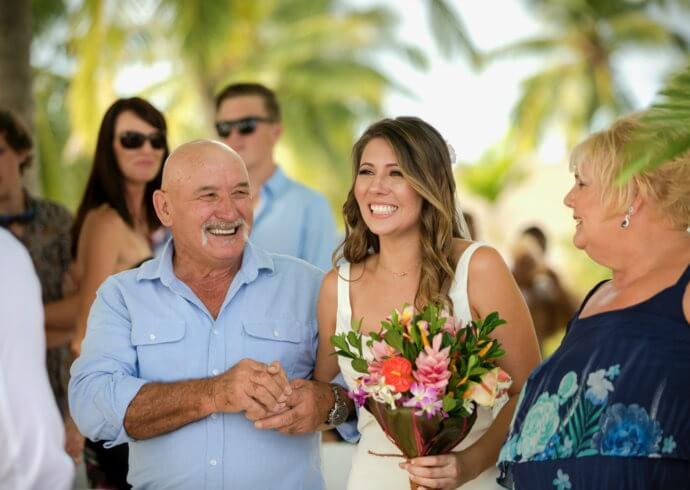 Fiji Wedding Photographers
Zoom Fiji
Read More