Karen & Wes – The Remote Resort
We just love Fiji Elopements! The combination of a dream location, a romantic holiday, a little luxury and of course saying 'I Do' to the love of your life sounds like a pretty great way to get married!
In northern Fiji, you'll find a beautiful boutique luxury resort on the east side of Vanua Levu, near the world famous Rainbow Reef. The team at the Remote Resort Fiji resort personally tailor make every single wedding – no two are ever the same. This allows you to choose entirely how you'd like your elopement to be. We catch up with recent Fiji bride Karen on her elopement to Fiji and what went in to planning their special day in paradise.
BRIDES & GROOM: Wes Dennett & Karen Thomas
THE DATE: 18th September 2019
THE LOCATION: The Remote Resort, Fiji
THE NUMBER OF GUESTS: None – just the wonderful staff at the resort!
We met at work, I was Wes's boss! We chatted on the phone for several weeks before finally meeting face to face and it was love at first sight. He walked into my office in a sharp suit and took my breath away. We got to know each other over the next few months and discovered just how much we had in common and how much fun we had whenever we were together.
It was my dream to marry the man of my dreams with my toes in the sand. Wes hunted for the perfect location, but there was always something that wasn't quite right. Originally, we intended taking our closest family and friends with us, but we wanted a wedding that was uncomplicated and stress free; and because co-ordinating everyone's time off work and travel availability was impossible, we decided to elope. Then Wes found Fiji, and the Remote Resort ticked all the boxes. The setting, the food and the privacy were just what we were looking for. We are both keen scuba divers and being so close to Rainbow Reef just sealed the deal for us and we wouldn't have changed a thing about any of it.
After booking the resort and the flights, it really couldn't have been easier. We were in email contact with Natasha at The Remote Resort for a few months before and she was so helpful. She answered all of our questions and just made us feel so relaxed about the whole thing. They have a little 'elopement plan' checklist that just makes everything straightforward. The only complicated part was getting the paperwork together, and even that was fairly simple with her help.
Natasha and Vilisi at The Remote Resort worked so hard to make our day perfect, there was really nothing for us to do. Vilisi was our wedding co-ordinator (provided by the resort as part of the wedding package) and handled everything for us. She helped with the paperwork, flowers and the setting – pretty much the whole event. Nothing was to much trouble and she thought of so many small details that would never have occurred to us.
On the morning of the wedding, we were so relaxed, we spent the morning reading and lounging around by our pool! We had a leisurely breakfast and enjoyed the sun. The one thing we did do was paint the names of our friends and family on rocks to place near our ceremony spot. We spent quite a while gathering the stones and then Wes painted all the names. We wanted to have them 'with us' and know that we were thinking of them on the day.
I did my own makeup – i'm a control freak and wouldn't trust anyone else on such an important day! I did have a couple of makeup lessons beforehand and treated myself to quite a few new products. I did my own hair, although Wes was called upon to sort out the back for me. He usually has to do it when they go out in London so he's very well practised. I had also been painstakingly growing my nails to look good on the day only to break one the day we arrived in Fiji. I had forgotten to bring glue and was devastated, but help was at hand. The team at the resort managed to find some and get it flown to the island just ahead of the ceremony for me to fix it! How's that for service?
My dress was by: Berketex Brides in London.
The Groom wore: Wes wore chinos, a crisp white shirt and a blazer from Hugo Boss in London.
THE CEREMONY:
The Remote Resort recommended that we only chose the exact spot for the wedding after we arrived. So we spent an afternoon walking around the island looking for the right place. We decided on a beautiful spot on the beach, right by the ocean under some palm trees.
We were just looking for simplicity so didn't stress too much on the details. My dress was ivory and we went for simple white floral decorations.
The resort team worked tirelessly to set up the spot for the wedding. We had a small issue with the tide, which refused to go out on the day and caused Vilisi a major headache when she was trying to get the arch erected! The team swept the beach to get rid of twigs and broken coral and the gardeners made sure any scruffy leaves were removed from the palm trees. They even brought in wheelbarrows of white sand to make it absolutely picture perfect.
The resort did all of our flowers. I asked for simple white tear drop style bouquet and left the rest to them. They brought in the most beautiful white frangipani bouquet with delicate green foliage and Wes had a matching button hole. The arch on the beach was decorated with palm leaves and the same frangipani and just looked magical. They even made an aisle of palm leaves and scattered more flowers on the floor and around a champagne bucket to the side of the arch. We left the details to them and couldn't have asked for more.
We opted to write our own vows. We used a combination of anecdotes about our lives together and promises that we wanted to keep in our marriage. Reading them to each other was very emotional, and even though I had practised mine extensively to try not to cry, we both cried through them! Wes had a further surprise in his though. Snowflakes have been a symbol of our relationship for many years and he wanted to include the reference. So later in the day, he showed me how his vows had been written – the first letter of every line spelled out S-N-O-W-F-L-A-K-E which made me cry again!
As mentioned already, we placed rocks on the beach to represent our friends and family. It was very special to have them with us symbolically as they couldn't be there in person. Wes also carried our parents wedding rings in his pocket so they were close to us.
We chose Kezia from Ocean Studio Fiji as our photographer. We searched around on the Internet to find someone who's style we liked and Kezia stood out from the rest. She seemed to be able to capture the mood of the day without being to formal or posed. We made all the arrangements with Yoshi who was so helpful from our first contact.
We wanted a mix of slightly formal and fun shots. We wanted to capture the beauty of the setting and have special pictures to show our family and friends back home.
We are absolutely delighted with our photos. Kezia was an absolute pleasure to work with and really became part of our day. She is very engaging and has a wonderful sense of humour. It's obvious in the pictures that we had the most fun and she captured it perfectly. She kept positioning us very precisely and we had no idea what she was up to but when we saw the photographs it all became clear. The way she had captured the lighting was just magical and made every image stand out.
For dinner, we had a table for two set up at the end of the jetty overlooking the ocean. When the view is as good as that, you don't really need any embellishments. The resort lit lanterns and made the spot quite magical. After dinner on the jetty, we went back to our villa and danced together on the deck.
The food at the Remote Resort is wonderful. We chose from the regular daily menu, which was always freshly cooked and delicious. We had soup to start and a delicious fillet steak to follow. Although the wedding package at the resort included a cake, neither of us are big dessert fans so we asked them to swap it for a nice bottle of champagne which they kindly did. We enjoyed it after the ceremony while we had our photographs taken.
We took our own music and a speaker for the ceremony. We chose a few of our favourite songs and the staff played them for us. The highlight was when we played "Simply the Best" by Tina Turner as we opened the champagne and all the staff joined in singing it to us!
We took a day to recover from the excitement of the wedding and then started our diving. We dived with a centre from Taveuni and every morning, the boat crew would take us out to meet up with them. It was truly spectacular diving, and a really slick and safe operation. I would recommend them to anyone and seeing rainbow reef and the White Wall was an opportunity of a lifetime.
On our way home we also managed a quick stopover at Hong Kong which was the perfect finishing touch. We had drinks at the highest cocktail bar in Asia and a harbour cruise to see the sound and light show.
IN THE KNOW
Who Did They Use?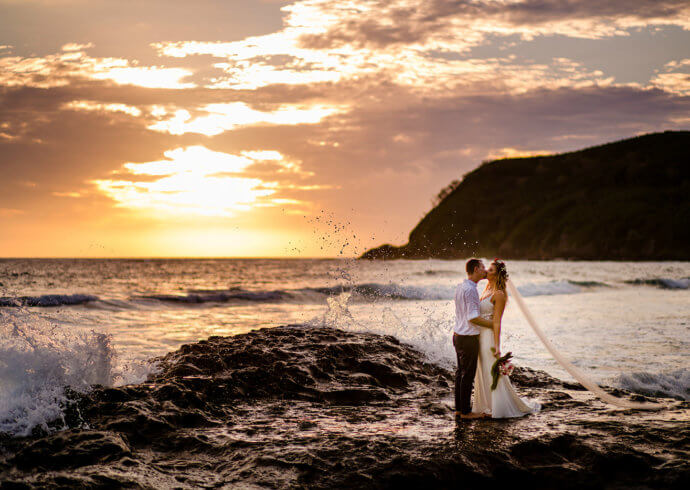 Fiji Wedding Photographers
Ocean Studio Fiji Photography
Read More