How to get the perfect Fiji Wedding Photos
Here at Bula Bride we review wedding photos every day, which got us thinking how much do we actually know about having good wedding photos taken? Suffice to say, most of us have never had wedding photos taken before the big day, so it's unfamiliar territory usually for both the bride and groom.
On the other side of the camera however, should be a seasoned professional that knows what they are doing. Every good wedding photographer will have their own way of capturing important moments, but it's still a good idea to have an understanding what can help make your photos amazing, particularly if there are key elements or shots you want to include in your imagery. And given the investment in your images (usually the largest spend of your wedding, after the F&B) we thought it would be a great idea to share some insight in how to get wedding photos you'll treasure forever.
We catch up with leading wedding photographer & Principal of Ocean Studios Fiji Yoshi Kawai to give us the low down on achieving great wedding photos.
Whatever your style, we would be delighted to work with you as our treasured client to deliver the look you want for your wedding photos. Our team at Ocean Studio Fiji is made up of versatile professionals who like to think of you as our friends and nothing pleases us more than making our friends happy!
We will enjoy getting to know you via email and/or phone and will always approach our work by first thinking of what you might like. We like to be creative and artistic with the images and will take a variety of images throughout your big day that will capture the essence of your wedding celebrations; the love, romance, emotion and laughter and delight on the faces of your family and friends.
We also like to be bold and adventurous with our photography if this is something you might be interested to explore with us. Most importantly, we like to make sure that you have as much fun on your wedding day as possible.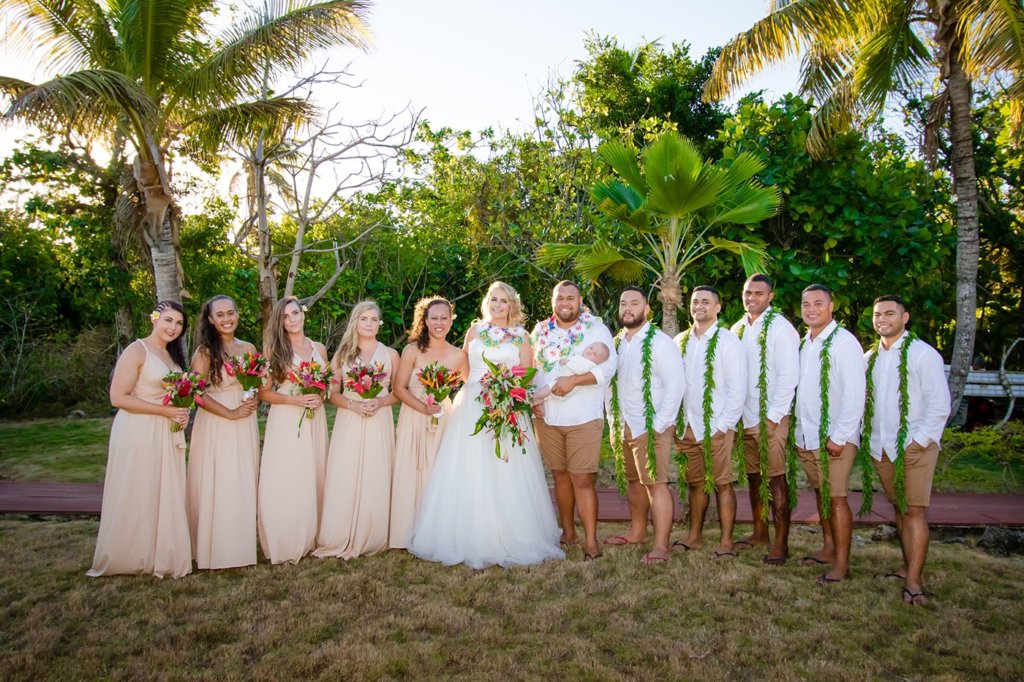 TOP TIPS FOR PLANNING YOUR WEDDING PHOTOS
When is the best time to plan our ceremony?
With many years of experience, we have concluded that around 1.5 – 2 hours before sunset is the prime time for a wedding ceremony in Fiji. At this time of day, the light is softer and more romantic and the temperature is cooler for your comfort, which makes you look much better in the photos. This also gives us plenty of time to take family and group shots before the perfect light arrives for our renowned sunset images.
Of course if you have young children and would like an earlier ceremony, we can still take good photos with a sunny beach background, but we will need to work together a little more as your eyes will perhaps be squinting in the strong sunshine and the heat can sometimes be uncomfortable – especially if you are planning to wear a heavy dress, or dark suit.
When it comes to planning your ceremony, it is generally better (for lighting purposes) that you are facing towards land as opposed to out to sea. We will check on the day and possibly suggest some small adjustments to your positioning if necessary to prevent shadows across your face or squinting into the sun.
Early afternoon is generally not recommended as it can be extremely hot and the light is often harsh and therefore not suitable for good portrait shots. However, if you have planned an early afternoon wedding, we will happily wait for sunset more than a few hours after ceremony, We don't want lose your fresh look and fresh happiness before the best time of light, so chill out with Margarita until the best light comes.
WHAT DO PHOTO PACKAGES INVOLVE?
We pride ourselves on capturing the essence of your special day. We will take as many as photos we possibly can with a steady, quick response. However, this does not mean we are snap happy during our photo-shoots – we favour quality over quantity as we are sure you do.
For our standard package – Getting ready until Sunset Photo (covering from the time you get ready until we have taken your romantic sunset shots), you will receive USB memory with wooden box with approximately 400 re-touched images. If you would like us to stay on to cover your wedding reception; the speeches, cutting of the cake, first dance etc., you will receive an approximate additional 70 – 100 images for every extra hour we are with you.
Do you touch up the images?
To ensure your images are as picture perfect as possible, our pricing also includes the touching up of each image.
We colour correct your images and can smooth skin tones as part of the standard retouch. We will also try to accommodate any special requests such as removing a blemish, scar or mosquito bite with no extra charge. However, for more difficult and time-consuming edits such as retouching a double chin, sculpting arms or teeth whitening we will try to retouch some of the best images for you, complimentary, but please be aware that this will be on a case by case basis.
Will you come alone or do you have an assistant?
Yoshi's package includes an assistant (known as a second shooter) whereas the other photographers will come alone. Should you wish to book a package with them but would like to have a second shooter covering the day, this can be arranged for an additional cost.
Unfortunately, the most common, yet difficult request we receive is to counter for redness or peeling caused by sunburn. While we will of course do our best we are limited in what we can do and will likely lose the natural colour balance during the manipulation process. We strongly recommend staying out of the sun until after your wedding. It is a far safer option to get a spray tan if you want that sun kissed glow.
Can we customize our package? For example, can we skip room preparation and just start from the ceremony?
Our standard package – Getting ready until sunset Photos – has been carefully thought about and designed with many years of experience to allow ample time for you to be flexible, to mingle with your guests and have time to take everything in (with an icy cocktail in hand!) after the ceremony. The most important factor for us is that you thoroughly enjoy your day, relax and have fun and therefore we do not want you to feel rushed or pressured at any time. This is why we don't offer hourly charge package except for reception coverage.
However with this in mind, we can customize your package for you and to quote accordingly. You should be aware that the price may not differ greatly, this is because we only ever commit to one wedding per day, and many of the associated costs that are reflected in our rates, such as transportation, accommodation (in some circumstances) and post production will still apply.
Our priority is making sure you are happy and get what you want, but we LOVE the room preparation part of the day. We feel that not only do the photos capture the excitement of what's to come, but that this is the perfect time to get to know one another a little better as communication is key for good result.
What time will you join us on the day?
We will arrive at the bridal suite an hour and a half before the ceremony is due to commence. As a general guide we begin in the Bridal suite an hour and a half before the ceremony is due to commence. During this time we capture your 'getting ready' shots and some more detailed images. These images include the dress, shoes, bouquets, accessories and some images of you and your bridal party being pampered – enjoying having your hair and makeup done, sipping on champagne and generally having fun and getting excited!
It is helpful if you are able to put the items for the detailed images together on a table or bed so that we can begin setting up and taking these images.
We head to the Grooms room around an hour before the ceremony is due to commence. Here we will take stylish shots of your shiny wedding bands, and of the groom and his groomsmen/family getting ready.
With approximately thirty minutes to go, you will be stepping into your gorgeous bridal gown, and of course we will be with you to capture this very special moment. All dressed up and ready to go, we will take some portrait shots of you, you with your bridesmaids and with your family and then we will leave you to prepare for your walk down the aisle. We will of course be there capturing the ceremony as discreetly and unobtrusively as possible.
If your ceremony is planned for earlier than noon, please keep in mind that there may be a nominal surcharge for additional waiting time and/or additional logistic cost.
I'm getting married at an island resort. Is it possible to skip the Sunset Photo Tour to reduce the necessary accommodation costs?
Yes, this is entirely possible. While we strongly recommend the sunset photo tour based on many years of experience that sunset is the best timing for wedding photography with softer light and cooler temperature and good feedback from our couples, we are happy to customize for you. Depending upon your chosen island resort, the scheduled departure time will vary slightly but most of last scheduled boat is around 4:00pm around Mamanuca area and please note that we may miss time with the best possible light for your images.
What timeframe should we expect to receive our images?
We are a very efficient team; preparing and retouching your images will usually only take a few days and we will do our utmost to deliver your chosen package before you return home from Fiji. However, during Fiji's peak wedding season (May to October) we may not be able to deliver your images prior to your departure from our fair isles. In this instance, we will provide you with a new time frame of a few weeks at the most. If you require your images urgently, please advise us in advance and we prioritize your images.
Do you deliver our images on DVD or USB?
We deliver all your photos on a USB memory stick with a wooden box.
CAPTURING YOUR STYLE
Can I send you samples of the images I like?
Please do! This way we can get a feel for your style and be ready to recreate the images you like. However, we do ask that you understand that in some situations, while we will do the best we can, we will not be able to recreate these images exactly. This is because photography is extremely sensitive to light, wind, weather, background, atmosphere, colour balance and of course, your comfort level in front of the camera (more on that later!). While we will of course always do our best, we are certain that we will be able to capture some spectacular images of your own that future brides will ask their photographers to recreate!
Do you accommodate our preferred style?
We welcome your input. The earlier you can help us to understand the type of style you are looking for, the better prepared we can be. We understand that each couple is different, that some people like more action or fun shots while others like a more natural, documentary style. We will adjust our approach to suit your wishes and offer you our expert advice along the way.
Do you provide direction for poses or will you simply capture our natural style?
Usually, your love is shining through so brightly that it all comes naturally anyway! We will check the background, lighting, angles and balance and will work with you to create a variety of natural, candid images and some beautifully directed photographs that we are certain you will love. We will help you to relax and feel confident in your beauty and promise that your natural style will shine through.
My fiancé is camera shy, so how can you help us achieve good results?
Contrary to what the fashion magazines and media would have you believe, posing for a photo doesn't come naturally to everyone! However, while being in front of the camera may be new to you, you can trust that we have done this many times and will happily give you some suggestions if you would like that.
We feel privileged to join you in this most intimate and personal of moments of your life. While we are strangers before we say 'hello' on the day, you can feel confident that we pride ourselves on treating our clients as friends from the moment you book. We promise to respect you, be courteous and to truly care about you. Part of caring about you is wanting you to feel comfortable and doing what is best for you. With this in mind, it is always our priority to make you feel as relaxed and safe as possible. We will be patient and help you enjoy our time together. We will help you to feel confident and we know that everybody is beautiful in own unique way, and we will capture you in all your beauty.
We feel that for us to capture a really great portrait image, all you have to be is be yourself.
IN THE KNOW
Who Did They Use?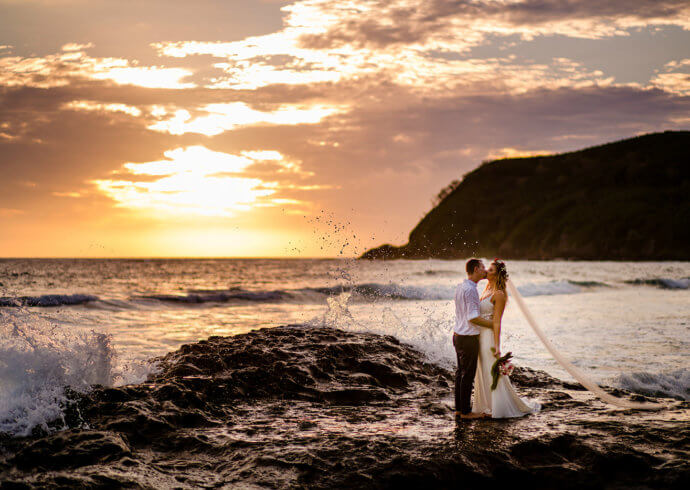 Fiji Wedding Photographers
Ocean Studio Fiji Photography
Read More