Your Guide to Fiji Honeymoon Photography
While some couples travel to Fiji for their dream wedding, many newlywed couples come to Fiji for just their honeymoon. So why stop at your wedding day photos if you can capture memories of your amazing honeymoon in Fiji too? This guide to Fiji honeymoon photography will help get you the best results for your Fiji wedding.
We talk to Anais Chaine from Anais Photography about capturing newly wedded bliss with the perfect shot on the beach surrounded by white sand and blue water, and of course love. We asked her: Why do couples choose to do a Fiji Honeymoon shoot? The answer makes perfect sense.
"'They wanted to take photos in Fiji because the landscape is so beautiful, and it was a time to relax and enjoy after a hectic wedding"
"A honeymoon photo session is quite opposite to the formal and well planned photography on the wedding day, it is much more relaxed. Even if you have a low-key wedding day there is still a lot going on: the preparation, ceremony, guests. But while you are on honeymoon you are enjoying some rest and have time to have fun. The photo session for a honeymoon always reflects a more casual vibe. It's also the opportunity to go somewhere special, with more time, which isn't always possible to do on the wedding day."
Why would it be important to have good quality honeymoon images?
Your honeymoon is your first holiday as a married couple, which is why hiring a professional photographer to immortalise this very special time is crucial. These are memories you will look back on forever.
What are your top hints and tips on beautiful honeymoon photos?
I would recommend to work around the magic hour: before sunset. Also in Fiji it's best to think about a light outfit on which you can even walk in the sea and get your feet wet… No real need for shoes and avoid high heels!
Where would some ideal locations be?
Other options than a beach session could be in the Fijian country; there are many hills in Fiji and they offer stunning landscapes with sea view in the background and where you can walk on the high grass.
You could also consider an underwater photo session. Fiji offers many beautiful reefs with clear water. Not only will the photos be quite different but it is also a really great and creative experience. For that last option I recommend you to be a good swimmer and a bit sporty and to wear clothes with light fabric.
Thank you to the lovely Luke and Melissa for allowing us to share their beautiful honeymoon photos at the Sheraton Fiji Resort and Anais for sharing her experience on capturing Honeymoon photos in Fiji. Head over to her page to enquire about capturing your Fiji honeymoon like Luke & Melissa.
IN THE KNOW
Who Did They Use?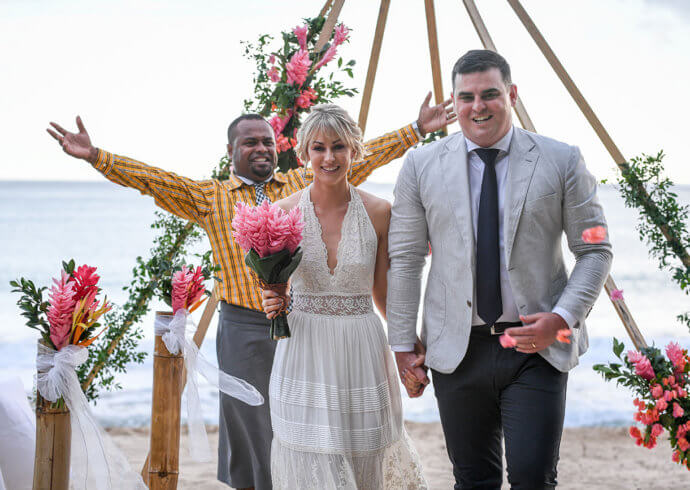 Fiji Wedding Photographers
Anais Photography
Read More