Sarah & Jiing
Who doesn't dream of their own private island for their wedding day? In Fiji, we are exceptionally lucky that this is a reality. With some resorts catering specifically to group buy-outs, brides can choose to make this dream come true.
Sarah & Jiing are one of these couples, they did their research and settled on the resort paradise of Toberua Island Resort. After many months of planning that dream a reality and they had the perfect Fiji wedding day. We hear all about their day:
THE FACTS:
BRIDES NAME: Sarah Chiang
GROOMS NAME: Jiing Chiang
THE DATE: May 5th, 2018
THE LOCATION: Toberua Island Resort, Fiji
THE NUMBER OF GUESTS: 34 adults and 4 children under 5 years old
We met through our mutual friend – my high school friend and Jiing's work mate. She mentioned our common interests and thought we'd enjoy getting to know each other, so she introduced us through Facebook. We decided to meet for coffee but instead went to a bar in the city and had cocktails on the balcony, and we've been hooked to each other ever since.
We've always wanted an intimate beach wedding with close family and friends. The remoteness and adventure of getting to Toberua Island Resort, as well as its stunning presentation and ambiance, we were sure this would be an incredible place to share our special milestone and make lasting memories with our loved ones on our own private island.
To plan our wedding, we browsed through hotels and resorts that offered wedding packages, read through guest reviews, looked at couples' wedding experiences and photos of the venue, wedding set-up and accommodation so that we'd have an idea of how it would be for us and our guests. We liaised with the hotel reservations manager and on-site wedding planner, who is also an amazing masseuse, singer and fisher!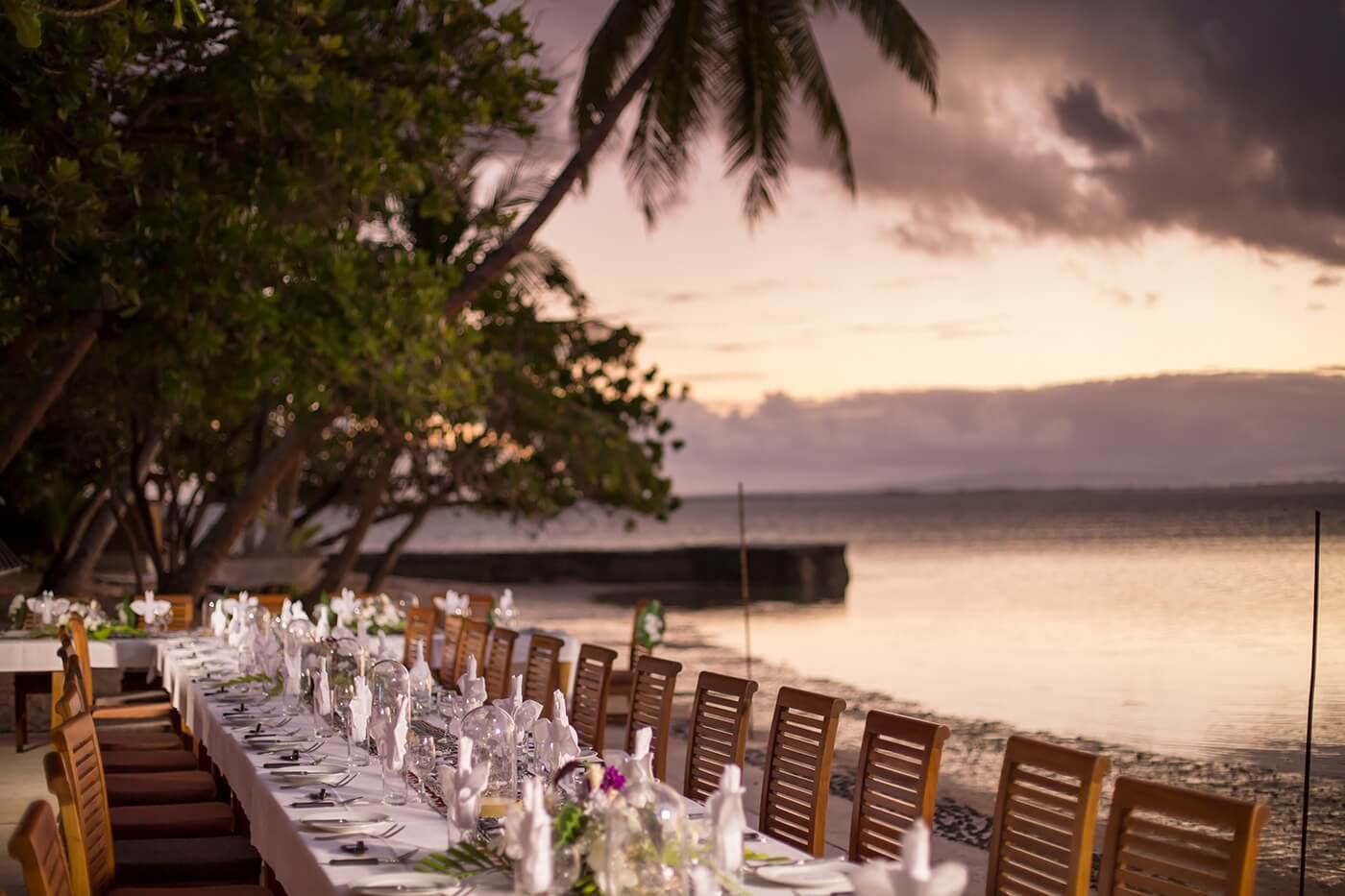 GETTING READY:
We woke up to the sound of the staff enjoying their time getting the wedding venue ready – setting up the arch, preparing the walkway and chairs, lining the trees with fresh coconut leaves – all the while laughing and working in Fiji time.
My hair & make up was done by Ben Patrick Hair Design (now known as Better Hair Fiji) – soft Hollywood waves, subtle smoky eye and fuchsia lips. My skin looked naturally flawless, and my bridesmaids and I enjoyed getting our hair and makeup done by the team – lots of laughs!
My dress was by Jade Gown, then tailored and extra beading added locally in Melbourne. Headpiece was by Jullia Bridal. The Bridesmaids dresses were from WomenLand on Etsy – mauve, butterfly asymmetrical knee-length hem, infinity dresses that could be styled to each bridesmaids' personal preference.
The groomsmen wore dark navy linen pants and a white shirt with black suspenders. The Groom wore a dark navy linen pants and jacket, a white shirt with black buttons, and a black tie. All tailored by Wilson from Pocket Square.
THE CEREMONY:
Our location amongst the trees, beach front, underneath a floral decorated arch with the ocean and sky as our background.We had a beach wedding style ceremony, and wrote our own vows. He vowed to keep me loved, happy and safe, and most importantly, well fed! I vowed to be his number 1 fan girl and would keep being utterly obsessed with him, and to love him everyday as his loyal wife.
The colours/themes we chose was dark navy, mauve and white. Miri, the on-site wedding planner and Toberua staff provided and set up the décor at the ceremony. Miri took care of my bridal bouquet and decorative fresh flowers, whereas the bridesmaids bouquets and boutonnieres were sourced from Light in the Box.
GETTING PHOTOS:
Our photographers were Kezia and Ana from Ocean Studio Fiji. We loved the sharp and timeless photographs, particularly shots featuring the ocean and the sunset. The also did our wedding video.
We requested Korean-style wedding shots, which focused on dramatic, scenic couple photos.
When we received our photos and video back, we were in love and couldn't believe we lived the dream of having such a beautiful wedding. We loved how the photos and videos captured everyone's unique personality, and the editing and wedding highlight video with our chosen song coupled perfectly – we've watched it on repeat on numerous occasions!
THE RECEPTION:
Our reception was at the outdoor dining area on Toberua Island Resort. We chose shades of purple and white for decorative colours, overall theme was a resort party theme
For cocktail hour we had the standard beverage package, which included Fiji Bitter and Fiji Gold beer, house red & white, sparkling wine, soft drinks, orange and mango juice, and local spirits. The dinner menu was the Fijian Feast Wedding Buffet. The mangrove crab in a light curry sauce was addictive and everyone's top choice. Our cake was included in our Toberua wedding package – single tier coconut and lime.
At the end of the evening we ended the night with a spontaneous pool party!
ADVICE FOR BRIDES PLANNING A FIJI WEDDING:
Read reviews, look through photos, and watch videos of what the supplier offers to get an overall idea if they can achieve what you're after for your big day. Do the same for what couples wedding so you can envision what it will be like for yourselves and guests.
HIGHLIGHTS OF THE DAY:
The whole ceremony, getting sunset photos taken together, and celebrating with our loved ones. Ending the night with a pool party topped it off!
IN THE KNOW
Who Did They Use?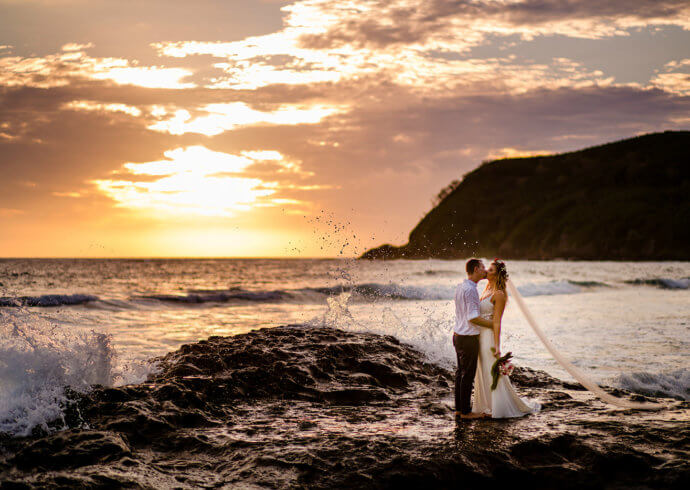 Fiji Wedding Photographers
Ocean Studio Fiji Photography
Read More