Lauren & Alex – Sofitel
The day of Lauren's wedding was simply gorgeous and we had a couple of hours available in the office that timed perfectly with being able to pop down to Sofitel to see her wedding day unfold. Excitement was in the air as Lauren and her family got ready for the wedding, with a helping hand by Vendor Totoka Hair & Make Up. Her wedding planner Mandi from Viva Weddings also called in to say hello and the team at Nadi Bay Photography were there too to make sure lots of great pre wedding photos were captured. It was so nice for us to meet Lauren on her actual wedding day and hear all about what lead to her wedding in Fiji.
BRIDES NAME & GROOMS NAME: Alex Pollard and Lauren Stone
THE DATE: May 20, 2019
THE LOCATION: Sofitel Fiji Resort and Spa
THE NUMBER OF GUESTS: 38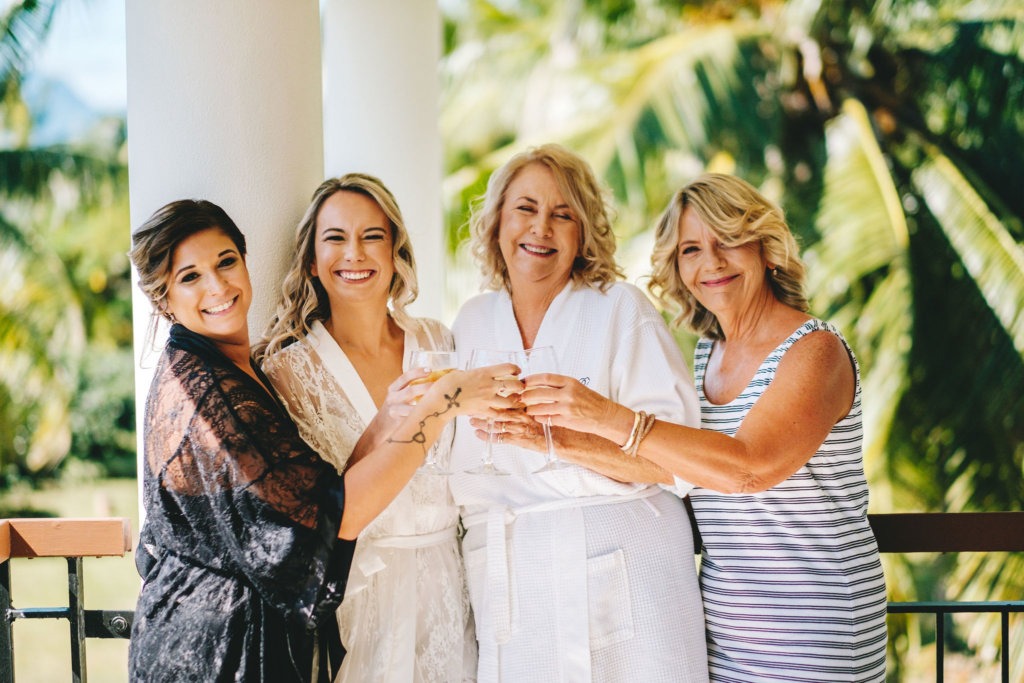 THE BEGINNING:
I have travelled to Fiji many times and it has always been a special place with my family. Two of my cousins have been married in Fiji before and their weddings were amazing. When my husband asked me to marry him, I suggested Fiji as a location and he liked the sound of it so I started to research weddings in Fiji. I found it hard to choose a venue so I spoke to Mandi from Viva Destination Weddings. With her help I was able to narrow down the venue to the Sofitel. I decided on the Sofitel because it was accessible for my guests, they have a number of venues to choose from for ceremony and reception; and my guests didn't have to stay at the resort if they attended my wedding. They had the option to stay at other resorts.
There was quite a bit of research in the beginning but once I started using Mandi's service at Viva Destination Weddings everything was a lot easier. It was so great having her to speak to where she could offer advice using her years of experience planning weddings in Fiji.  She has worked with the resorts in Fiji and the vendors many times before which gave me a lot of peace of mind. When I was worried about how things would be she calmed me down and told me everything would be perfect – which it was!
With her list of recommended vendors I was able to narrow down which ones I wanted to use, I also . I used Bula Bride to see photos of other weddings in Fiji. I also used it to see what vendors other brides had used.
GETTING READY
My mum, my maid of honour, a couple of friends and my mother in law were all in the room to start the day. I was actually so happy and excited in the morning. I could see the ceremony location starting to be set up from my balcony which was really nice. Everything ran smoothly. We had music, champagne and ordered some room service. It was actually a really great morning.
My hair and make up was done by Totoka Hair & Make Up. They did such an amazing job. I showed them pictures of the look I was after and they delivered. We received so many compliments on our hair and make up. It was perfect.
My dress was from: the Gold Coast Bridal Lounge and my reception dress was from Two Sisters the label.
The Bridesmaids dresses were from: Pia Gladys Perey.
The Groom & the guys wore: Polo Ralph Lauren white collared shirt with Tan Joe Black pants and Tan boat shoes.
THE CEREMONY:
Location: North West Lawn – Sofitel Fiji
The Sofitel did my set up at the ceremony with the arbour provided by Grace Creations. We chose rustic boho white flowers with green foliage. We chose traditional vows.
GETTING PHOTOS:
We choose Nadi Bay Photography as our photographer. I chose them because I loved their work and found their package included everything I wanted.
I was after light bright photos with a natural feel. I absolutely love my photos. Especially the beautiful sunset photos and the family photos.
THE RECEPTION: 
Our reception location was the beach bure. I chose boho luxe, white.
I sourced the signs, candle holders, table numbers, frame, placecards, in Australia, the Sofitel provided all other décor including flowers and set it all up for me.
We had a Traditional Fijian Feast buffet. It was all so good. Everybody loved it. The Sofitel made the cake I asked for a rustic feel, chocolate cake with white icing and flowers.
Our entertainment was DJ William Lee and Manakilagi Entertainment Group. Both were absolutely amazing. DJ Will knew all the right songs to play and was a very funny MC. Manakilagi Entertainment Group was such a highlight, they had all of our guests dancing. They also sang a Fijian song at the end of their set as requested by me. The song is a special song to my family and I was so happy and thankful that they changed their performance to cater to my requests. At the end of the reception we went to the Breeze bar with some of our guests after our reception.
After a few days at the Sofitel we spent a week at Plantation Island as a family. We had so much fun snorkelling and riding the Bula bikes.
HIGHLIGHTS OF THE DAY:
Highlights of the day.. there were so many! Walking down the aisle to my husband was very special.. my daughter was ahead of me, and ran to him when she saw him. He was crying, I was crying everyone was crying. The whole ceremony was so emotional and beautiful.
Manakilagi was a big highlight of the reception. They got all of my guests up dancing. Everyone had so much fun. Their fire dancing was amazing. It was a big hit. DJ Will has everyone dancing and singing. I remember on the last song not one of our guests were sitting down. He was a great MC both funny and entertaining.
ADVICE FOR BRIDES PLANNING A FIJI WEDDING:
My advice would be to trust the people and trust the process. They really know what they are doing. My wedding went perfectly… I wish I hadn't stressed so much in the lead up. I would also suggest using a wedding destination expert like Mandi. It doesn't cost anything extra and the advice is invaluable.