Jess & Jared
We spotted Jess & Jared's wedding over on Photographer Anais Chaine's Facebook page and loved the style of their elopement incorporating their family. Having recently welcomed Vendor Paradise Bride to our Vendor directory, it was a perfect timing to showcase their lovely set-up through the beautiful photos shared by Anais. We catch up with Bride Jess and learn more about her wedding in Fiji:
We met for the very first time at my 17th birthday party, he turned up with mutual friends and it all started from there. 
We had actually booked a holiday to Fiji to visit our friends who were doing a stint living at Vunabaka. A month or so after booking our holiday we were chatting and had the thought that we could elope, as we had been engaged going on 2 years and with one child already and another on the way there was little to no money to spare to do a big ceremony in New Zealand. We had originally planned to do the ceremony at Vunabaka on the beach but unfortunately our friends came home for good just a few months before the holiday/elopement was to commence so we had to look for somewhere else.
I then contacted Paradise Bride to ask if they were able to organise for our wedding hoping the whole thing would still be able to happen. We found the experience really good, they had great communication with us and they can tailor things to suit you and your budget. As it was proving difficult for me to organise anything from here in New Zealand, finding someone that could plan it all for us was ideal. Paradise Bride organised everything else for us which made it so easy. The Hilton Fiji was chosen so we could still be beach front. The only research we ended up needing to do was for our Photographer.
On the day of our wedding day, it started off as any other day, we decided not do the traditional thing by spending the night away from each other the night before instead we enjoyed a bit of the morning together with the kids had a champagne breakfast and then said our goodbyes. Myself, Jo and the kids left our resort where we were staying and hopped on the Bula Bus to the Hilton, from there we started getting ready.
 
I did my own hair and makeup and my dress was from ASOS. The grooms shirt and bow tie were also from ASOS, and the shorts were from Cotton On.
We choose The Hilton, Denarau, and Paradise Bride did all the décor. We wanted the beach front with a white arch. Our ceremony and vowels were traditional.
 
The flowers on the wedding arch were done by Paradise Bride and the bouquet, flower crowns and the button hole were from a business was Keepsake Bouquets in New Zealand. 
 
 
Our photographer was Anaïs Chaine, I had done a bit of research online on wedding photographers and Anaïs really stood out to me and was so easy to deal with. She is such a lovely lady who made getting photographed effortless.
 
We didn't have any particular shots that we really wanted we just wanted someone to capture all the special moments throughout the ceremony. We absolutely love the photos we received, the family shots in particular.
ADVICE FOR BRIDES PLANNING A FIJI WEDDING:
Be prepared for rain. We had originally planned for a sunset wedding outside, so the ceremony was planned to start at 5pm but the whole week before from about 4/5pm it was absolutely bucketing down. The day before we were told we would probably need to pull the wedding forward so we were still able to have an outdoor ceremony or the alternative was to have it indoors. We decided to pull it forward and it actually ended up being the nicest day we had over in Fiji. We would have got through the ceremony without rain but been caught out whilst getting our photos done, so we were lucky we pulled it forward and had an earlier ceremony.
HIGHLIGHTS OF THE DAY:
Saying 'I do'
IN THE KNOW
Who Did They Use?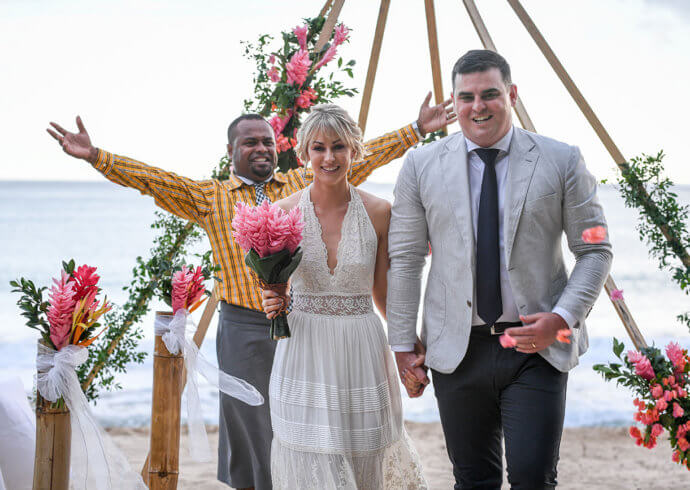 Fiji Wedding Photographers
Anais Photography
Read More