How to pick the right music for your wedding day
After engaging the services of a wedding DJ for your special day, a key task in the planning process is picking your wedding music playlists.
Choosing what to play
Professional wedding DJs are highly experienced with musical programming and can provide suggestions that will enhance the vibes of your wedding. If you're planning on choosing some music yourself, show the DJ your playlist and ask for their honest feedback.
Have a detailed discussion with the DJ about your guest demographics that will help define what music will work. Discuss your policy on fielding guest requests, and your expectations for the dance floor action. For example, if you envision a lower-key event, don't be afraid to let the DJ know that a hyped up dance floor is not your goal.
How many songs will I need?
Assuming a four hour reception party and 15 songs per hour, you could have a wedding reception playlist of up to 60 songs, plus then there is the music for the ceremony, the pre-drinks and the entrance all to choose. That's a lot of music!
We catch up with professional wedding DJ's DJ Works Fiji to get their feedback on what you should think about when selecting your music for different stages of your wedding, and their top picks for music selection should you get stuck for ideas.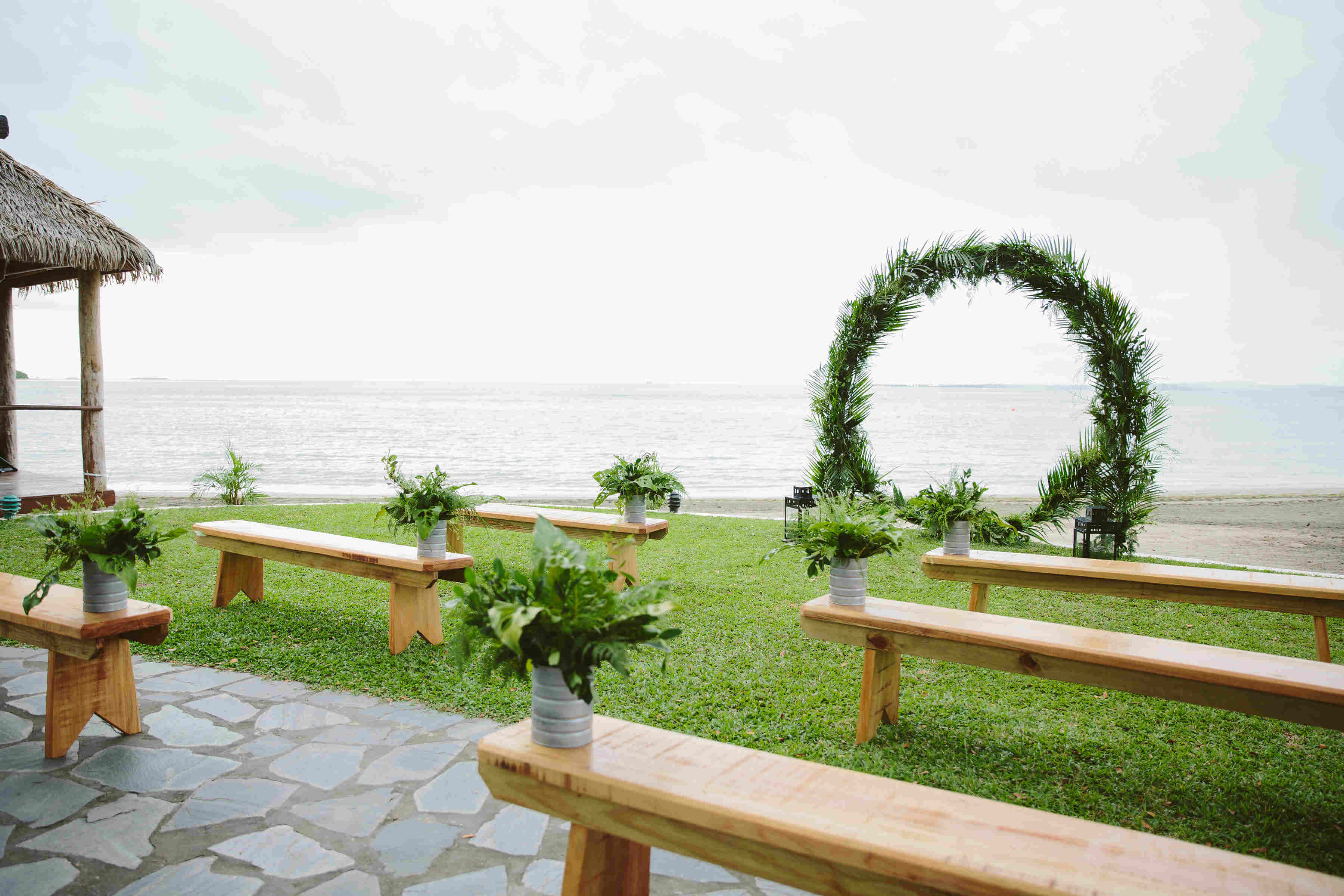 Pre-ceremony:
This is likely to be a short set of songs to play while guests enter and take their seats, and while the groom waits at the aisle. Choose something non-obtrusive to play in the background that will set the tone for the afternoon ahead.
1. This I Promise You – Ronan Keating
2. I Won't Let You Go – James Morrison
3. Shallow – Lady Gaga ft Bradley Cooper
4. Marry Me – Train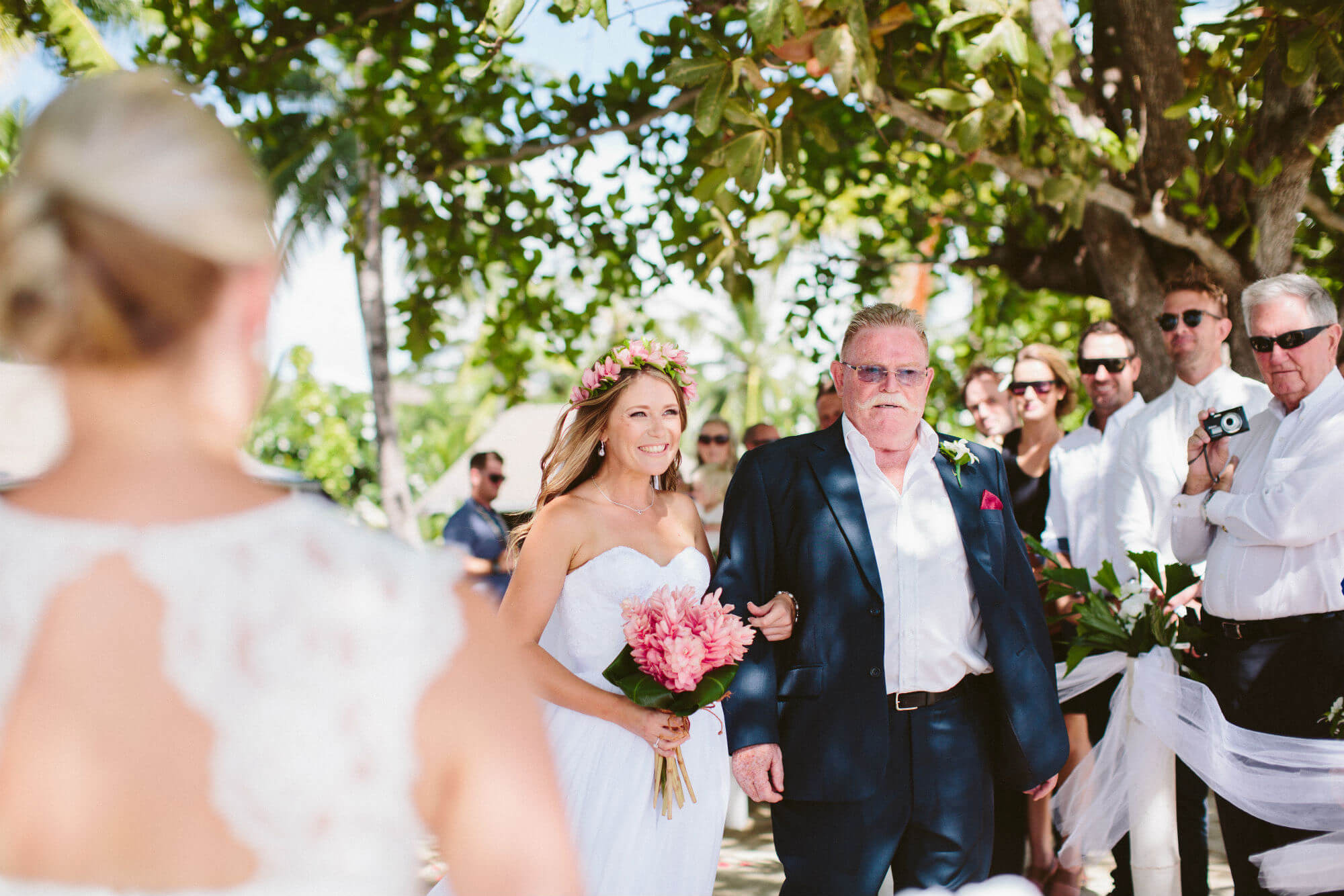 The aisle – Bride's entrance:
This can be one of the hardest songs to pick, but your entrance song is likely to be very important to you both. Think about a song that is a favourite, or special to you, perhaps from a defining time in your relationship. Many couples also pick the entrance song based on what the lyrics mean to them and reflect their relationship.
1. You Are the Reason – Calum Scott and Leona Lewis
2. Parallel Line – Keith Urban Cover
3. Perfect (Duet) – Ed Sheeran ft Beyonce
4. Can't Help Falling In Love – Kina Grannis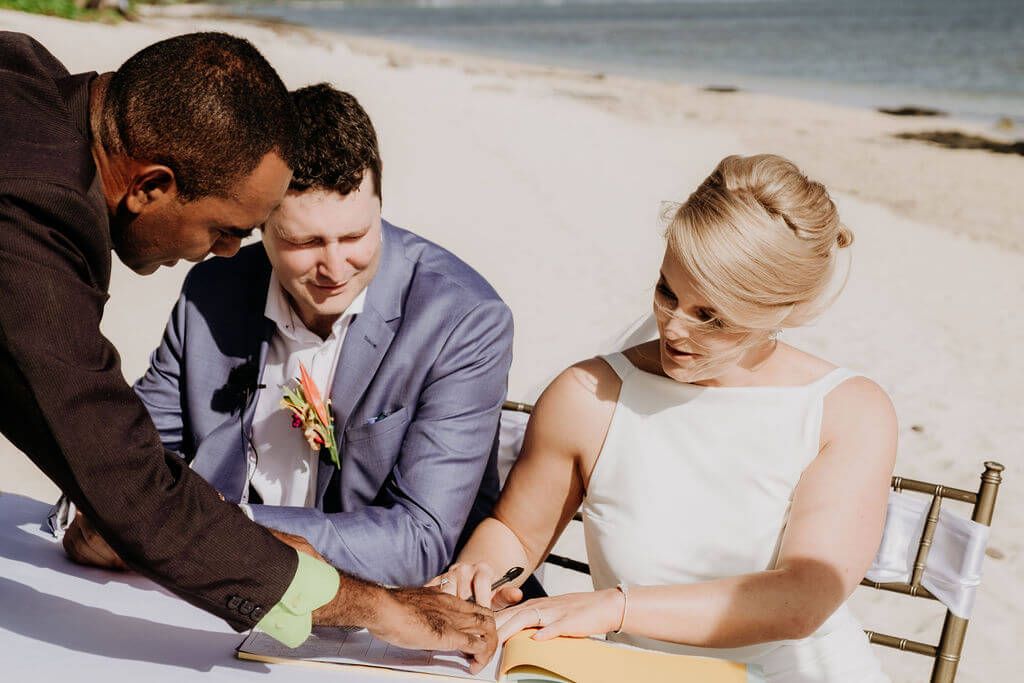 Signing the register:
To avoid a lull in the ceremony, make sure you have a song organised to play while you sign the register. This song can be a favourite played to keep guests feeling great while you take a few minutes to sign the register and get ready to walk back down the aisle.
1. From This Moment – Shania Twain
2. At Last – Etta James
3. All Of Me – John Legend
4. This I Promise You – NSYNC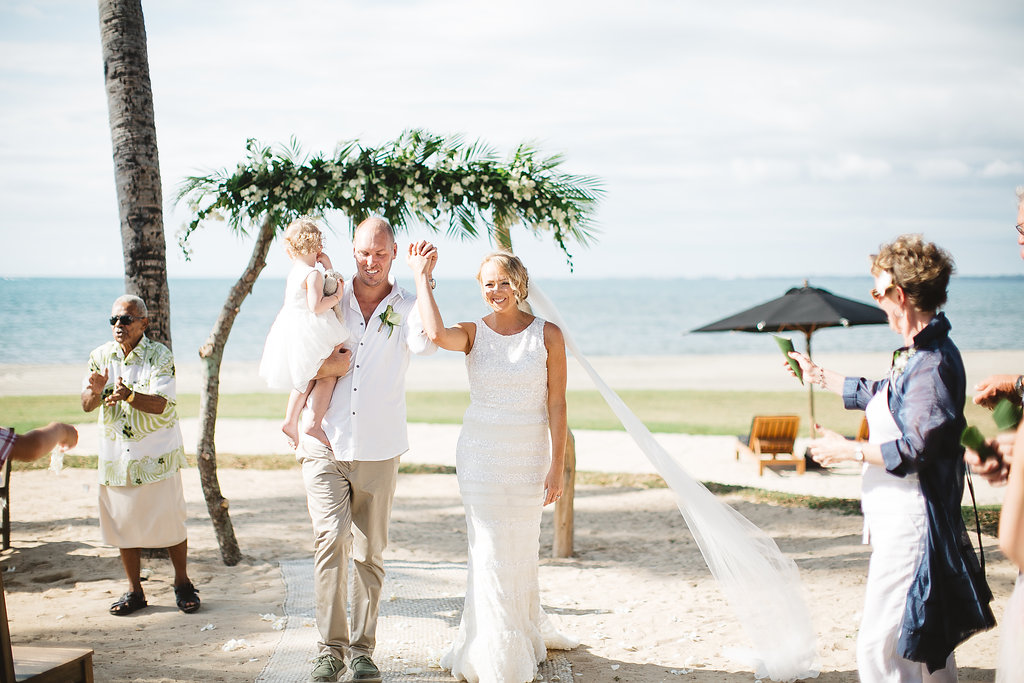 The newly-wed couple's exit:
Leave your ceremony on a high with a happy and uplifting recession song (or two), something guaranteed to put a smile on the faces of your guests as they watch you walk down the aisle as husband and wife for the first time.
1. Signed Sealed Delivered – Stevie Wonder
2. On Top Of The World – Imagine Dragons
3. Coming Home – Sheppard
4. Came Here For Love – Sigala, Ella Eyre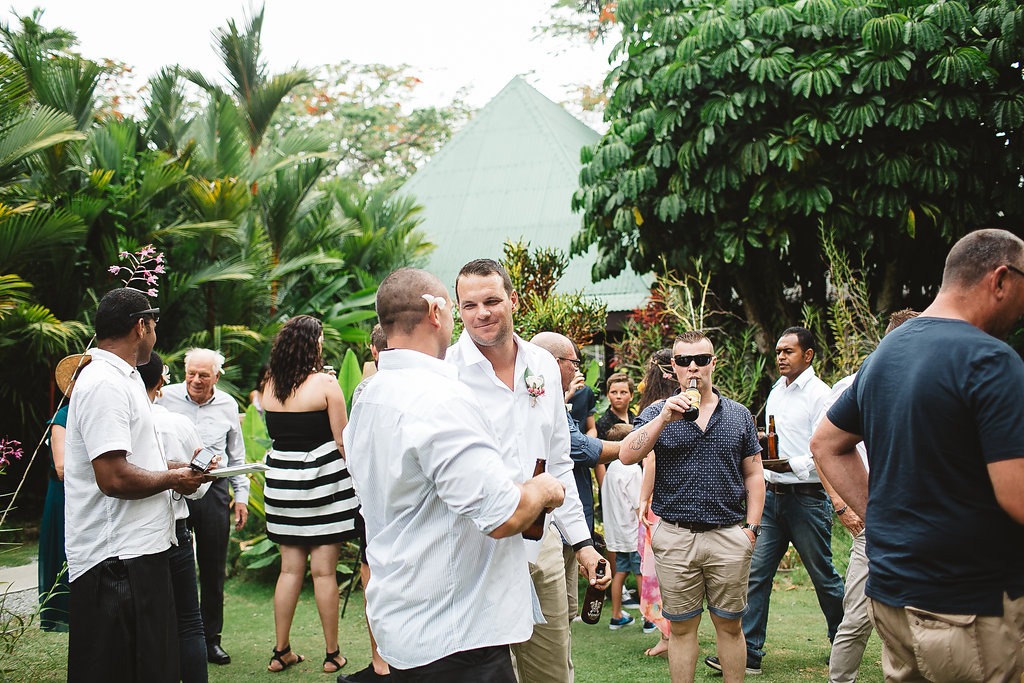 Cocktail hour:
Typically in Fiji, your ceremony and cocktail hour will be in a single space, so the recessional music should lead straight into cocktails and socializing. Choose fast, upbeat, celebratory songs—or perhaps go for some feel-good slower fast songs perfect for a champagne or cold beer in the sun.
1. My Lady Soul – The Temptations
2. Nothing's Gonna Stop Us Now – Starship
3. Higher Love – Steve Windwood
4. Glory Of Love – Peter Cetera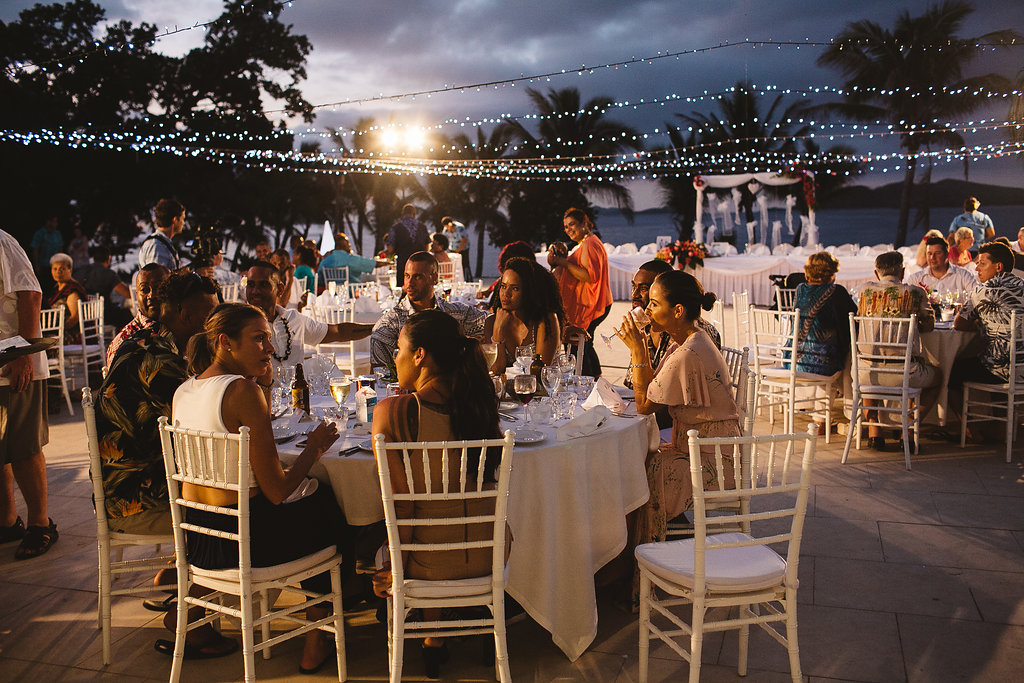 Dinner:
For a relaxing feel while everyone eats and talks, go for really soft background music that can be turned down during any speeches.
1. Unchained Melody – Righteous Brothers
2. Too Much Heaven – Bee Gees
3. If I Ain't Got You – Alicia Keys
4. Thinking out Loud – Ed Sheeran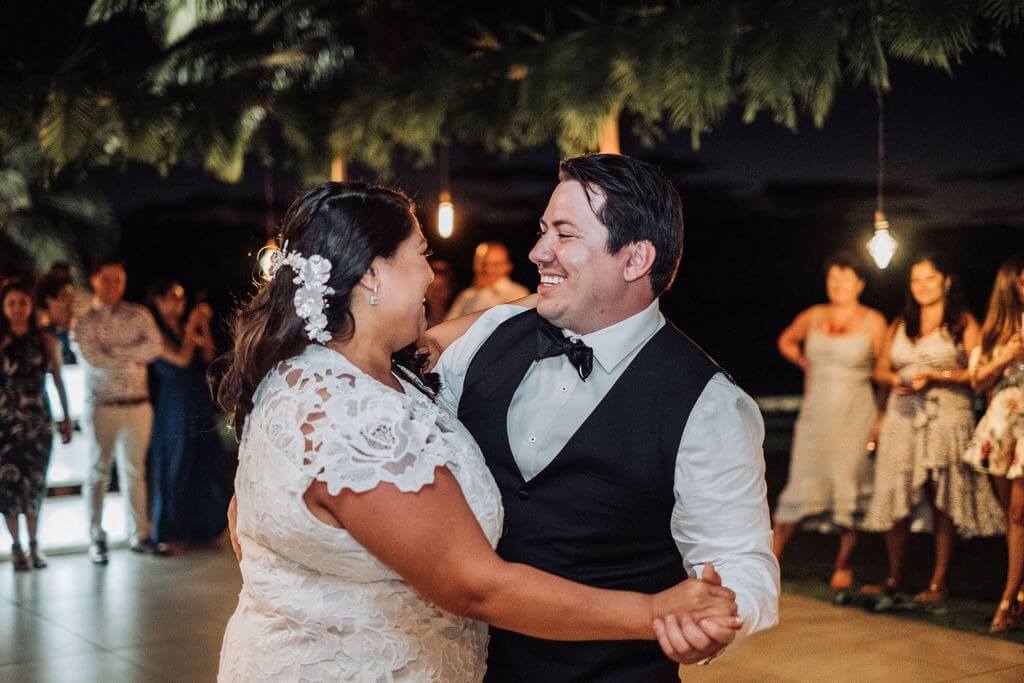 Your first dance
The all important first dance! Whether you have been practicing a routine for months, or take a casual approach to this high pressure moment, your first dance is one of the highlights of the reception. It's your first turn around the dancefloor as a married couple and it sets the tone for the whole party. It might sound obvious, but you should definitely take time to choose a song that you and your partner love. There are lots of classic wedding tunes but ultimately your choice of music should reflect your taste. Think about songs that were important at different points in your relationship: something you heard on your first date, your first anniversary, or the night you decided to marry.
1. Beautiful in My Eyes – Joshua Kadison
2. Amazed – Lonestar
3. I'll Be – Edwin McCain
4. Still Falling For You – Sara Farell & Simon Samaeng (Ellie Goulding cover)
Dance party:
Nobody cares quite as much about the playlist as much as you do! Thinking back to the weddings you've been to over the years do you remember the specific songs that were played—even for iconic moments like first dances? Choosing the playlist for your wedding can be a personal expression of self, but in the end it's really just about making sure all your guests have a good time.
Our recommendation would be to prepare a list of up to 20 "Must Play" songs, plus another 20 "Play If Possible" tracks. Your wedding reception playlist is getting there, but that still leaves an additional 20+ tracks for your DJ to select. However, you can ask your DJ to pick these additional songs within your genre parameters. For example, if you love 90s dance music but dislike blues music, just let your DJ know beforehand!
Rather than getting fixated on every song, work with your DJ to choose songs that they know are sure to be crowd-please re, then through your personal faves in the mix.
1. Walking On Sunshine – Katrina & The Waves
2. I Wanna Dance With Somebody – Whitney Houston
3. September – Earth Wind & Fire
4. Brown Eyed Girl – Van Morrison
Feeling overwhelmed? Then leave it to the experts! Entertainment providers know how to motivate your guests and create a great party. If you don't have the time or feel overwhelmed by the choice, professional companies such as DJ Works can do the vast majority of song-planning for you.