Review: Shangri La Resort upgrade 2019
One of the things we love doing at Bula Bride is getting to know the Vendors that are part of our directory, so that when we are asked for information about a location, product or service, we can provide personal and helpful insight or recommendation to the bride or groom. So when we were invited down to The Shangri La's Fijian Resort and Spa in July, we (the kids and I) jumped at the chance as it had been about 2 years since our last proper visit.
The resort is the only island resort in Fiji connected to the mainland. Less than an hour from Nadi International Airport, you could be stepping into one of the resort's three pools, or diving into the lagoon, which is unaffected by the tide. Spread across more than 100 hectares of private island are 443 bures, rooms and suites, all with unobstructed views of the Pacific Ocean or lagoon. It's just a short trip to a very beautiful part of Fiji.
I had read the media releases saying Shangri-La has invested USD50 million to revitalise their resort (Fiji's largest private-island resort) which included a world-class dining makeover, the establishment of an exclusive adults-only precinct and renovation of the function facilities. Hearing that the upgrade having given Shangri-La's Fijian Resort & Spa a new lease of life, I looked forward to the opportunity to check this out in person!
So – the question for me was, is all the hype legitimate? Are the upgrades really that significant? Has the investment really bumped The Shangri La Resort up to the top of the list of being a world class destination to get married?
If you want to know what I think…read on!!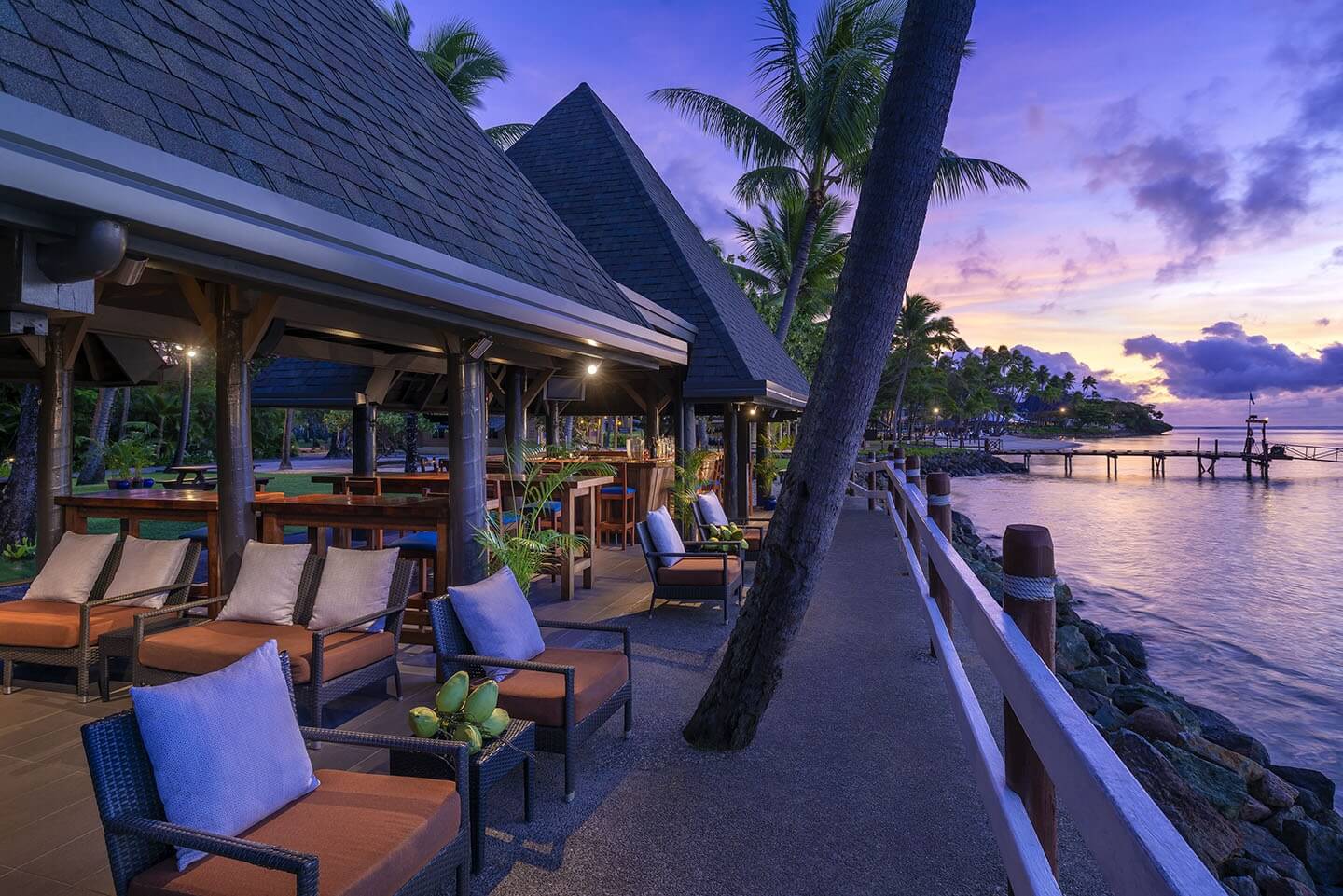 I'm going to be really honest and start with saying that at my last visit a couple of years earlier it was pretty obvious the resort could have used some updating. The Shangri La is a beautiful location, stunning in fact, the grounds are huge and it's positioned on the most beautiful island surrounded by blue and turquoise waters. The grounds are impeccably kept and you can't help but take in the ocean view from every angle at this part of resort. But on my last visit, the pool area was in need of a facelift and I hadn't really been impressed with the F&B. I'm a definite foodie and the dining component always is important to me when choosing a resort and this had been a bit of a let down.
So roll forward to 2019, it was a GREAT surprise to see there had been many improvements to every area of the resort. Whilst the character, buildings and layout of the reception had all been retained, the whole beach front area (pool, activities, restaurants) and our room were significantly nicer. I got quite excited within the first hour there because it immediately gave off the vibe of an amazing family holiday spot. All 443 rooms, three pool areas – including the huge family pool and entertainment precinct – and many public areas have been upgraded, as have the beachside casual dining spots, including Beach Bar & Grill and Bilo Bar. They had great food choices for casual lunch options with kids (and lots of fresh coconuts, yum!)
Immediately my three kids (ages 9, 9 and 10) were in their swimsuits and out the door, leaving me to peace and quiet for a while. On the first day of our visit they swam both in the pool and the beach for 5 hours continuously and their feedback of the resort was a definite 10/10. When you have 3 happy kids doing their own thing, this is a very good start to a holiday!
The room we had was conveniently located by the pool area and we had a ground level room on the lawn. I highly enjoyed chatting to my neighbours, who were happily parked up on their deck chairs enjoying a 4pm wine (as you do on holiday!). This was their 5th visit to the Shangri La and they were also really impressed by the upgrades. They came back year after year for the location, but commented they would definitely be coming back for the F&B also. It was pretty clear there had been some significant improvements to what was on offer.
Food & Beverage upgrades

The resort's new dining and entertainment experience, which are the starting points for delivering customised culinary experiences for wedding celebrations, showcase:
• Takali Asian Kitchen – an Asian fusion-concept restaurant perched above the reef and incorporating Malaysian, Thai, Cantonese and mainland Chinese influences on dishes conceived by Chef Chee Hoe Wong, paired with more than 40 craft gins from around the world.
• Golden Cowrie Coastal Italian – led by Italian Sous Chef Bruno Bettinazzi, who hand-makes the soft cheeses and pasta which are the foundation of this premium dining experience and delivers a quality of Mediterranean dining not seen before in Fiji.
• Black Marlin Tropical Bar – first established more than 50 years ago and the subject of legendary party tales, it has been reimagined as an upmarket tiki bar featuring more than 100 rums sourced from around the world, kept company by the resort's own signature small batch rum label, Yanuca Island Rum, distilled locally and exclusively for Black Marlin patrons.
I made sure to try out all restaurants whilst there (I had Takali – breakfast with kids; Golden Cowrie – adults dinner; Black Marlin – cocktails) and WOW! What a positive change. From the modern decor to the meals themselves, everything was fantastic. Golden Cowrie was an amazing choice for an adults-only dinner, I was hosted by Food & Beverage Director Gerrard McNamara and his wife Lili and had a lovely meal with superb wines to match; followed by a look-in at the refurbished Black Marlin bar, a cool location for some post-dinner cocktails.
While at Black Marlin, I bumped into the Bride-to-be for the following day (I had previously met with her earlier to chat with her about her wedding plans) as her and her husband-to-be had popped down for their last cocktail as an engaged couple, so sweet! There was also a big group in there celebrating in advance of their wedding two days later and they looked like they were settling in for a big night! It was definitely an awesome space for a group function (either official or casual) and you could feel the excitement of the whole group as they enjoyed their holiday and celebrated for their friends in tropical paradise.
And my favourite – the gold pineapple cocktail glasses. YES!!!
Upgrading the F&B experience for weddings & events

A significant portion of the USD50 million investment has been committed to establishing the resort as one of the best places to eat and drink in Fiji. Executive Chef Rudolf Kunkel has established an international and local team that has created seven standalone restaurants and bars across the resort, each with their own culinary themes. It was a pleasure meeting Chef Kunkel and Director of Food & Beverage Gerrard, who were clearly passionate about the dining experience for guests both on a daily basis and for weddings at the resort.
"Great weddings are about the celebration. What Chef Rudolf Kunkel and his team have created here at Shangri-La's Fijian Resort & Spa is a quality, variety and creativity of dining that you cannot find anywhere else in Fiji, and this is at the heart of what we are offering for destination weddings at our resort," said Peter Donlevy, Director of Sales and Marketing.
He said, "We are really excited with the possibilities we can now offer for wedding parties and their families. Wedding planners who have had the opportunity to try our new food and entertainment offerings have told us their clients have been looking for something like this in Fiji, something that offers a fantastic dining experience to make their celebrations special."
Top catering options for weddings include:
 
1. Exclusively book Golden Cowrie Coastal Italian Restaurant for a plated or buffet menu that features an indulgent Mediterranean selection of fresh cut meats and antipasto, handmade pasta's or fresh seafood.  Listening to soothing sounds from our Saxaphone and Piano player.  Drink selection includes an extensive list of over 100 wines that guests can select and create an exclusive beverage package or order on consumption.
 
2. Have a Fijian Feast at the Marau Cultural Village including a Fijian inspired selection of food, featuring a lovo pit and local food delicacies. Combine with a performance from Vou Entertainment at the cultural amphitheater for a truly authentic experience. 
 
3. Book a poolside Takali Asian inspired 'Feed Me' menu for smaller groups, featuring locally caught and farmed produce prepared with Asian flavours and served progressively to share or as a buffet.
 
4. The ever popular full international buffet dinner or extravagant seafood buffet.
Wedding location options
-Seaside chapel
-Reef lawn
-Beachside Cabana
-Takali deck
-Beachfront
The highlight of the wedding locations has to be the resort's Seaside Chapel which is a secluded and intimate ceremony venue. A glass exterior and ceiling takes full advantage of the Pacific Ocean as the altar's backdrop. The chapel garden also connects to the resort's most exclusive accommodation, the Reef Wing Bures, each commanding sweeping views across the reef and a private lawn stepping down onto their own stretch of beach. Predomanintly I loved this space for it's beauty – the white of the chapel offsetting the blue ocean and green lawn. This spot was most definitely more amazing in person that in pictures.
If you don't want to go for the chapel, there are so many other options around the resort to choose from. For smaller parties the beach front cabana or the little private beach next to it are just perfect for elopement or small groups of up to 10. The reef lawn overlooking the ocean is also stunning and you would have that gorgeous tropical background in all of your photos. Wedding Coordinator Mosese also explained to me the beach was popular, and looked stunning at night with fairly lights set up. Whatever your preference, there seemed to be a perfect choice at the Shangri La!
Reception location options:
Shangri-La's Fijian Resort & Spa offers a range of dedicated reception spaces that can cater for up to 750 guests, and also has the ability to create special reception experiences across the island, taking full advantage of its natural beauty and features.
Some of the key areas include:
-Davui Hall
-Seaside Chapel
-Reef lawn
-Beach front
-Takali Deck
-Ratu Makutu Events Centre
-Marquee
-Black Marlin
The options for a reception at The Shangri La are extensive and this will come down to the bride and groom preference. While many couples marry in the chapel, it's a bit far away for a reception so after cocktails on the lawn, guests commonly head back to the main area of the resort. From here, the choice is yours. There are decks overlooking the ocean, or a marquee that gives you an inside option perfect for a dance floor or band. Some brides want to go barefoot and celebrate under the stars, so the lawn or beach front is a great option. When booking your wedding at Shangri La, one of their team will chat to you about options. You can work through what's best, and on arrival to the resort visit your location to confirm it's exactly what you wanted.
The Shangri La also has excellent wet weather options (such as the Ratu Makutu Events Centre deck) that are a good choice if there is rain or a chance or rain. No matter what the weather everything will be set up beautifully to your requirements.
Reef Wing area
Having an adults only area of a resort is a must these days, and will be a definite winner for those travelling without kids. One of the highlights of the Shangri La is the family-friendly nature of the resort, but let's face it, if you aren't travelling with kids yourself, you'd probably prefer somewhere less busy and a lot quiter.
Director of F&B Gerrard and I popped down to visit the newly established Reef Wing. More than a quarter of the island has been dedicated to the new Reef Wing private adults-only precinct, including an exclusive infinity pool (where complimentary sunset drinks and canapes are served daily), Reef Café & Dining and the oceanfront Reef Bures (villas) offering a premium, adults-only resort-within-a-resort experience.It was a beautiful location and very peaceful, with a great bar and pool area.
The Reef Wing is also home to six fully renovated Reef Bures, each a beachfront retreat for couples with a private lawn stepping down onto the reef beach, an outdoor rain shower and a huge living space in their own private and secluded section of the island. Perfect!
The ultimate family resort
Families also have a lot to be excited about at the new-look resort with the upgrade of the two-bedroom Lagoon Bures offering larger and self-contained accommodation options. The resort also offers the largest range of family facilities and activities, including the huge indoor and outdoor kids' club segmented into age groups, and a separate entertainment zone for tweens and teens.
Shangri-La's Fijian Resort & Spa has also recently set up the largest inflatable water park in the South Pacific in one of the only resort lagoons in Fiji that is unaffected by the tide, which means fun for the kids all times of the day. A private Peter Thomson-designed nine-hole golf course and beach and lagoon activities monitored by dedicated lifeguards from dawn to dusk every day are also on offer. The resort's marine conservation team also runs programmes to help guests learn more about the natural environment and get actively involved in habitat and wildlife protection around the resort. My kids participated in this activity in kids club and loved learning about this.
Even though my kids are a bit older now, they still had a great time at kids club. They went a couple of times during the day, but really enjoyed the evenings where they did a disco, movie night and various activities around the resort. It was nice to be able to take the time to enjoy an adults only meal later in the evening myself, after letting them enjoy a full buffet meal themselves earlier in the evening.
So feedback overall???
My opinion of the Shangri La is that it is a truly beautiful location with incredible versatility, and I wouldn't hesitate to recommend it to those looking to get married in Fiji. This resort in particular would suit the following groups:
1. Those with wedding groups of 30-100 that would like to ensure there is a bit of something for everyone, I.e. meets families needs but also provides adults-only spaces, has various activities and kids clubs available, and has a range of F&B options to choose from.
2. Those looking to elope or have a small ceremony with less than 10. Their elopement package is great value and the rest of the holiday has everything you need at your finger tips. Stay in the Reef Wing for a relaxation and privacy.
3. Large wedding groups of over 100+ that want a location that can comfortably cater to big numbers. At only 1 hour away from Nadi and 2 from Suva this is an ideal spot for local weddings also.
4. Those looking for good value – the Shangri La is well priced all round and converting from the NZD or AUD you are getting value for money. 'Kids eat free' helps keep costs down and the ability to do quick and easy pool meals for lunch after a big breakfast is fantastic.
What an amazing improvement Shangri La and thank you for inviting us to check it out for ourselves!! We look forward to returning again and we will be excited to share more 'Real Weddings' from this beautiful resort.
-//-
IN THE KNOW
Who Did They Use?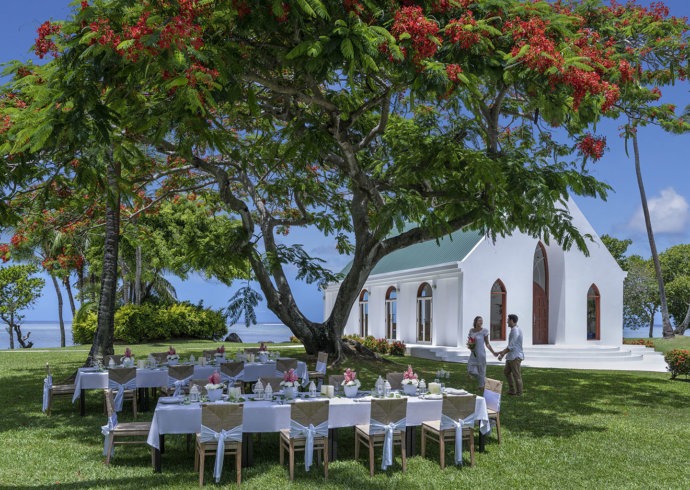 Wedding Venues
Shangri-La's Fijian Resort & Spa
Read More