Wedding photo ideas for Fiji – get picture perfect photography!
Ahhh wedding photography…usually the next important thing to consider once your resort is selected. That lasting pull of photography is extraordinary; to be transported back in time, surrounded by loved ones and the euphoria of becoming one with your partner.
And while searching for the best wedding photographer for you is no easy process, the good news is that Fiji is home to talented shutterbugs for its well developed wedding market. At BulaBride we strive to present only the best ideas and services for your big day, so keep reading below or follow one of the handy links here:
Choosing a great wedding photographer
Feeling comfortable & building rapport
How to look great in your photos
With the first half of 2019 hosting hundreds of visitors that were either married or attended a wedding here, Fiji's seasoned wedding snappers know all too well about what it takes.
Below are helpful tips, and photo ideas to help in choosing a photographer to create an emotive, visual legacy of your big day, and making the most of it.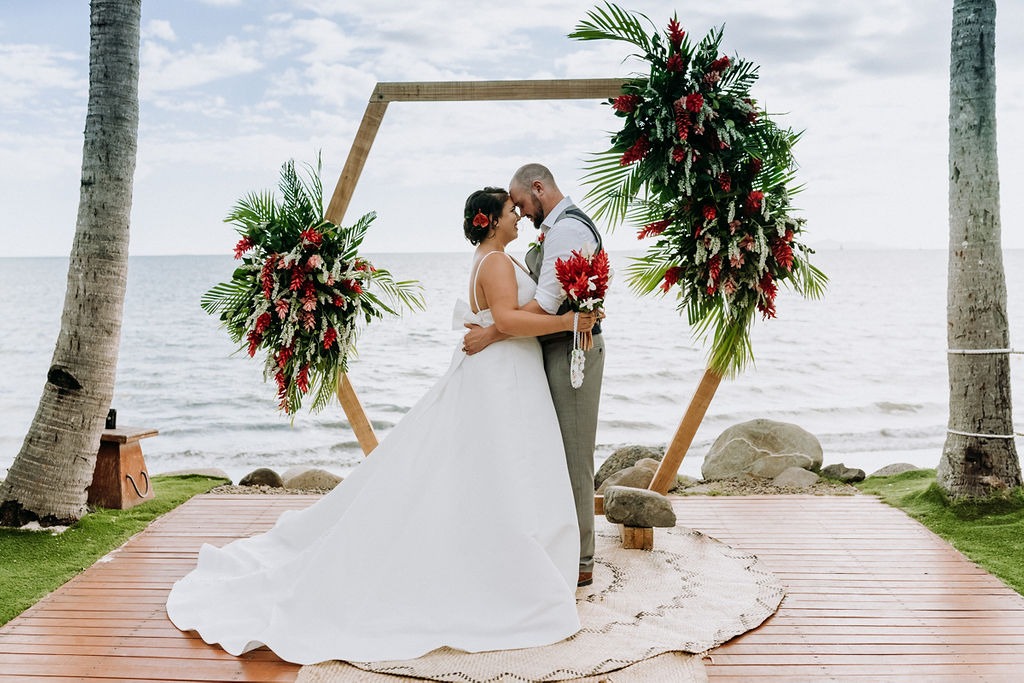 Choosing A Great Wedding Photographer
Browse
• When sussing out quality photographers, samples of their previous work are a practical start. Most would have dedicated websites or social media pages, where you see if the emotions, angles and setups captured appeal to you.
" Have a look at their photos on their website. Do you like the emotion captured and the overall "vibe" of their photography?," Island Encounters Photography advises.
"Look at the website testimonials, but also Google Reviews (where the photographer can't control what people post and write). Check out their recent work on Instagram and make sure you resonate with their current style."
This is particularly important for destination brides who need to plan ahead and won't have spare time to shop around for a photographer once in Fiji.
"Look through a few albums and decide if you like the style of the photographer – on the day can you imagine yourself posing for hours or are you after a more laid-back, relaxed approach?," Zoom Fiji points out.
If you can, arrange to meet with them at their studio or if you aren't in Fiji prior to your wedding contact them via Skype or online to chat about your requirements and to get to know a bit more about their style and the way they approach wedding day photography.
Images: Zoom Fiji
Feeling Comfortable & Building Rapport
• As Island Encounters Photography tell us, a good photographer is someone who genuinely cares about you and your wedding experience, and serves you joyfully in every way possible.
For the camera-shy, this is very important. They should communicate well, prior, during and after the wedding so message, email or call, to see how they relate to you on a personal level.
"A good photographer is personable and fun, creating laughter and candid moments that capture pure emotion instead of stiff poses, puts nervous brides and grooms at ease by encouragement, clear direction and easy guidance, offering enough positive, helpful input to give good results," the professionals note.
As one bride attests, "I looked for someone who took more than the stock standard "stand here, stand there" smile type photos, someone professional who would make my photo- hating husband feel at ease. I was so happy with the whole experience and our photos are amazing. Over a year on and I still stare at them."
Speak to other brides and couples online for testimonies. Talent aside, were the photographers they picked understanding, reliable and supportive? Will they help you relax?
As another bride put it, "it is critical to book a photographer who has a good rapport with you as a couple. A photographer should become part of the wedding party, so that you literally forget they are there to do a job, as you become so at ease with them."
Photography: Island Encounters
Selection
Zoning in and choosing the photographer is a milestone in your wedding planning. Spend time doing this part carefully.
As Zoom Fiji notes, "once you decide "that's who I want!", arrange a phone call with your photographer. A good photographer will be happy to talk through any questions and ideas and explain how the day's photography will flow – generally putting you at ease and giving you one less thing to worry about." Photographers are often busy so prepare any questions and try to book in advance.
Feel free to mix ideas with your photographer if you want specific shots taken. They should ably capture all the in-between candid moments such as the bridal party's preparations etc. If your wedding includes cultural elements or attire, you may also request photos of these preparations, as part of the overall ceremonial journey.
Photography: Zoom Fiji
How to look great in your wedding shoot
It's your wedding and possibly the most photographed day of your life. A touch of hair styling and makeup will enhance your natural features and convey the best of you in images.
"Invest in this!," Island Encounters urge. "Hire a professional! But make sure it feels like you. Make sure your false eyelashes are glued on properly and that you have touch-up makeup and extra pins for your hair for your photo shoot (plan for wind and tears),".
Companies like Totoka Hair & Make UpTotoka Hair & Make UpTotoka Hair & Make Up are industry experts whose team is trained in HMU for photo shoots and films. And with a selection of high-end products and looks, you can join their extensive portfolio of delighted bridal parties.
Fabrics and colours that dry quickly are also recommended, to clear sweaty patches.
Photos: Island Encounters
Authentic Wedding Photography
Laughter, cheers and tears are part of the fun fare, so you want a photographer who captures genuine, raw emotions of your big day.
"We were looking for a "lifestyle" style photographer who was more about capturing moments than getting posey shots," one bride reflects.
Family shots are a beautiful show of unity as loved ones gather and as Zoom Fiji recommends, weddings are the perfect opportunity for memorable family photos.
"When looking at family portraits and group photos, you can tell how engaging a photographer is when everyone from Nanna to nieces and nephews are relaxed with the camera."
This is key and means your photographer is skilled at capturing both intimate couple portraits and engaging your guests, and ultimately why you hire professionals after all.
Photos: Zoom Fiji
Lighting & Location
Good texture, depth and effect are essential for lighting, whether your wedding setup is interior, exterior or both.
" I recommend a 3:30 PM or later ceremony time whenever possible, depending on how big your wedding is and how many photos you want. While a good photographer can work with any lighting situation, the afternoon light is so much better, and it's usually a bit cooler in the afternoon as well so you're not sweating so much!," Island Encounters note.
Sunsets are a drawcard, and a natural pull for their ethereal quality and glowing ambience.
"They should have enough technical experience to handle an infinite number of challenging photographic situations including intense sun, rain, dim interior lighting, backlight ceremonies and fast-paced action, is prepared and conscientious, bringing back-up equipment (2+ cameras, spare batteries, memory cards, and extra lighting gear) in order to be ready for any contingency,".
Location is an important factor, and a talented photographer should suss out a variety of backdrops or shooting locations where you marry. Alternatively, OTBP shootsOTBP shootsOTBP shoots are a great incentive for their whimsical appeal.
Photos: Island Encounters
Ultimately, as your wedding wraps up, you count on your photographer to edit, package and deliver wedding images as expected, in a timely manner which they are likely to have set with you when you booked your package. Backups are essential, and it's great if your photographer loads images on different storage devices in multiple places, as recommended by Island Encounters Photography.
The most exciting part after the wedding is done and dusted is getting your images back and reliving all the amazing parts of the day. Your photographer may also captured some precious moments on camera you weren't aware about or simply didn't have time to notice. Enjoy going through your hundreds of images – the hard part will be deciding which of the images to print and frame!
Image: Zoom Fiji