Epic Adventures with Coral Cats Sailing
It's really not a trip to Fiji unless you have some essential components – and we know for a fact that glorious sunshine and time spent in the alluring azure waters are two of the things Fiji holiday makers usually have pretty high on their list. With Fiji being famous for its stunning beaches and ocean, you really can't have a trip to Fiji without an epic day out on the water.
With this in mind, we caught up with Vendor Andrew from Coral Cats Fiji to chat to him about what the options are if you want to get out on the water pre or post wedding – and as it turns out there are a lot more than we realised! The even better news is there is pretty much something for everyone and also every budget – check out the following choices for the types of fun adventures you can arrange for your holiday to Fiji.
The Private Charter

Not just for the rich and famous, private charters are available and affordable in Fiji. In fact, from only $1800AUD, you can book a private charter on Coral Cat's boat "Wanaka" to take up to 30 of your nearest and dearest out for a day of fun – this even includes non-alcoholic beverages. And if you are staying on one of the Islands, they can even arrange to pick you up from your resort.
Coral Cats can provide professional catering for their charters should you wish (ranging from sandwich boxes to gourmet catering) or you are welcome to B.Y.O. food too. Alcoholic and non-alcoholic beverages can either be ordered and supplied or these can be BYO too – they'll provide the esky and ice!
Catering for smaller groups (up to 6) on 'Miss Minnie' or up to 10 pax on "Zig Zag" Coral Cats have the perfect boat for any occasion where you have a small group of friends or family who want the best Fijian sailing experience without the crowds. Private snorkelling, swimming and sandbar experiences can all be arranged, with prices starting from just $1000AUD for a half day trip.
The Hens and Bucks party
Whether you want to book one of the smaller boats (from $1200AUD) to do some snorkelling, island hopping and swimming to a full on event on the big boat (from $1800AUD on 30 pax Wanaka), Coral Cats can arrange a super fun pre-wedding Hens or Bucks party. Other options include a stop at Musket Cove's Island Bar, perhaps a round of golf on their golf course, or for those with big numbers, they can even arrange for a second vessel if you need to take 30pax or more. Either way – make your Hens or Bucks something to remember and get out on the ocean for a day of fun!
Props, BYO, cameras and good times all welcome!
The Fishing Trip
When you think of Fiji – think fishing! While Coral Cats are not deep sea trawlers, they are a perfect choice for 'beer, BBQ, boat' groups looking to have a bit of fun and try their luck to land the big one or maybe just take back some nice fresh fish for dinner (FYI – ask your hotel to cook this for you).
As soon as they clear the harbour entrance at Port Denarau the trolling lines go out and it's not unusual to have a couple of nice fat Waloo or even a Giant Trevally hooked up before they reach Malolo Lailai island. They also have a few hand lines on-board for our juniors. For the more serious anglers, it's best to check with the crew when booking for the best fishing options at the time of year you're travelling in.
Fishing tours are from $1200AUD for a full day (up to 10 pax) and $1000 half day.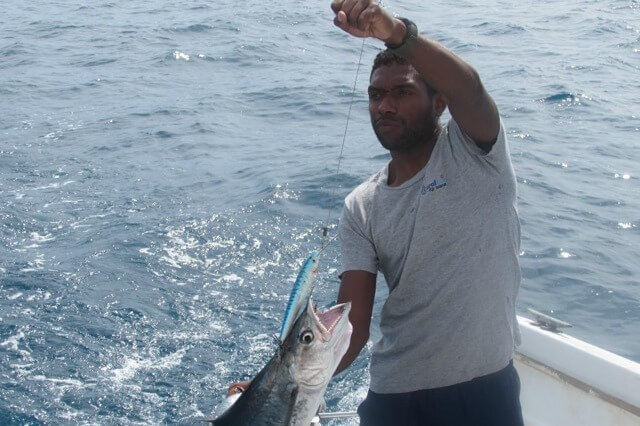 The Surf Charter
This charter is FREE as your guide Andrew is just looking for an excuse to surf! Joking, but in all seriousness, Fiji has some enviable surf spots that keen surfers can't wait to experience. Spend the day with partners or family at one of Fiji's most famous surf breaks and experience the thrilling sailing on the way there and back. Non surfers can relax in the shade, snorkel, swim or fish, while surfers take on Fiji's world class waves. Destination will be decided on the day taking into account surfer ability, swell size and wind direction. Andrew has been surfing these waves for over 10 years and knows the best spots for all conditions.
Private groups of up to 6pax on fast sailing catamaran "Miss Minnie", or either private or mixed groups of up to 10pax on fast motor vessel "Zig Zag" can be arranged.
As all surf breaks are over coral reef, this is recommended for intermediate-experienced surfers. Rates are from $1000AUD for a private charter or get in touch to book a smaller group to join in with others.
The Day Trip
One of Fiji's most well known day trips and a Trip Advisor favourite, is Coral Cats day cruise out to Malolo. Relax on Wanaka's spacious decks or under the sunshade as you glide effortlessly over the aquamarine waters towards the magical islands of Malolo Lailai, Tavarua, Namotu and out to the outer reefs. 
Their professional local crew will entertain and inform, with their knowledge of the local marine life, history and folk law. Look out for dolphins, turtles, flying fish and seabirds. The first stop is the world famous snorkeling sand quay where the calm clear waters and abundant fish life make for an amazing snorkeling experience. From first timers to veteran divers, the crew will ensure everyone has the best and safest experience possible.
Just 10 minutes away is the picturesque Malolo Lailai Island where a sumptuous Fijian BBQ lunch with all the trimmings is laid on.  An Ice cold Fiji bitter, a refreshing cocktail or fresh fruit juice can be purchased from the world famous Island bar. Then there's time to relax on the beach, swim, or stroll along the white coral sand around Musket Cove and Plantation Island resorts.
Day Sailing Tour Prices (approx in AUD)
Adult: 15 yrs old & above $150.00
Child: 4 – 14 yrs old $90.00
Infants: 0 – 3 yrs old FREE
Family: 2 Adults & 2 children $435.00
Family: 2 Adults & 3 children $470.00
So there we go! Coral Cats Sailing essentially have any adventure out on the water covered. Make sure you drop them an enquiry if you are looking at planning a pre or post wedding day trip in Fiji.
Have you been on Coral Cats? We'd love to hear about your experience. Get in touch to give us some feedback!
-//-
IN THE KNOW
Who Did They Use?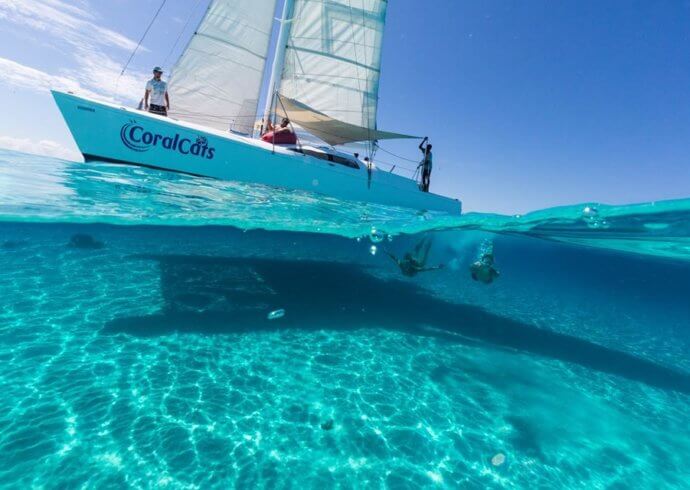 Day Trips, Tours & Transport
Coral Cats
Read More