About
Shangri-La's Fijian Resort & Spa caters to elopements and small weddings. We have various options available be it at our stunning Seaside Chapel, on Takali beach or one of our garden venues.
Set amidst a plantation of palm trees, the 40-seater Seaside Chapel is located in an intimate and secluded setting, featuring a glass wall and ceiling at the altar with sweeping views of the reef and the Pacific Ocean. Alternatively, you also have the option of renewing your vows on one of our natural white sandy beaches with the Pacific Ocean as a backdrop.
A dedicated event co-ordinator will oversee this special event to ensure that all your needs are well taken care of before, during and after your special day.
Please see below for more information on elopement & small wedding packages; and please leave your details for our wedding team to get in touch!
Wedding locations available:
Seaside Chapel
Set in a plantation of palm trees and a private garden at the waters' edge, the Seaside Wedding Chapel is a sought-after venue for wedding nuptials. Glass walls from ceiling to floor provide the couple and their guests with sweeping views of the majestic Pacific Ocean as a fitting background.
Reef Point
On the lawn above the rocky outcrops, with views overlooking the reef and Pacific Ocean.
Takali Cabana
A covered deck overhanging Takali Beach is a stylish venue for a small ceremony and makes a truly romantic setting to celebrate with a candlelit dinner for two.
Takali Beach
A stretch of white sand beach overlooking the reef is the perfect barefoot venue to exchange vows as the sun sets over the horizon.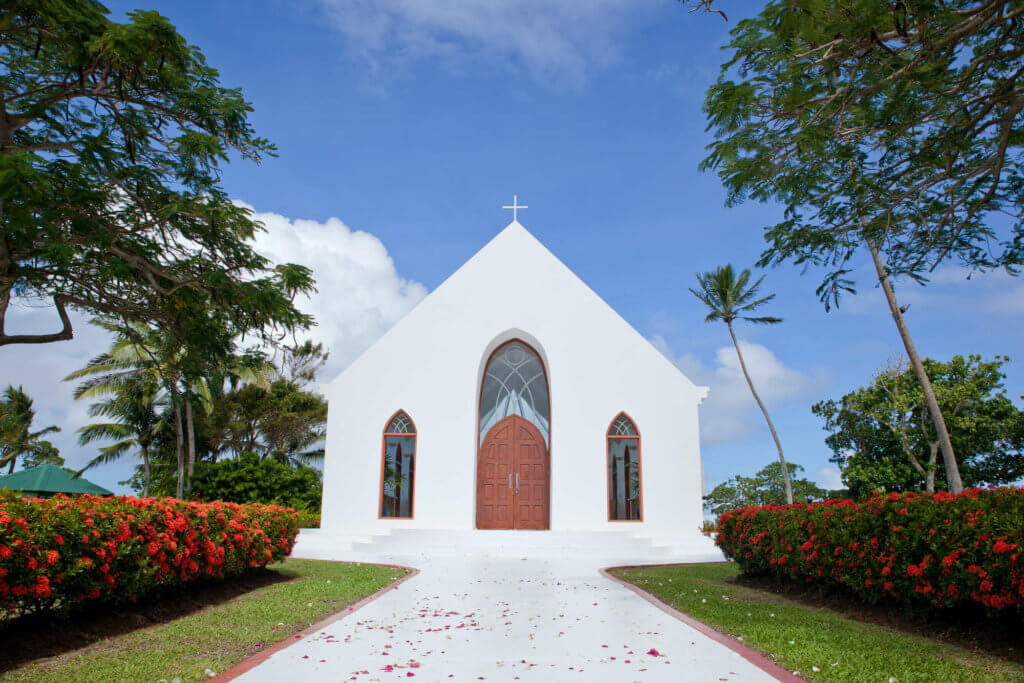 Packages:
"SHANGRI-LA" WEDDING FJ$4,841.00
 
Inclusions:
•             Official marriage license from local authorities, including license fees and documentation.
•             A Civil Marriage Celebrant or Minister to officiate your wedding according to the laws of Fiji
•             Services of a dedicated Wedding Coordinator
•             Exclusive Chapel hire (1-hour) for the wedding ceremony including decoration
•             Wedding ceremony set-up and decor including a shower of floral petals
•             A floral bouquet and boutonniere of seasonal blooms for the bride and groom.
•             Trio of Fijian serenaders (1hour during ceremony)
•             Fijian Village Choir
•             Sound system (for the ceremony only, connective with an iPod to play couple's own music)
•             A bottle of sparkling wine
•             A souvenir wedding gift
•             A chauffeur-driven car to transport the bride to the chapel from the resort
•             Transfer to the Chapel for up to 30 guests
•             Wedding cake (1 tier)
•             A plaque engraved with the couple's names for the chapel's wedding board.
•             A romantic dinner for the couple on the evening of their choice.
"FIJIAN" WEDDING FJ$3,400.00
 
Inclusions:
•             Official marriage license from local authorities, including license fees and documentation
•             A Civil Marriage Celebrant or Minister to officiate your wedding according to the laws of Fiji
•             Services of a dedicated Wedding Coordinator
•             Exclusive 1-hour use of the venue for the wedding ceremony
•             Wedding ceremony set-up and décor including: an aisle of red carpet, a table for signing the marriage certificate and up to 30 seats
•             A floral bouquet and boutonniere of seasonal blooms for the bride and groom
•             Trio of Fijian serenaders (1 hour during ceremony)
•             Sound system (for the ceremony only, connective with an iPod to play couple's own music)
•             Bottle of sparkling wine
•             A souvenir wedding gift