About
When Freddie met Lilly is a Brisbane based Bridal and Formal design studio run by the lovely Vanessa Hoe. Vanessa creates her designs with the most gorgeous silhouettes in mind and has them hand crafted in pure silk, French and Italian Lace and the softest of tulle.
A When Freddie met Lilly bride is a warm soul, a bohemian and a romantic – a lady with a love for the sunny Australian landscape and a sense of adventure. Speaking of adventure, Vanessa has recently travelled to New York for the International Bridal Market! The latest collection, Dakota, was so well received that you can now find a range of these beautiful gowns stocked in North Carolina, Georgia, Minnesota and Florida – just to name a few places. The girls had some fun doing a fabulous photoshoot on the last day of their time in New York. Can you just imagine the images you would get from having the Brooklyn Bridge and New York Skyline as the backdrop to Vanessa's designs? Well you don't have to – check them out on the When Freddie met Lilly Instagram.
The Formal styles at When Freddie met Lilly can traverse the whole spectrum of events you may be attending. From school formals to black tie galas, bridesmaid dresses and even some fun short cocktail options for your next race day. Be sure to pop into the Bardon studio sometime for an hour of fun trying on the gowns and sipping champagne with your girls.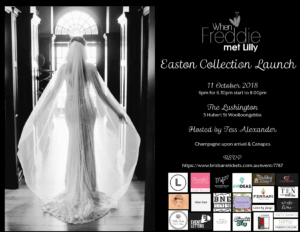 Leave your details for the team to contact you to chat about an appointment for your perfect wedding dress.

Learn More About When Freddie Met Lilly
Tell us a little about your background?
Vanessa began her fashion journey with some divine men's suiting and eventually added dresses to her collection at Hoe Boutique. But her creative side won over when she went from being a stockiest to a designer, and so When Freddie met Lilly was born out of the love of creating beautiful gowns for friends and family.
How did you begin your business?
Vanessa was a one woman solo show for the first few years of her business, which she ran out of her picturesque bedroom space. Word quickly spread about the unique and beautiful styles she was creating and so expansion was needed. Now situated in a gorgeous private studio space with amazing outlook, Vanessa and her four stylist girls greet Brides from Monday through Saturday.
What do you enjoy the most about what you do?
Receiving the photos with our gorgeous girls smiling so brightly on their Big Day is always a highlight. The joy we can bring to them is immeasurable and just so honouring!

How would you describe your products?
In 3 words: soft, romantic, down-to-earth
Your favourite piece from the collection and why?
The Dayna Gown is one of Vanessa's most favourites because of its unique T bar back and the gorgeous fitted underlay skirt through which you can see the body form underneath the gracefully falling lace.
Top tip for Brides when picking their look for their day?
Be yourself. Be open to options when shopping. Be happy!
What are some of the special features of your product?
Our light weight and softly fitting shapes keep you cool and comfortable whilst being chic of course! Also, everything is customisable completely to your individual liking.
What inspires you in your business?
We love that no matter what is happening fashion wise, or art wise, or culture wise, a Bridal Gown is always beautiful and classic.
How regularly can brides expect to see new collections?
In the past, When Freddie met Lilly has released one new collection per year, however to keep up with the industry and international trends we are now dropping Bridal collections in both April and October.