About
Pacific Charters & Tours offers the ultimate Island, sailing & snorkeling experience. Step aboard Pelorus Jack (PJ's) for the ultimate small, personalised boutique style cruise that has exclusive access to Serenity Island only 1 hour from the Port Denarau Marina. Enjoy snorkeling, fish feeding, turtle viewing and coconut tasting. After you select your 2-course lunch off the menu fell free to use the beachside swimming pool or on-site kayaks and paddle boards or simply relax and enjoy all the island facilities at your leisure.
Sailing Serenity Island Day Trip (Approx 7hrs)
FJD $229.00 (Approx $153AUD)
-Depart Port Denarau: 9:30am, returns: 4:30pm – 5:00pm (time may vary due to weather)
-Maximum of 30 guests ensures a boutique style trip – No big crowds
-Snorkeling tours with the friendliest crew in Fiji, including gear
-Warm fiji hospitality from our great crew
-A sumptuous Fijian style lunch at an Island setting
-Relaxed atmosphere and friendly crew with intimate knowledge of the local area
-Fruit platters, soft drinks and bottled water while onboard
-Transfers from Nadi/Denarau/Coral Coast
-Turtle viewing
-Coconut tasting
Private Charter Options:
With three boats we have something for everyone. Pelorus Jack can accommodate up to 30 guests, Milika II 8 guests and Watchdog 10 guests. With a charter you can either island hop around the Mamanuca Islands, fish at a good reef, snorkel at a well known sand bank or just soak up the sun whilst our crew take you around the beautiful islands of the Mamanuca group.
Send us an email so we can arrange a tour to suit your needs.
More with Pacific Charters & Tours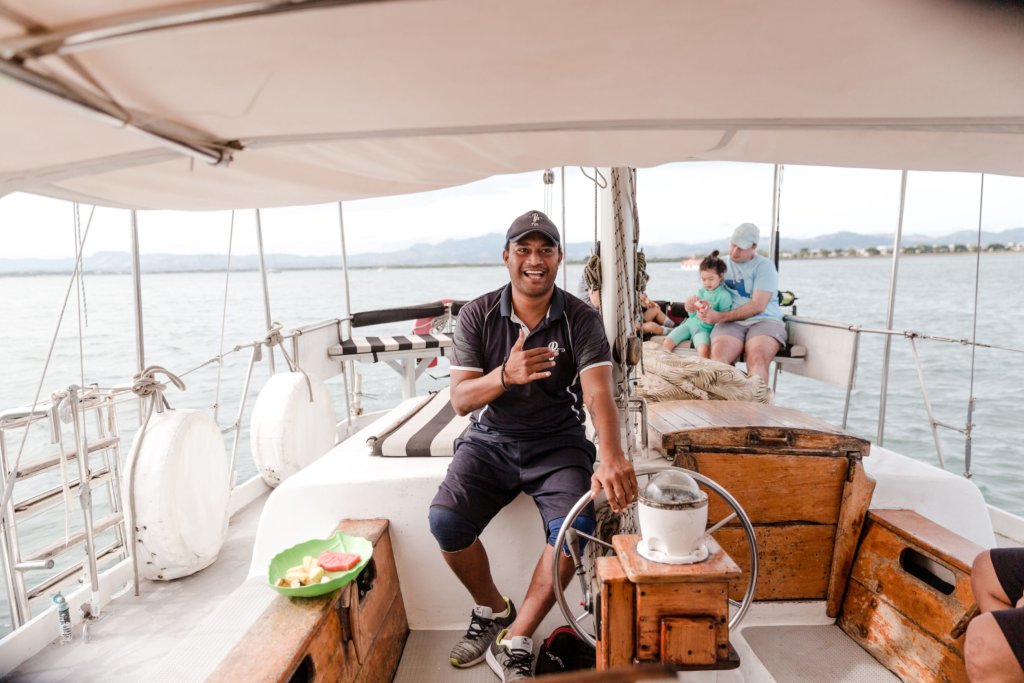 How many charter vessels do you have? 
We are proud to have 1 sailing vessel 2 fishing charter vessels
Do you offer wedding group packages and what are they?
We can cater for groups on request. See our awesome package below on a Serenity Island group package.
What is your current most requested charter destination and why?
We have exclusive access to  Serenity Island! We feel guests love this destination because of the tranquility,  it's recently been fully refurbished, and lastly, the resort facilities are top notch!
What are some of your charter highlights that you would like to let readers know of?
Serenity Island is  exclusive to PJ's. The island offers a perfect exclusive, small group experience.
Do you offer other services besides the main day trip?
We offer guests the option of booking a charter with 10pax vessel.
Top tip for parties who wish to make the best of your charter service?
Prepare yourselves for no crowds, and the most awesome island experience, filled with relaxation and tranquility
Exclusive Private Charter
Sailing Serenity Island Day Trip (Approx 7hrs)
FJD $3,425.00 (Approx $2295AUD)
Includes up to 15 people (Additional guests cost extra)
Maximum capacity is 30 people
Exclusive boat hire for you and your guests
Warm fiji hospitality from our great crew
Lunch at a beautiful island (island shared with others)
Snorkeling and swimming at your own location available