Sophie & Robbie – Warwick Wedding
Last year we had the pleasure of collaborating on a Bula Bride photoshoot with photographers Rach & Jared from Swift & Click photography and we instantly fell in love with their work again, after sharing a wedding of their on the blog a couple of years earlier. With beautiful shots that capture a couples uniqueness and character in whatever setting they are in, we were amping to feature one of their gorgeous Fiji weddings on the blog.
The wedding of Sophie to Robbie caught our eye with its understated elegance and the creative shots around the old Korolevu hotel, as well as our team ooo-ing and aaah-ing over Sophie's Fiji-perfect wedding dress!!!
We catch up with Bride Sophie to tell us more about her special day:
BRIDES NAME: Sophie Jane Landman
GROOMS NAME: Robert Andrew Landman
THE DATE: 12th of October 2017
THE LOCATION: The Warwick Fiji, Coral coast
THE NUMBER OF GUESTS: 40
Robbie and I met at the very last football and netball function of the season in 2014. I was dressed as Daisy Duke and Robbie was dressed as Napoleon Dynamite….I don't think you would call i love at first sight!! But later that evening when we headed down the pub and Robbie had removed the big orange afro and his moon boots my opinions had changed – the banter was on and the laughs didn't stop. Robbie noticed I wasn't at the recovery session the following day, he found out that I was at work and came and bought me a coffee. Best first date!!
Robbie and I have always loved the beach, with most of our holidays revolving around heading to the coast. We loved the thought of having our closest friends and family celebrate our wedding with us not just for the one day, but all get away together and make a holiday of it.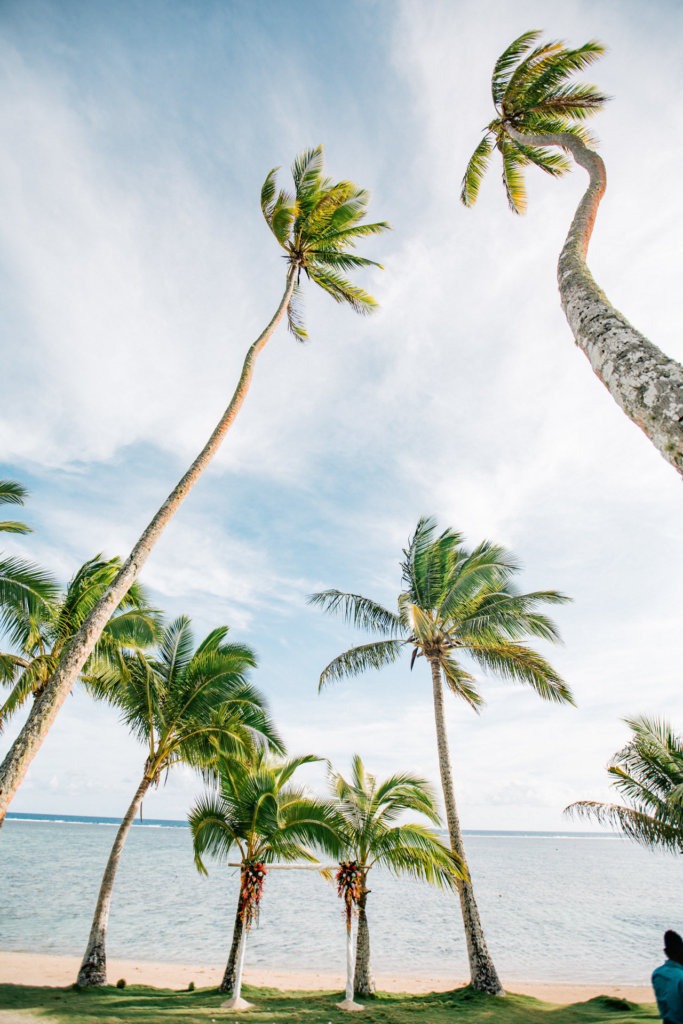 THE BRIDE WORE: The Willow gown, from Made With Love bridal collection .
THE BRIDE'S HAIR & MAKEUP: Hair – I was fortunate enough to have my beautiful sister in law who is a hairdresser handle my long locks. I just wanted a beach curl for myself and the bridesmaids and she perfected it.
Makeup – we were lucky enough to have the pleasure of having Victoria Nunns doll us up. I was one of the last weddings she was doing before heading back to NZ with her husband. So we very spoilt to have to her skills and her assistant was just as talented. The girls made us all glow in our own way. Balance Fiji came to our resort the day before the wedding to do our spray tans and nails. Which ended up being a really nice day of unwinding before the big day.
THE BRIDESMAIDS WORE: The Gardenia dress out of the Esther luxe collection from Esther & Co.
THE FLOWER GIRLS WORE: My very talented mother created the girls little 2 pieces. I had come across something very similar on Pinterest and we went and picked some beautiful silk and tule together that would match into my dress and the bridesmaids. I was all for the belly buttons so I just loved what mum did with pattern and the girls twirled in them all the way into the night.
THE GROOM & THE GUYS WORE: Robbie wanted light and comfortable for him and the guys. But didn't want it to look to casual. White linen button ups and sandstone chinos were from Industrie clothing. Boat shoes were Kenji which were a nice tan and they tied it in nicely with a belt to match. To make Robbie a little bit more formal he wore a suit jacket made from linen that was nice and light but formal and sexy.
THE CEREMONY LOCATION: The Warwick Fiji
THE COLOURS/THEMES OF THE DAY: The beautiful tropical flowers were enough for the colour theme. We let them do the talking and left everything else surrounding neutral.
THE FLOWERS/BOUQUETS: I just kept the bouquets to the natives of Fiji, with mostly pink gingers and they found beautiful light purple ones for my bouquet, Heliconias, Anthuriums, and little bits of white gypsum encapsulated by beautiful green leaves with twine wrapped around the stems to hold it all together.
TELL US ABOUT YOUR VOWS/STYLE OF THE CEREMONY:
Robbie and I wanted our ceremony to be personal. Marriage is always a massive step for a couple but I was also becoming a step mum. Although Robbie, Ella and I have always felt like family we were also making it official. We wanted vows to be a bit more modern, with more depth than the traditional wedding. We found a template for our vows on a really quirky site called 'off the beat bride'. It was the perfect guide to writing our vows and to make them warm, funny and loving. Without either of us off knowing what we had written, as we had both written our vows in our own personalised vow books. Hearing each other's vows for the first time at the ceremony was the most incredible feeling. Emotions were raw that's for sure! Having our own vow books gave me the chance to add my own vows to Ella (Robbie's daughter) into the ceremony. Although I could barely get the words out to beautiful Ella, I was able to make my own commitments and promises to her which I felt was just as important as the ones I made to Robbie. A moment never to be forgotten.
THE RECEPTION LOCATION: The Warwick, Navau deck
CENTREPIECES, DÉCOR, & SETUP OF SPACE PROVIDED BY: The Warwick, Fiji we also provided a few of our own props that we wanted we up in the space. Without even telling them where we wanted it, they had it set up perfectly.
THE DINNER MENU: We had a buffet menu, they had so much delicious food to choose from including yummy an array of meats, salads and vegetable and then a seperate dessert buffet.
THE WEDDING CAKE: Was provided by the Warwick, Chocolate cake, with buttercream icing.
MUSIC/DANCING/ENTERTAINMENT PROVIDED BY: Music for the night was so important to Robbie and I. We wanted a live band. The Tolu band were highly recommended and they were absolutely phenomenal!! Everyone got up and danced the night away. They let my mother-in-law sing a song I requested and we also got one of groomsmen up to sing a classic. He's an amazing singer so that was a highlight. My sister and I may have also gotten up and had a crack!!
END OF RECEPTION: Jared had managed to get some sparklers so we did a exit with all our guests holding them up in a guard of honour. After the reception we headed up to the rooftop bar and continued on the festivities with all our guests.
THE PHOTOGRAPHER: The amazing Swift & Click photography and we had Konrad Thorpe help out on the day. We came across Swift & Click on Bula Bride and were absolutely blown away by the weddings they had captured. Every picture I fell in love with, because not only were they capturing beautiful brides and grooms and there special day, they were capturing the moments that you will cherish forever but without looking like it was a planned photoshoot. Once I contacted Rachel, I knew straight away knew that they were the perfect photographers for us. They were laid back, but very prompt with all emails and communication and were super friendly! Our wedding day would not have been the same without Jared, Rachel and Andre. We had so much fun as they captured our day and we will never actually be able to thank them enough!! I highly recommend using Swift & Click I still have people telling me how incredible my wedding photos were and I give all the credit to them!!
THE VIDEOGRAPHER: Swift & Click André Willis
THE WEDDING PLANNER/TRAVEL AGENT: My beautiful best friend who was also my bridesmaid works at Flight Centre so handled all of the itinerary for not just us but also a lot of the other guests. They have some great deals with the resorts.
My advice to brides planning a Fiji wedding:
The Fijians know how to accommodate and do weddings. Some resorts might have a wedding everyday, so be prepared not to get an email as soon as you send one. Trust that they know exactly what they are doing. They are the professionals and your wedding day being perfect means everything to them.
We created a Facebook group and invited all of our guests and provided details and updates leading up to the wedding to ensure everyone was on the same page, this worked really well and would highly recommend it.
Every Vendor I used on Bula Bride was nothing short of amazing so don't make your job too hard by trying to do all your own research.
Last but not least, you will NOT be disappointed with choosing Fiji as your wedding destination it's the most magical place and filled with the most lovely people you will ever meet!
The highlight of our wedding experience:
The highlight of choosing to get married in Fiji was that it was not just a super special memory for us but for all our family and friends that got to be apart of it. Watching all the families and my lifelong friends meet up around the resort and enjoying each other's company made Robbie and I feel so incredibly lucky and content with our decision to do a destination wedding.