Shea & Taylor – Tavarua Island
Ohhhh mannnn – you are all going to just love the romance of this Fiji love story! Surrounded by pristine natural beauty and world class reef breaks, the iconic and ever intimate Tavarua Island Resort caters to all those with a sense of adventure amidst simple elegance. So what better place to meet the love of your life? We catch up with bride Shea on how she and partner Taylor met & wed at Tavarua.
BRIDE & GROOM: Shea and Taylor
THE DATE: May 9th 2018
THE LOCATION: Tavarua Island Fiji
THE NUMBER OF GUESTS: 50
Taylor and I met 8 years ago, I was on my yearly family surf trip to Tavarua Island, my family has been going there every year since before I was even born, so to me that trip was the same amazing trip as any other year. Little did I know at the time, one of the life guards that was staying on the island would end up being my husband 8 years later. While I was on the island I met Taylor. The island is small, it holds about 45 guest, so Taylor and I got to know each other pretty well over the two weeks I was there. And crazy enough we figured out that we lived only 30 minutes away from each other back in America.
On my last day on the island, he wrote me a love note and hid it in my backpack, and I did not find it until I got home, and the rest is history.
The location was easy for us to chose, Tavarua is such a special place to both of us. From meeting there to all the amazing times that we have both shared there over the years, we knew it was the prefect place to get married. We had a good idea of what we wanted. A beach wedding, where family and friends could go and have a good time. The natural beauty of Tavarua and the ocean make for beautiful backdrops in every picture. We needed flowers, a minister and a dress. Pretty much everything else was handled by the Tavarua staff and our families. We just wanted to have a good time.
Taylor and I planned the wedding and Tavarua made it happen. The islands staff are the absolute best people in the world, they made everything so ease for us and exactly what we wanted! We could not be more thankful for them!
GETTING READY:
We wanted our wedding day to be as relaxing and fun as possible, we didn't want it to turn into a crazy stressful day. Taylor and his brothers went fishing in the morning, and I just relaxed on the beach with my family and enjoyed the morning. The boys got back from fishing right around lunch time, and because the island was filled with all of our family and friends, everyone kicked in and helped decorate for the wedding. It was one of the most fun parts of the day seeing our whole group of loved ones come together to help set up for our wedding!
I wanted to keep a very natural look for the wedding, over the top makeup and hair just didn't seem right for a Tavarua wedding. My mom did my hair and makeup; it was really special.
My dress was by: Grace Loves Lace
The Bridesmaids dresses were from: Acacia Swimwear
The Groom & the guys wore: The groom wore a blue suit! Our best man wore a white button up and burgundy pants that matched the flowers on the bridesmaid's dress.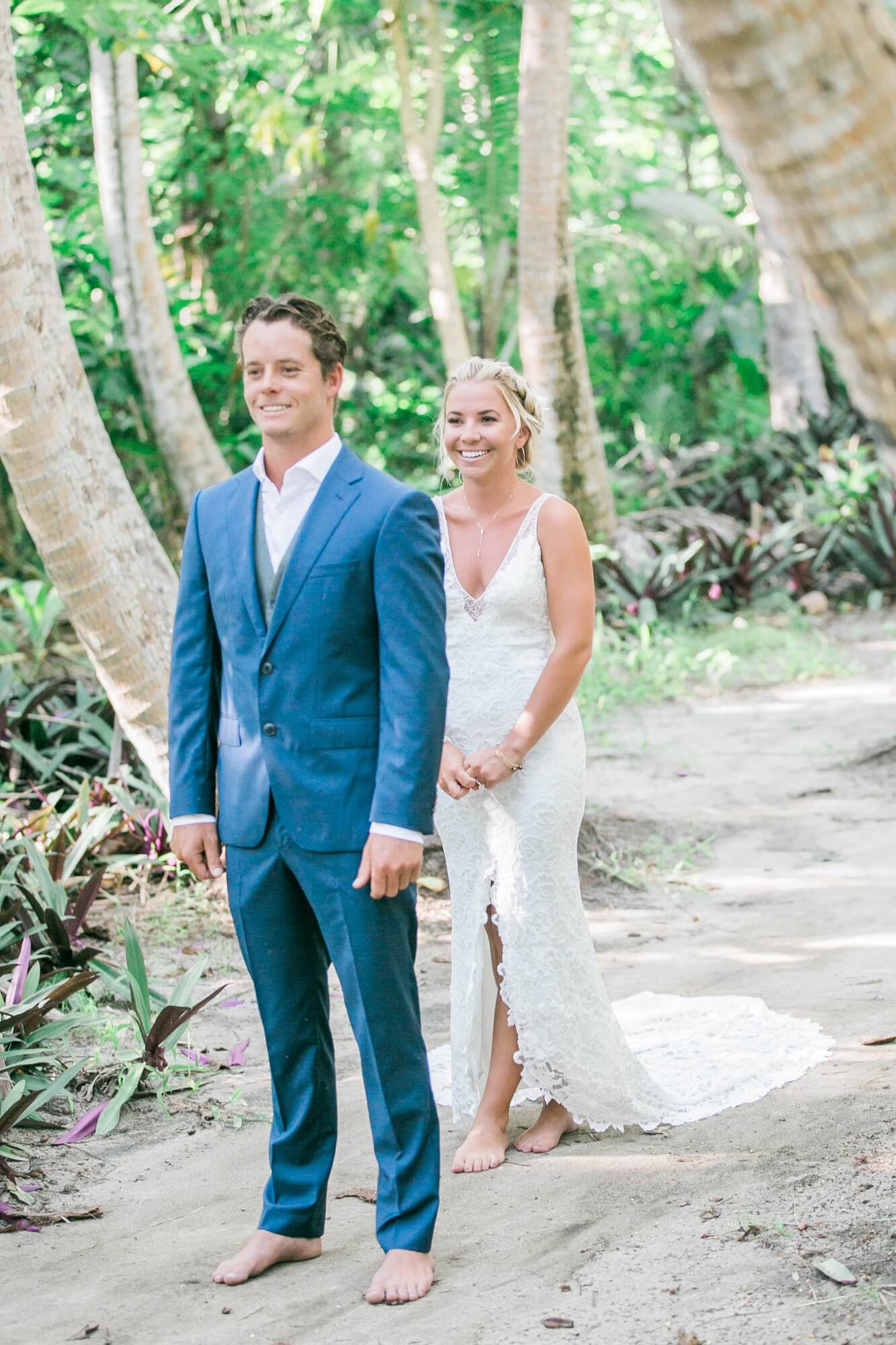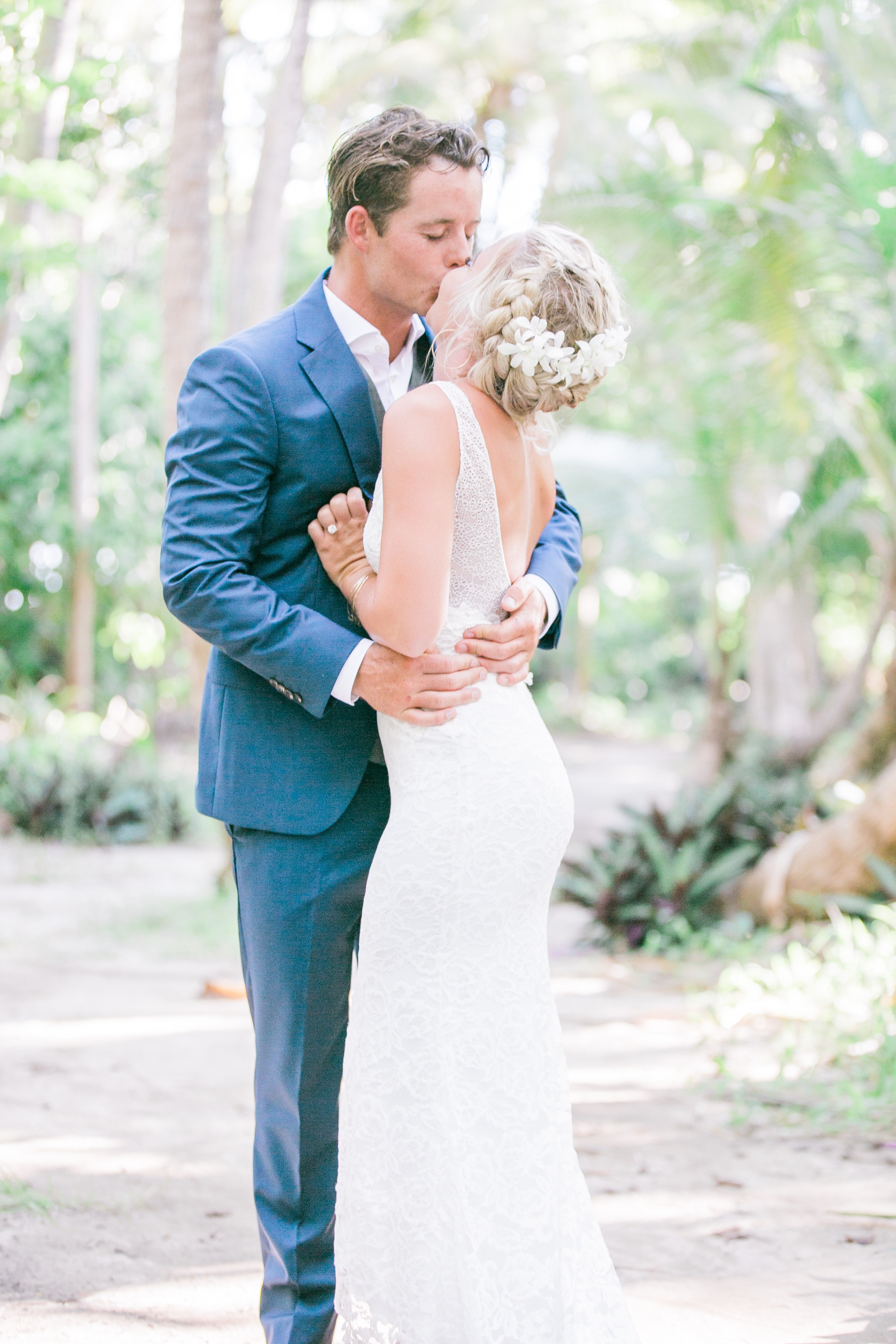 THE CEREMONY:
There is a palm tree on the beach that is in front of the Restaurant on the island and it made for a prefect backdrop to the ceremony with the sun setting over the ocean. It was a beach wedding so we wanted everything to be very natural. We had beautiful tropical flowers and greenery everywhere.
Tavarua really helped out with all of the decor. We told them what kind of flowers that we wanted and they made it happen. Setting everything up for the wedding turned into a fun group project, all of our friends and family were so excited to help set everything up! My mom, sister and I made the bouquets.
Taylor and I both wrote our own vows, it was really special and a lot more personal than the traditional vows.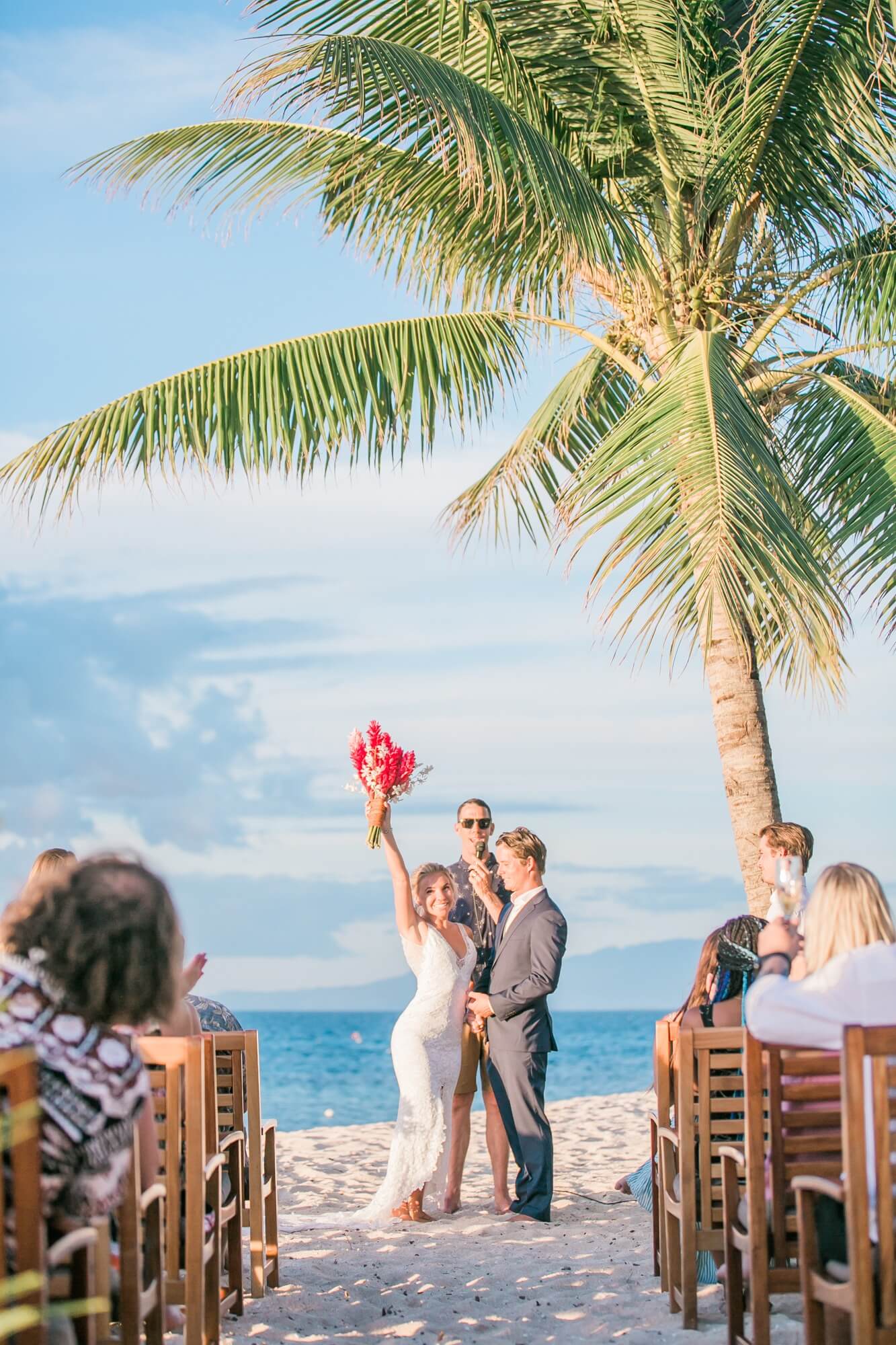 GETTING PHOTOS:
Our photographers were Lia and Stu Johnson. They did our friends' wedding on Tavarua a few years ago. They are so helpful, so accommodating and take really beautiful pictures.
We really wanted photos that would capture the beautiful island, and everything about the day. The photos are beautiful! Lia and Stu have such a natural eye for taking photos, everything turned out so pretty. They did a great job capturing the beautiful day, and all the love excitement, and happiness of not only Taylor and I but of all our wedding guests.
THE RECEPTION:
The reception was at the islands restaurant. We kept the themes the same as the ceremony, we wanted everything to be very natural. We had beautiful tropical flowers and greenery everywhere.
The staff of Tavarua Island took care of everything! We just told them what we wanted, and they made it happen. For food we had Poke, and different types of sushi and Tacos. And for drinks we had Margaritas, Mojitos, beer and wine.
We did not want to do the traditional "cake cutting" so we did not even have cake. Because we knew we were having our wedding in Fiji and having a DJ come to the island would be a little hard, we put together different playlists one for cocktail hour, one for dinner, and of course dancing!
IN THE KNOW
Who Did They Use?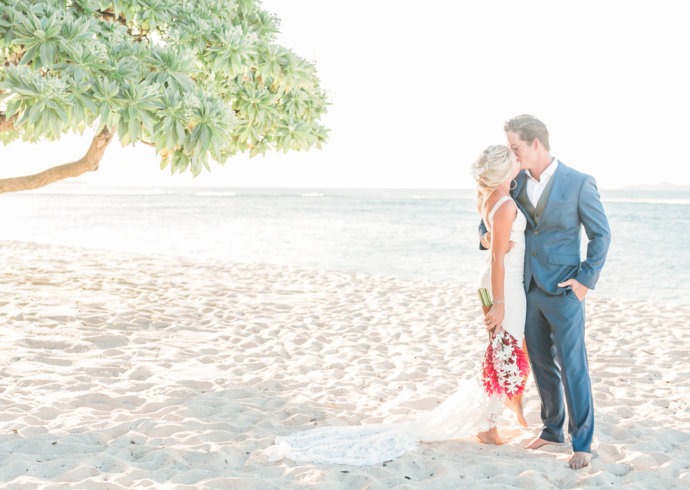 Fiji Wedding Photographers
Lia & Stu
Read More