Renee & Ngawati – Outrigger
A shared love of their pacific heritage and culture brought Renee and Ngwati to Fiji for their beautiful wedding. Their special day was filled with family and friends, and lots of fun. Mid-year in Fiji is generally known for it's good weather and our couple were able to take full advantage of this by capturing some gorgeous images up on the hills behind the resort.
We catch up with bride Renee, as she breaks down the details of planning the perfect wedding in paradise.
BRIDES NAME and GROOMS NAME: Renee and Ngawati
THE DATE: 12th July 2018
THE LOCATION: Outrigger Fiji Beach Resort
THE NUMBER OF GUESTS: 70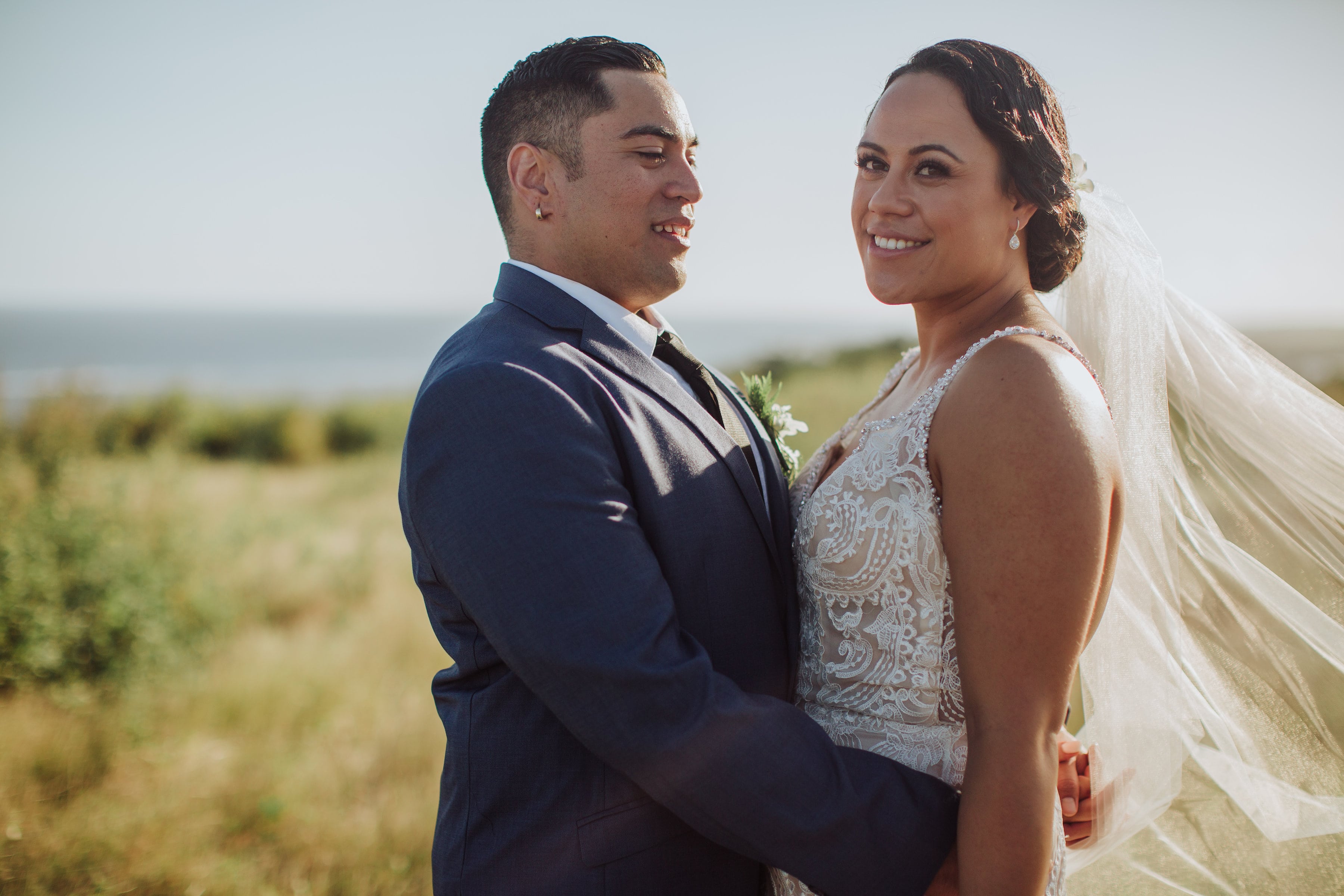 THE BEGINNING: 
Ngwati and I met in 2014 In Perth through my cousin, who was a friend of Ngawati's. She told him she had found his perfect woman and that I was over in Perth for a holiday and conned him into taking me on a date. After stalking me on Facebook, he asked for my number, picked me up the next day for our first date, and the rest was history.
We knew we wanted a destination wedding, as well as a full package so that our families could just have a holiday and relax, and enjoy our special day. We went through all the available packages and locations using Bula Bride information as well as general hotel websites.
Our guest list started in the mid 100's so we narrowed it down to locations that could take 100 which wasn't very many. We then looked at what different packages included, what ceremony and reception locations were on offer, and other inclusions.  We chose  Outrigger Fiji Beach Resort based on reviews, and value for money, as well as the stunning chapel location.
GETTING READY:
Tell us about your day, pre-wedding o'clock: July weather was beautiful, not too hot but still sunny and warm for singlets and tees. The guys had stayed together the night before, and spent the lead up in the pool, playing basketball, and at the golf range which the photographers and videographers came early to capture! Bridesmaids got up went to breakfast and were in the thick of it with hair and make up early on. Music and wine was flowing, with both our families coming for pics with us pre-ceremony. The golf buggies got the boys, then came and got us half an hour later and took us to the chapel, it was PERFECT!
Hair and Make Up by: I used Stanley Morrell Hair and Make up, and Stanley and his team were BRILLIANT!
My dress was from: Hello Romeo in Masterton, NZ. The label was Jasmine Bridal.
The Bridesmaids dresses were from: Blaque Boutique online shop. We got infinity dresses and they looked brilliant on all my bridesmaids!

The Groom and the guys wore: Suits from Hallensteins, with collared tees and shoes Connors in Australia.
What gifts were exchanged and where from:  We went through wish to find little gifts for our bridal parties, dressing robes, personalized wine glasses and flasks, reusable personalized coffee cups. The girls also got some Pure Fiji packages that were for sale at the hotel.
THE CEREMONY:
Location: Bure Ni Loloma Chapel
Grace Creations provided our welcome sign with easel and the rest was provided by Outrigger in the package. We chose lots of greenery, white and rustic flowers. The flowers were just used those provided through the Outrigger package which were beautiful. We wrote our own vows and recited them at the ceremony.
GETTING PHOTOS:
We did lots of research in selecting our photographer. We came across the Leezett Photography page Instagram and checked out their website and instantly fell in love with her photos. Her attention to detail and the quality of images are amazing.
We wanted the traditional family shots, some beautiful couple pictures, and also some really natural guest photos. We aren't big on posing for photos, so in researching we wanted more candid shots.
We originally hadn't booked a videography when we first started planning, but we decided to and it was the best decision we made. We were so happy with the video; it captures every moment of our special day and more. We highly recommend getting a videographer as it brings back so many memories and details that can easily be forgotten, as well as seeing things you didn't witness.
We are so happy with our photos and video from our special day. The team from Leezett photography made us feel so comfortable in front of the camera and were able to capture all the beautiful moments throughout the day. We absolutely LOVE the highlights video, and the cinematic way it was captured REALLY blew our mind. There are so many beautiful moments we are so glad to have gotten the biggest package! You can never have enough!
THE RECEPTION:
Where was the location:  Vahavu Restaurant and Pool Area
We stayed with the Greenery and white flowers/rustic look for the reception. The majority of the decor was done by Outrigger and it looked stunning. We got table runners done by Grace Creations.
For the cocktail hour, while photos were being taken, we served cake up on the hill to guests, who then went and mingled at one of the bars on site until the reception. At the reception wehad 4 hours of drinks package (added an extra hour for guests on top of what was included for package).
For the dinner menu, We upgraded with our package to the "Deluxe" Dream Wedding Package which included an upgraded Seafood Buffet and changed a couple of seafood items for those who were not into seafood. We also were able to order gluten free meals that were cooked fresh and plated for celiac guests which they really appreciated.
OUr wedding cake was made by The Outrigger and we didn't get any because the guests loved it so much!
DJ Inosi was our DJ for the evening.
At the end of the reception, the majority of our guests carried on at the Vakavanua Lounge, they had live bands and some of our guests got up and sang with them!
Pre wedding we did a joint hens and bucks with Captain Cooks Cruises to Tivua Island. All alcohol/beverages were included on the boat there and back, as well as on the island. It was so awesome, guests had the best time playing volleyball, swimming, snorkelling, paddle boarding or lounging on the beach and laughing. We played beer pong and did a kava ceremony on the boat, I highly recommend!
HIGHLIGHTS OF THE DAY:
The highlight of the day was  getting married knowing how much fun our friends and family had together across the whole week, finishing with our special day.
The wedding planning team at the Outrigger also over saw every detail, and made the entire day run seamlessly. I cannot recommend them enough.
ADVICE FOR FUTURE BRIDES: 
I utilized the blogs, articles and databases on Bula Bride often throughout our wedding journey, from initial inspiration for themes, to finding make up artists, photographers, and videographers. I then was able to follow them on social media and really look at their work to see what would best suit for my own style and ideas. It was definitely a bookmarked site while prepping as I loved the wide range of themes and contacts provided!
My advice for future brides is to do all your research, don't be afraid to stick to what is supplied by the resort as they seriously have such high quality set ups. Don't stress, go with the flow and have the best time of your life!