Rachel & Lochie
OK, so who is not guilty of a little reality television watching these days? And with all the dating shows plastered all over our screens, it's not hard to be inspired (or horrified!) about the different ways to meet the future love of your life. So when we came across Rachel's wedding photos and read about how she met her husband, we just had to share this one on the blog!
We chat to Rachel about what inspired her Fiji wedding:
After watching Farmer Wants a Wife on TV my bestie had an idea for us to go the country pub out of town and meet a farmer! Low and behold, me and my farmer have been inseparable ever since! 
We live in North East Victoria but my family all live in WA so we knew they'd have to travel. Loch and I have been together for 7 years but our families had never met. My in-laws are all farmers so we wanted a destination wedding so they'd get a chance to get to know eachother. We tossed up between Bali and Fiji and fell in love with Fiji from the reviews we found online. I did a lot of online research and found the Outrigger came the most highly recommended and it ticked all of our boxes (wet weather location, kids welcome, cheaper accommodation options nearby, other eateries around, and a stunning place for photos for my big day).
I was so lucky when it came to planning my wedding. I found an amazing Destination Wedding Planner who knew everything there was to know about Fiji weddings, and her mixed with my resort planner meant they were so on the ball. I read a lot of Fiji Brides have trouble getting answers to emails etc. but mine were all answered within a day. Darshita from the Outrigger and Mandi Forrester- Jones from Viva Weddings & Travel were a God-send!
Getting ready with the girls in the morning was fun until we had a hiccup with my dress and were a bit tight on timing. Make sure you chose an experienced photographer who can guide your timing for the day as this was invaluable for us! He kept us on time so we were not too late for anything. My absolute favourite part of the day was the time we spent with our bridal party having photos. My bridal party was full of chatty hilarious people – we chose those who would make the day fun and memorable and it turned out to be a great decision.
THE BRIDE WORE: Katie May, Lanai
THE BRIDE'S HAIR & MAKEUP: Silver Strand
THE BRIDESMAIDS WORE: A mix of White Runway, Boohoo and Showpo
THE FLOWER GIRL WORE: Arabella and Rose
THE GROOM & THE GUYS WORE: Ferrari Formalwear Albury
We had our ceremony at Bure Li Loloma Chapel. Tropical Elegance was our theme, lots of luscious greenery with gold accents. Ginger Says supplied my bouquets which were a mixture of whites and greenery.
My wish for the ceremony was for it to be short and sweet, but full of love and emotion. We wanted the view from the chapel to speak for itself so we didn't have a lot of decorations, though I did add a few personal touches with confetti bags, program paddles, my signage and my reserved seating signs on our families chairs. When we had a rehearsal the day before there was a big leaf archway at the head of the aisle and I quietly said to Loch that I didn't want it. Luckily I did because when he arrived at the chapel there was one there and whispered to them to get rid of it before my arrival lol! We wrote our own vows and had Loch's Aunty perform our ceremony for us. It was truly touching and magical.
We chose Nadi Bay Photography for our photos and couldn't be happier with our photos. Their communication from the get-go was amazing, they were very helpful with ideas and were very accommodating with our large bridal party. They recommended only have the Bride and Groom go offsite for photos but my hubby insisted on having them come with us during this part of the day so they made a few suggestions and were able to guide us for timing all day long. I dont know what I would have done without Laurence's guidance on the day as we were constantly distracted and he knew exactly where we should be when! Our photos are just stunning and were having a hard time choosing the ones we want to put on display, they are just all so lovely.
I actually bought over 156kgs of bits-and bobs with me to decorate our reception! But I also had the amazing Grace Creations set up my reception. They worked closely with The Outrigger team to create my tropical wonderland by the pool.
We bought over our gold sequin tablecloths and had gold animal escort cards so when our guests arrived they had to pick up their animal then it led them to their seat. The centrepiece tripods were done by Grace Creations. We had personalised chocolates for bonbonniere and gold acrylic name places on each persons plate. We had lots of tropical leaves for the placemats and wrapped each guests plate in a banana leaf for added effect. We also decorated each chair with tropical leaf arrangements and had fairy lights everywhere! We also bought over face coasters which were a huge hit for our guests and helped break the ice for those who didn't know anyone. Im so glad I went to all the extra effort for our personal touches. You really don't need to but for someone as picky as me I walked into a fairy-light filled wonderland and loved every second of it!
COCKTAIL HOUR: The Ocean View Terrace, (It had to be moved due to poor weather at the Sundowner Bar)
THE DINNER MENU: We had the Ocean Feast Seafood Buffet, which our guests are still raving about being the best food they've ever eaten in their lives!
THE WEDDING CAKE: The Outrigger and our cake topper were two gold deer from HalfPintFauna on Etsy.
MUSIC/DANCING/ENTERTAINMENT PROVIDED BY:
DJ Will was our MC and DJ and we hired The Manakilagi Dance Crew to perform and Meke Dance and Fire show. It was brilliant and they even got all our guests to join a conga line!
We held our afterparty at the Vakavanua Lounge until the early hours of the morning. There was a live band playing and bad dance moves were rife!
My advise for planning a wedding in Fiji: If you are anything like me and like to be in control of absolutely anything make sure you do your research! Spend up on things that matter to you and skimp on others. Don't let people tell you things are a waste of money if they will make your day better, you wont regret the money you've spent! If you are easily stressed don't choose a resort that won't get back to your emails, this will just add to your stress, and for me half the fun of my wedding was the planning. Ask other brides for advice and use the group Facebook pages for all the reviews you can find.
–//–
IN THE KNOW
Who Did They Use?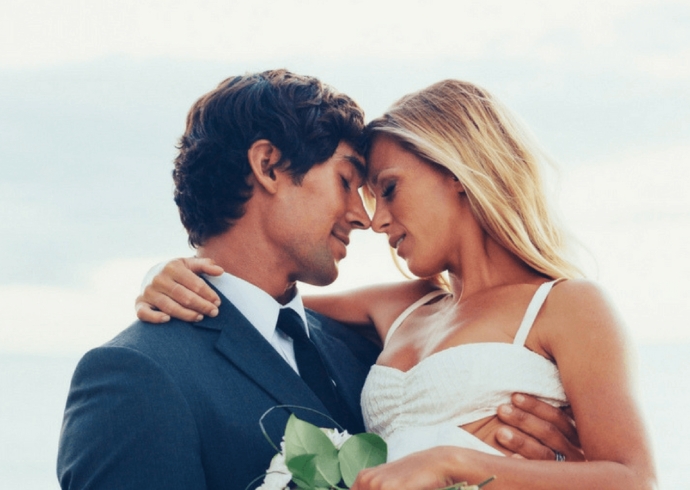 Wedding Planners & Travel Agents
Viva
Read More