Melanie & Geoffrey – Shangri La
Melanie & Geoffrey have done what so many couple are choosing to do these days – create an intimate family wedding that doubles as a holiday at the same time. The Shangri La is the perfect venue for this as it is a family resort, with adults only options and intimate ceremony locations available for smaller wedding parties. From every part of the resort, the views out to the ocean are simply stunning. We catch up with bride Melanie on planning her wedding in Fiji.
BRIDE & GROOM: Melanie & Geoffrey
THE DATE: 15 May 2019
THE LOCATION: Shangri-La Fiji
THE NUMBER OF GUESTS: 10 (including us)
We met through online dating and had our first date at a coffee shop about 2 years ago. I remember being so sick prior to our date and almost cancelling on him but my mum pushed me to go and it was the best decision of my life. Geoff always says he knew we would be together from the moment he saw me. We immediately hit it off and could not stop talking, we talked about everything (and we still do!). Geoff is everything I ever dreamed of and more. He is an amazing father to my son and I couldn't imagine our lives without him in it.
We were going on a family holiday to the Shangri-La and decided to get married while we were all together. We wanted an intimate, family wedding and couldn't think of a better time or place to get married. Researching and organising our wedding involved lots of googling and emails back and forth between the resort and me. We kept it pretty simple and went with the recommendations of the resort. My mum is a travel agent so she did a lot of the planning for us. There were a few hiccups from the resort but mum was able to liaise with them to sort it out.
I liked reading stories on Bula Bride about other people and how and what they decided to do as part of their ceremony. Seeing photos was also really inspirational.
GETTING READY:
Geoff and I left our formal documents at home but luckily Geoff's mum was flying to Fiji a few days after us so we were able to get it to her and she was able to bring it along with her. It was so lucky! I am the most organised person and I forgot the most important/formal part of our wedding! So on our wedding day we started the day early by driving into Sigatoka to finalise the formalities of our marriage. After that we spent some time at the pool with Tyler and our family. We had some lunch by the pool and I headed off to get my hair done about mid-afternoon.
The resort salon did my hair, it fell out during the ceremony and I wasn't really happy with that part but it did look good enough for the photos. I actually had a hair extension piece made for my hair but I don't think the hairdresser was really experienced with hair pieces so it wasn't exactly what I wanted. I took it out after we finished dinner and before we went to the bar for a drink. I also did my own makeup, I don't wear a lot of make up and wanted to stay as natural as possible.
My dress was from: Affordable Bridal in Canberra. I went for a look with my mum and found it on the first day. The detail in the dress reminded me of the beach and how the waves look over the sand.
The Groom wore: Geoff wore sand coloured slacks and a white shirt from Myer.
What gifts were exchanged and where from: We gave Tyler a pocket watch as part of our ceremony with the words "time spent is family is worth every second" engraved on it.
THE CEREMONY:
The location was the Shangri-La in a cabana by the ocean
The Shangri La provided set up the décor at the ceremony as part of their wedding package. We didn't have a colour scheme. We went neutral tones for our clothes with local flowers to decorate. The resort supplied our flowers. I chose to go with a tropical bouquet to stay true to Fiji.
We went with more of a family style ceremony. Tyler is my son from a previous relationship and Geoff has taken to the role of step-father like a duck to water. Tyler adores Geoff and vice versa. Geoff and I exchanged our vows to one another then we included Tyler in our "family vows". We made promises to each other as a family. We felt it was important to include Tyler in our ceremony as the day was about us coming together as a family. Our witnesses were my mum and Geoff's mum. We couldn't think of better people to witness our marriage than our mums.
GETTING PHOTOS:
Anais Chaine Photography was our photographer. Originally we went with Anais as she was inexpensive but she ended up being so thorough and a really important part of our day. She took the time to get to know us and we couldn't have asked for a better photographer to suit us as a family.
We wanted natural and fun shots to reflect us as a family and it was exactly what we got. We love our photos! We had so much fun taking them, as did Tyler. And the result was stunning!
ADVICE FOR BRIDES PLANNING A FIJI WEDDING:

My advice is to go with the flow. We ended up with a windy afternoon but some things are out of your control. Everything may not be perfect or how you envisioned it to be but your wedding day is not about the flowers or the dress or the weather. It's about celebrating the love you have for each other and your future together. So if your hair isn't just right or the food wasn't what you wanted, don't let it get to you, enjoy your day and look back on the things that went wrong with fond memories and laughter.
HIGHLIGHTS OF THE DAY:
It's hard to choose a highlight of the day. Getting ready with my mum and son, Geoff getting ready with his mum. Sharing a few quiet moments before the ceremony with Tyler. Laughing and playing on the beach after the ceremony. Watching our family enjoy the day as much as we did. It was a just perfect day (despite the rain, the wind, my hair and the cake).
My son and I walked down the aisle together to Geoff to form our new family. Geoff's face was lit up with pride and love. I knew saying my vows would be emotional but I practiced them a hundred times with ease, I ended up getting one sentence out before I started crying! It was a funny moment and everyone shared a few tears and had a laugh together. Tyler was also excited to be included in the ceremony and was emotional when Geoff and I said our words of love to him.
After the ceremony we laughed and played on the beach and even got caught by a sneaky wave which ruined Geoff's shoes and mine but it was so funny! The rest of our photo shoot was in squishy shoes but it just added to the memory of the day.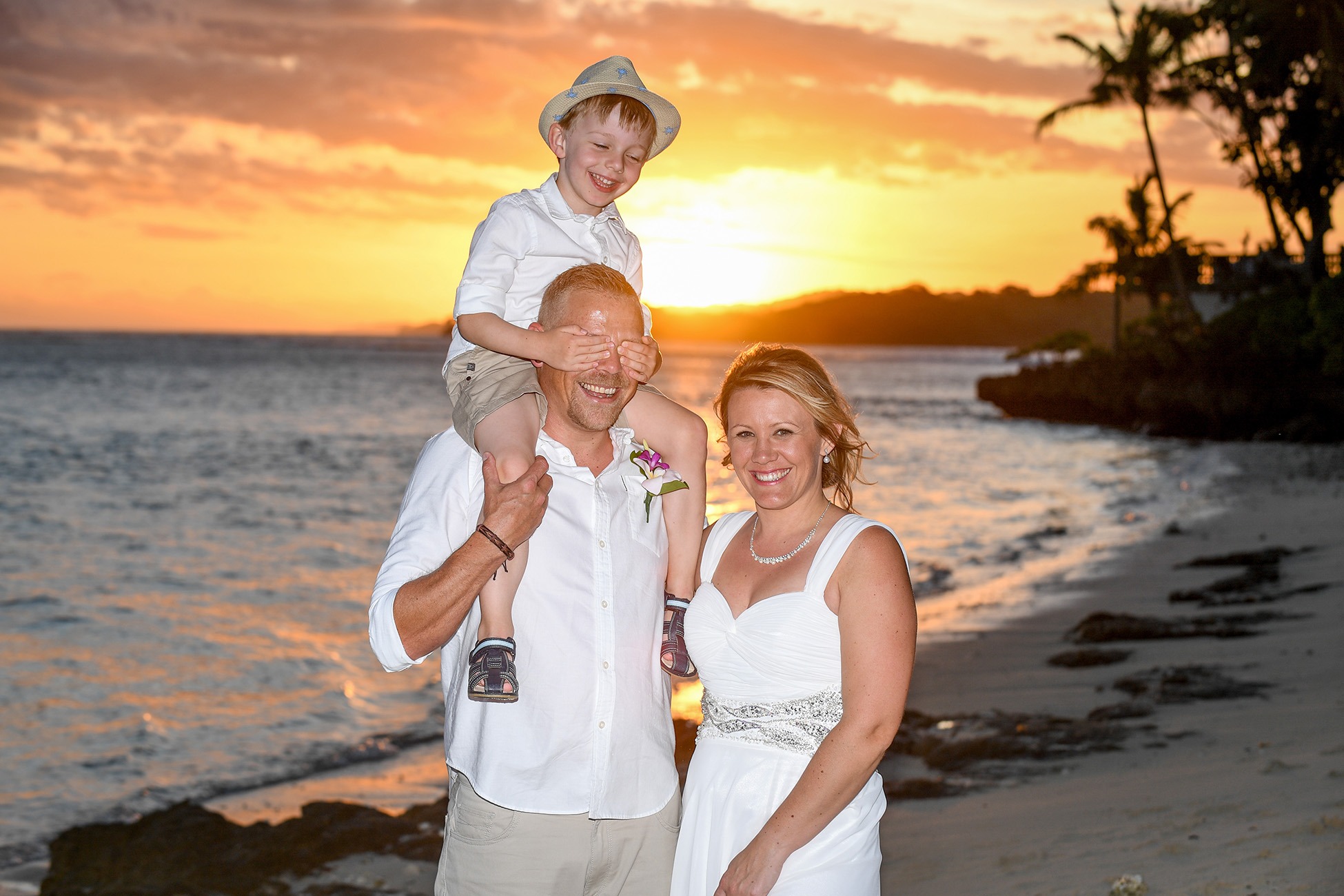 THE RECEPTION:
Our "reception" was held in the cabana where we were married, we had one table and chose our meals from the standard restaurant menu. There were 10 of us in total, which included 3 children (under 5 years old). We had local flowers with fairy lights through the flowers and some lovely ferns around the cabana.
We had an iPod with our favourite songs connected to some speakers, perfect for background music at dinner. At the end of the reception we put our tired kids to bed with the nanny service offered by the resort then headed to the bar for a few cocktails.