Jason & Samantha
Today I am SO excited to share with you the wedding of Jason & Samantha. I had the utmost pleasure, alongside Taste Fiji in bringing Jason & Sam's wedding to life at a private property on the Coral Coast.
"We are both travel enthusiasts so we wanted to tie the knot in a place that would bring our friends and family together to experience something new and exciting for all of us. We wanted to pick a locale with warm weather, natural beauty, opportunities for adventure, culture and most importantly, a fun and welcoming community. When we began to consider Fiji, it was clear that it was everything we wanted and more." ~Samantha
Bride Samantha contacted One Love Fiji Weddings looking for something outside the box & tailored for their big day. The couple were after a relaxed, simple & tropical style wedding. And the Myola Villas were the perfect spot, with its rustic charm, panoramic views of the coast and gorgeous gardens.
Sam shares with us details of their day. Australian Photography & Videography duo Sail Me to The Moon were there to capture it all.
The Fellas Wore / Groom: Custom tailored suit by Knot Standard for the ceremony: Ted Baker shorts & button down shirt with custom Converse All-Stars for the reception
Guys: Jason's brothers wore traditional Fijian sulu sarongs for the ceremony paired with the Barney Cools "Lisse" trim fit floral button down shirts; J Crew lightweight chino club shorts & custom Converse All-Stars for the reception.
Hair & Makeup / Was by Ash at Hair N Mkup Perfectionist. Holy black magic, he is AMAZING and his whole team is so sweet & fun!
The Bride Wore / Dress: Celestine gown by Carol Hannah Shoes: L.K. Bennett "Alex" point-toe wedge pumps; changed into Pedro Garcia "Estee" sandals after the ceremony Accessories: Rings by Anna Sheffield: engagement ring is a custom inverted black diamond Bea ring (the 1st of its kind-Jason had it set inverted to showcase the beautiful emerald cut & Anna loved it so much that she sells it that way now), accompanied by a white diamond Crescent band & gold Sheaves band; blush streak belt, gold and freshwater pearl vine headpiece (both by Carol Hannah).
Theme / The planning & styling was coordinated to a tee by (Dua Tani) Bula Bride & Taste Fiji. The theme was simple, elegant, understated; natural colors to quietly compliment the beautiful landscape of Fiji-lush, overgrown greenery; soft white and neutral textiles; natural botanicals; including limes from the plantation orchard served as name cards at dinner.
The Flower Girls / We had 6 flower girls ranging from 4 to 11 years old, so we let them pick their own dresses that were age appropriate for each of them and showcased their individual styles and personalities. The varying texture and character of the mismatched dresses looked amazing photos and they all ended up with dresses that they love and will wear again and again.
The Reception / Was held in the gardens of the property. One long dinner table set in the garden decorated with linen tablecloth, limes from the orchard as name cards, lush greenery & candles, festoon lights overhead…so dreamy.
The menu was catered by Taste Fiji. We had a selection of locally sourced dishes served family style along the table: seared local reef fish; slow roasted beef fillet; grilled chicken breast; artisan breads & spreads; mango salad; indian spiced crushed new potatoes; rocket, basil & cherry tomato salad; pickled cucumber with chili.
The Highlight /
With us living abroad, spending a whole week with our closest friends & family was amazing and–ending it with us tying the knot & a big party to celebrate was so special.
IN THE KNOW
Who Did They Use?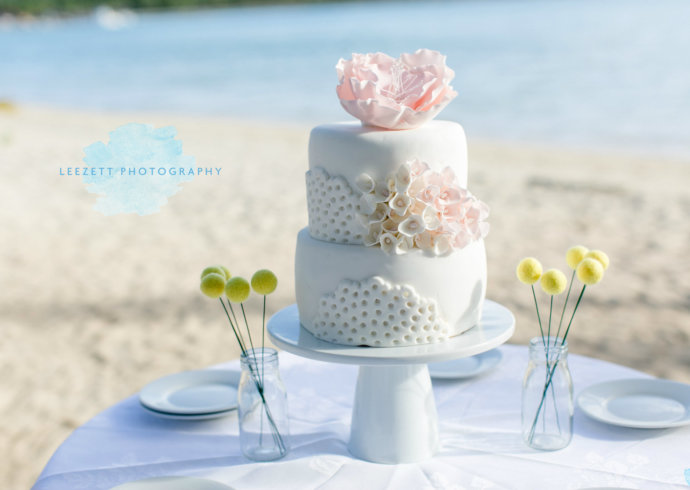 Wedding Cakes & Catering
Taste Fiji
Read More