Hannah & Lee
Lee and I met in 2015 and instantly fell in love. Having a 2 year old little boy, I didn't think it was possible at the time for a man to not only fall in love with me, but also my precious little boy as well. But he did.
A couple of months into our relationship, Lee took me too a cute little spot by the water one afternoon a day before my birthday and pulled out a rug, some cheese and crackers, roses, a bottle of Moet champagne and got on his knee and asked me to be his wife. It was a feeling I will never forget. So crazy, so soon and so in love! After a 2 year engagement, a little baby girl and so many achievements together we married!
Lee and I always wanted a destination wedding but we couldn't quite put our finger on where. We researched our little hearts out and just fell in love with Fiji. It stood out to us!
Planning this wedding was an absolute breeze. Everyone was so easy to deal and communicate with. I also couldn't have done it though without my friend Myriam and appreciated all of her help in the lead up and making the day run sooooooo smoothly for us.
I wore the "Alexandra" gown by Grace Loves Lace. We also had Grace Loves Lace for my maid of honour Kelly and The White Fox Boutique for bridesmaid Shelby.
Our flower girl was our daughter and she wore Arabella and Rose. The Groom and the guys were all in Tarocash.
Our ceremony location was at the "Upper Bunker" at The Hilton. Decor and setup was done by The Wedding Styling Co and they did an amazing job. The setup exactly what we wished for. They also took care of my amazing bouquet, the bridesmaids bouquet, groom and groomsman buttonhole and Aria's flower crown. Our vows were simple, and standard but of course meant so much to us!
Our Photographer was Laura Pittman from Island Encounters. From day dot communicating and booking in with Laura was a breeze. Laura made us feel comfortable and ourselves, she was everything in a photographer we were looking for. And with no doubt what so ever our photos came back so beautiful so quick and such high quality, we cannot thank you enough Laura.
Our reception was at the Maravu lawn at The Hilton. The setup was again done by the amazing ladies at the wedding styling and co, From the Light up LOVE sign too the amazing fairy lights every amazing detail was done at a high quality standard.
I made up the centrepieces myself, painted rose gold mason jars with fairy lights inside with the help from the Wedding Styling Co adding some greenery and making it beautiful. The table numbers where brought from a lady in Australia. And the lovely name leaves were made by my friend Myriam.
Our guests had a short hour to drink cocktails at a happy hour price whilst waiting for our reception to start. We had an Aussie Beachside BBQ Buffet for our dinner. It was very tasty and I highly recommend it! The cake was supplied by the resort and made a lovely dessert!
Our Music/ Entertainment was Universal DJs, they took requests all night and played all the important song right on cue. I was lucky enough to have my Uncle Sonny MC for the night. I couldn't have asked for anyone better for this job. At the end of the reception: we headed up to the Maravu bar and sipped on more tasty cocktails before heading back to our room.
The day after the wedding: IT WAS MY BIRTHDAY! eek! and what a way to spend it, married and with some close friends eating pizza, sipping on cocktails and floating on the amazing CLOUD NINE!!
The highlight of the day for me was walking down that aisle, seeing my handsome groom standing there with a tear in his eye and holding the shoulder of our little man Riley.
Advise to other Fiji brides-to-be: Honestly when people tell you how fast the day goes and too take it all in, Believe me its true, I only just starting taking it all in and it was over! Planning a wedding in Fiji is so fun enjoy every little moment from the planning to the time you walk down the isle. Communication can be slow in Fiji, but it's worth it! Once you arrive in Fiji they all bend over backwards to make sure you're happy and everything is okay.
IN THE KNOW
Who Did They Use?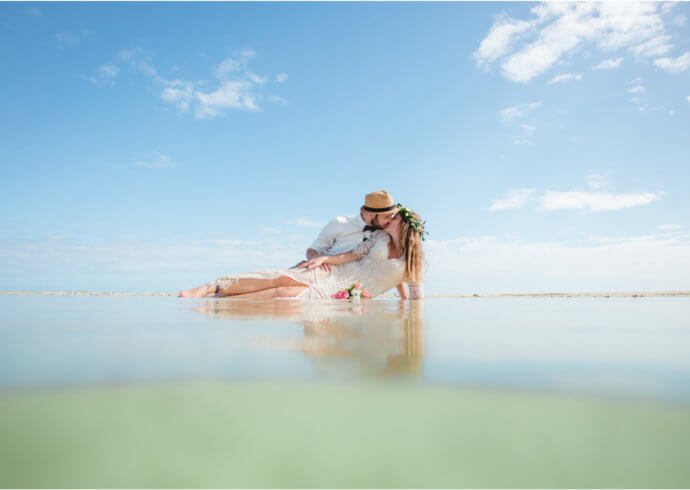 Fiji Wedding Photographers
Island Encounters Photography
Read More