Georgia & Thomas – Sheraton Wedding
Georgia was already a seasoned visitor to Fiji – so when it came time to marrying the love of her life it it was an easy decision to choose her favourite holiday destination for her wedding day. After a trip to Fiji a few months before they married, the location was in place, the suppliers booked and all that was left to do was to get ready for an amazing wedding day. We catch up with Georgia on all the details of her beautiful Fiji wedding:
BRIDE & GROOM: Georgia Magnus & Thomas Lander
THE DATE: 03/11/18
THE LOCATION: Sheraton Resort, Denarau Island
THE NUMBER OF GUESTS: 60
We choose Fiji to get married because my family have been going to Fiji for 10+ years and it was our the place of our first holiday away together.
As we have travelled to Fiji for many years and stayed at the Sheraton every time it was an easy decision for us. Fiji has a special place in both our hearts. We used Paradise Bride from the Sheraton to help organise and plan our wedding, they were very easy to communicate with over the planning period, very responsive to emails.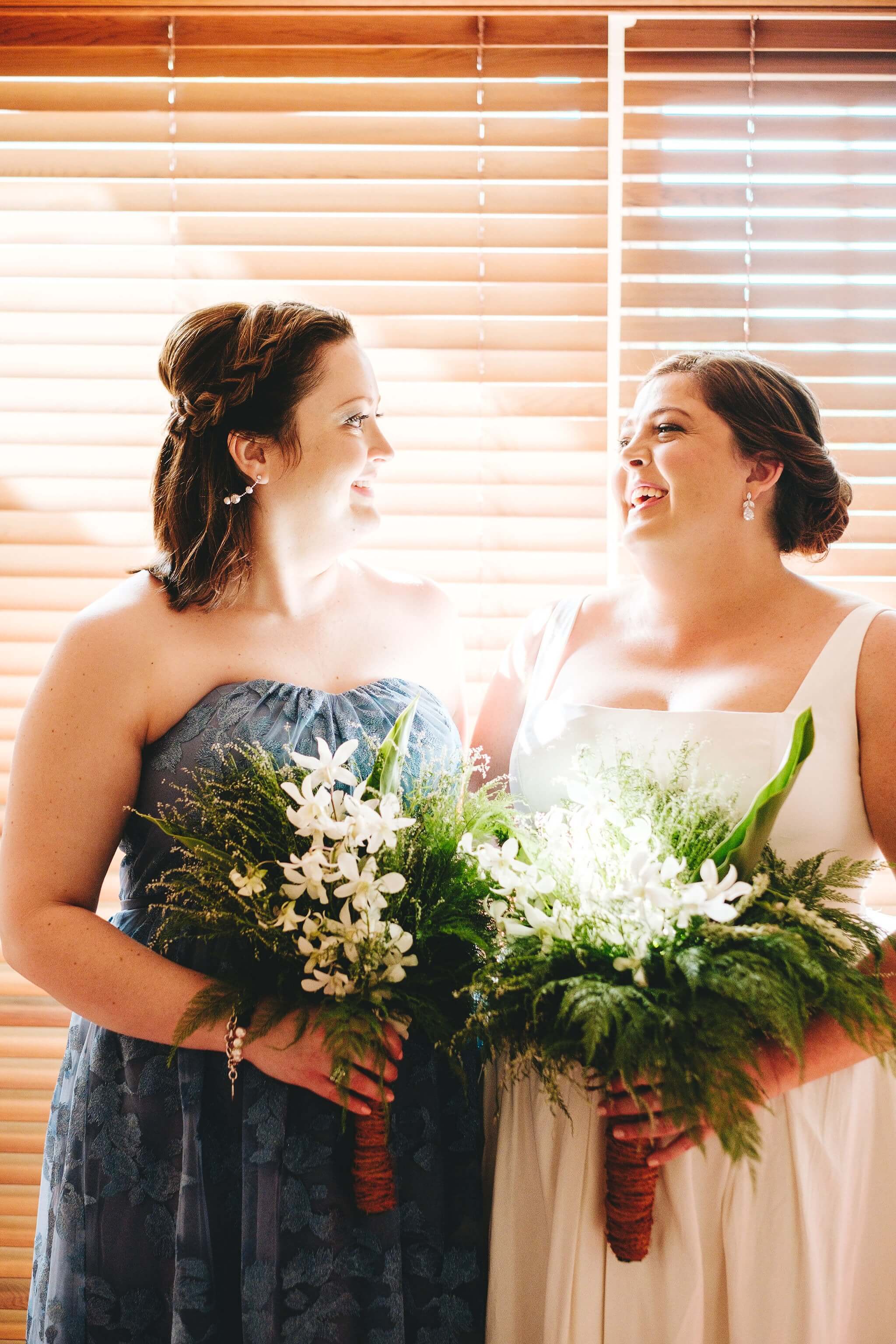 GETTING READY:
We had a very relaxed morning before the wedding, Tom and I didn't go traditional and we stayed together the night before. We have breakfast, coffee and a leisurely swim in the pool before departing ways at around 11am. Tom checked in to our suite at the Westin and had lunch and another swim with his groomsman. We began our hair and makeup at 12 midday.
Hair & make up was done by Tokota Hair and Make Up who were amazing. They were so calm and listened to what type of hair and makeup I wanted for the day.
My dress was by: Moira Hughes Couture
The Bridesmaids dresses were from: Oleg Cassini
The Groom & the guys wore: Bentex Custom Suits
THE CEREMONY:
The location of our ceremony was on the Sheraton Beachfront Lawn .
We chose a theme of blue, green and white. Paradise Bride provided and set up the décor at the ceremony. We had a beautiful arch overlooking the water to highlight our wedding, we had tiffany chairs for our guests and had fans with a blue ribbon made by the local ladies to cool everyone down in the afternoon. We had post ceremony champagne for our guests whilst taking photos with everyone. We chose traditional vowels for our wedding with Tom adding in "I promise to obey" which added some fun and laughter to our ceremony. We also had a trio of serenades to walk down the aisle to.
GETTING PHOTOS:
Our photographer was Nadi Bay Photography. I became a member of "Getting married in Fiji" discussion group on Facebook and many people recommended them. We found Laurence on the day to be amazing, you didn't even know he was there but the photographs turned our amazing. He was able to capture our day so beautifully.
We were looking for 'action" shots, nothing too posed and very natural. We love the way Laurence was able to capture the natural easy going part of our day, we are able to look back on our wedding day and see that everyone including ourselves had a great time, smiling and looking relaxed.
THE RECEPTION:
Our reception was Vai Restaurant, Sheraton resort. We continued the blue, green and white theme. I got made everyone's individual name cut out for the place cards. We also got our initial's G&T embroidered onto napkins. Both the place cards and napkins where our bonbonnieres.
After the ceremony we had champagne and water station, Paradise Bride staff then escorted guests to the Vai Restaurant bar for further drinks
Dinner Entrée was seared Scallops, cauliflower puree, chorizo, burnt leak, red pepper, aioli, truffle oil or zucchini cannelloni stuffed with couscous and yoghurt sauce.
Mains was seared salmon, fennel puree, potatoes puree, prawn & red onion chutney & salmon caviar or roasted Australian beef tenderloin with mushrooms, smoked pumpkin puree, baby vegetables and horseradish jus
Dessert was mango bomb Alaska with freeze dried fruits or chocolate fondant, chocolate sol, banana ice cream & banana compote
The executive chef at the Sheraton made our cake. It was a 14 inch round cake as the bottom tier and 9inch round as top tier – chocolate mud. The cake was covered with white royal icing and flowers to match the bridal bouquet
We chose the Wanup band for our reception. Marilyn and her voice are exceptional. We were one of the last to leave the reception. We didn't want a grand exit but to make sure we were able to speak to everyone on the night
The night before our wedding we had a cocktail party for all our guests, we were able to welcome and thank everyone for making the effort to come and celebrate with us.
The day after our wedding we had a recovery brunch where everyone could have a good hangover meal and see each other, we had the recovery brunch at the westin where everyone could also have a swim and relax.
ADVICE FOR BRIDES PLANNING A FIJI WEDDING:
My advice is to enjoy the process, if you are getting married in Fiji remember that it is a peaceful and laid back place where it is too hot to do things too quickly. Remember to enjoy spending time with your friends and family as they have made a huge effort to be there for you.
The other advice I would give is to fly over to Fiji 4 or 5 months before the day (as we did). It helped us plan and organise a lot more than by doing it over email. We were able to organise welcome bags for all our guests, which included:
-Embroidered hessian beach bags
-White caps with the initials G&T and the date of our wedding on the back
-A recovery kit from Pure Fiji (included sunscreen, insect repellent, lip balm) and some Fiji water.
The welcome bag also included a letter to all guests outlining the cocktail and recovery party organised by us and the times all events were commencing.
I think its really important not to overlook the reason why you are getting married. It is such a special day and a special moment for you as a couple that I don't believe should get disregarded.