A weekend of relaxation with The Sofitel Fiji
It's been a super hectic start to the year already with my travel schedule its usual hectic self, bouncing between Fiji, Australia and New Zealand. So much so that I got to late March and realised hubby and I had not had a single weekend away together in a number of months. With 3 children and two busy businesses, it can be hard to find time on the calendar for just the two of us. As we also had a very full-on April ahead and we would be apart for most of the month, it was time to plan a mini-escape together for a weekend!
Even if you've been married a long time like us, a weekend away together is such a good opportunity to relax and enjoy each others company without the distraction of kids, chores and every day life
As we wanted to stay locally, we decided on a package by The Sofitel Fiji aptly named the Spa Sanctuary Package. I had heard that many Sofitel brides chose to add this package on to their wedding booking as a mini escape post-wedding, to relax with their spouse after the hustle and bustle of a busy wedding day.
After taking a look at the package on offer, it ticked all the boxes.
The Spa Sanctuary package includes the following:
– Half day Spa treatments by the highly acclaimed So Spa
– A romantic dinner for two with champagne (includes beachfront private dining, weather permitting or the acclaimed V restaurant)
– Add ons: We chose accommodation in the adults only Waitui area which included breakfast and a day pass to the Waitui Club
A perfect fit for what we were looking for, and only around $800AUD for the entire weekend we were looking forward to having some time to ourselves.
One quick email to the reservations team and in record time the Sofitel had a booking locked in for us, a nanny was organised and we were off to enjoy a weekend away!
First, to relax
I promised my husband I would not be working over our weekend (other then to get some photos while we were at Sofitel, I can't help myself). And with that in mind, we entered the technology-free zone of So Spa. Known for its relaxing environment, So Spa at Sofitel Fiji infuses French with a touch of Fiji in your spa journey. Guests experience impeccable service, exotic touches and attention to detail – much more than just a treatment.
When we arrived, we were given a robe to change into and all our possessions were put in the lockers for the duration of our afternoon visit. I must admit I always feel a bit panicky about not having my phone on me (one of the hazards of a job involving weddings) but after 15 minutes of relaxing outside pre-treatment, I could not help but enjoy the beautiful day and the quiet atmosphere at the spa. After a lot going on it was wonderful to be in a relaxed atmosphere with little noise.
As we arrived in the relaxation area across the lawn I spotted a bride in a red dress being driven to her wedding in a buggy and she gave us a wave. Sofitel offer a range of wedding options and you can have everything from a wedding for a hundred guests right down to a small and intimate affair for just a few. The bride of the day appeared to just have a few guests and they shared their vowels with each other on the beach front. I feel like they were possibly on a family holiday and decided to add a wedding ceremony to the trip, which many couples getting in Fiji choose to do. What a lovely afternoon to get married!!
After some time to relax for a few minutes and have a chilled water, our Therapist Mere came to escort us to our treatment bure. I immediately felt at ease with Mere and knew we were going to have a relaxing afternoon!
Highlights of the sanctuary package:
-150 minute couples massage (bliss!)
-soaking in the hot jacuzzi afterwards
-hair and make up for me, foot treatment for him
-bottle of champagne to enjoy
Ladies (and gentlemen) – this is seriously the ultimate couples spa treatment. Every part of the afternoon was relaxing and enjoyable. The therapist I had was experienced, knowledgeable and went out of her way to make me feel at ease. Not once during the afternoon did I even think about the dreaded cell phone, and I left feeling amazing and with glowing skin. So Spa was a lot more than just ducking in for a quick massage – it was a whole afternoon of rest and relaxation. So if you are looking to properly unwind after a busy period, this is the choice for you.
Our next experience was to have dinner together and this was another thing that we hadn't done in the longest of times without the kids. My husband and I are both foodies, so it is super important to us to dine at good restaurants with above average food and beverage. We hate being disappointed on the rare occasions we go out so the pressure is always on for a restaurant to deliver!
I was really looking forward to dinner at the private beach front setting but unfortunately the weather didn't hold and rain and wind meant we had to move inside. Weather can be unpredictable in April so this wasn't a surprise to us and we happily moved inside to V Restaurant and Bar. We have eaten there a few times before, but it had been a couple of years since the last visit and we were really looking forward to seeing what the new Food & Beverage Manager had introduced to the restaurant.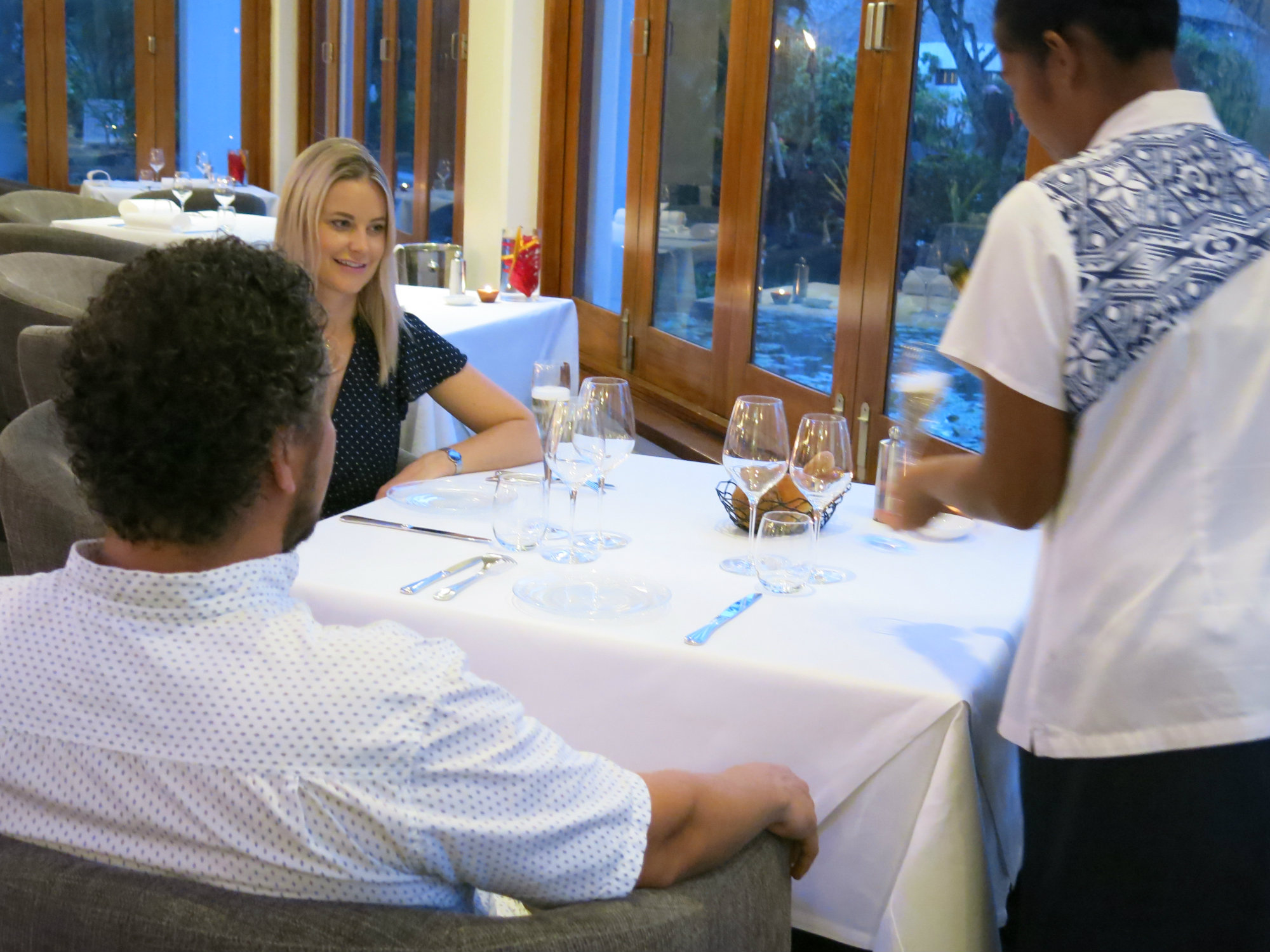 The Restaurant Manager introduced himself to us and we sat down to a glass of wine and chatted about the food options on the menu. We were impressed by the array of choices available and were happy to start with some beautiful fresh bread while we decided on what to have.
We finally decided on what to eat and when the food came it was wonderfully presented and tasted great. My husband loved his scallops, served with corn puree and ota leaf with a chilli reduction and reluctantly agreed to swap half way through with me. I had chosen the poached prawn salad, incorporating poached prawns, watermelon, cucumber and shallot which was totally delicious. We agreed it was hard to choose which one was best.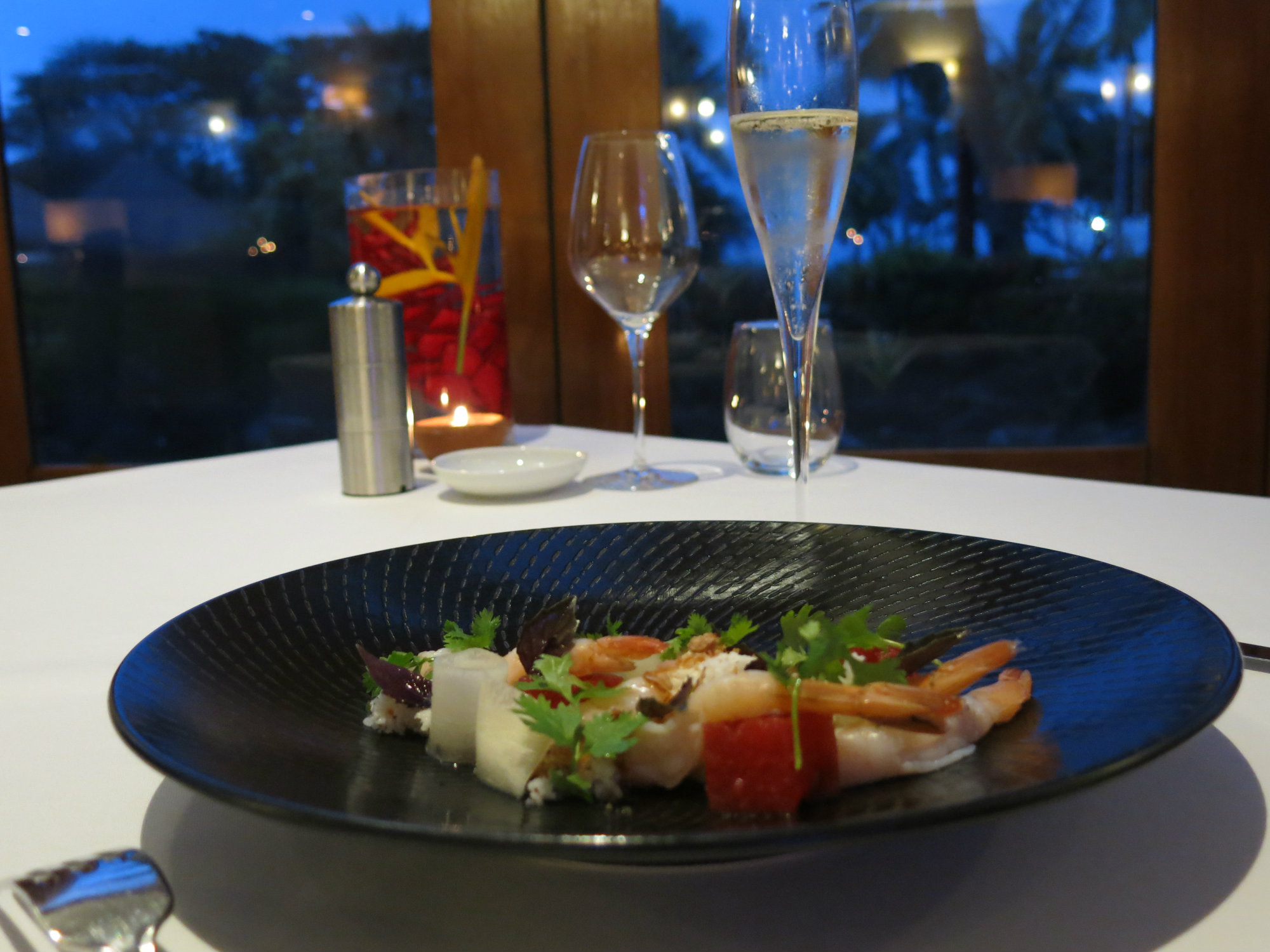 For our mains we decided on Signature Seafood Coconut Laksa for him and local corn-fed chicken for me. I had to admit I was a bit nervous about the chicken breast, because often these can be overcooked and then end up too dry for my liking, but mine was superbly cooked and exceeded my expectations. It was also wonderful that all my main dish came plated with the sides already, so I didn't need to order anything extra. The beetroot relish and cauliflower purse were excellent with the chicken.
After our main and entree we were relatively full but I'm a dessert girl and I like to order dessert when we go out. My hubby wouldn't usually order anything but I convinced him into order the biggest dessert on the menu! I had heard amazing things about the dessert platter plus I wanted to try a bit of everything. The platter's central theme was the humble coconut and most items on the platter had coconut as an ingredient which suits my taste perfectly!
When it comes out, the chef puts it together at your table which is awesome to watch. As the items went on I got more and more excited, they looked amazing, and as we started to try the items after it was all put together, they tasted amazing too. The definite winner for me was the handmade bounty bar – chocolate coconut heaven.
Part of the appeal of being away for the weekend is to have some time relaxing together. After a final glass of wine we headed to the peace and tranquility of the adults only accommodation area and enjoyed the relative silence compared to our household at bedtime. Our room was beautifully clean and the Pure Fiji items a lovely touch to use and take home. We looked forward to a restful night before a final day of relaxation the following day.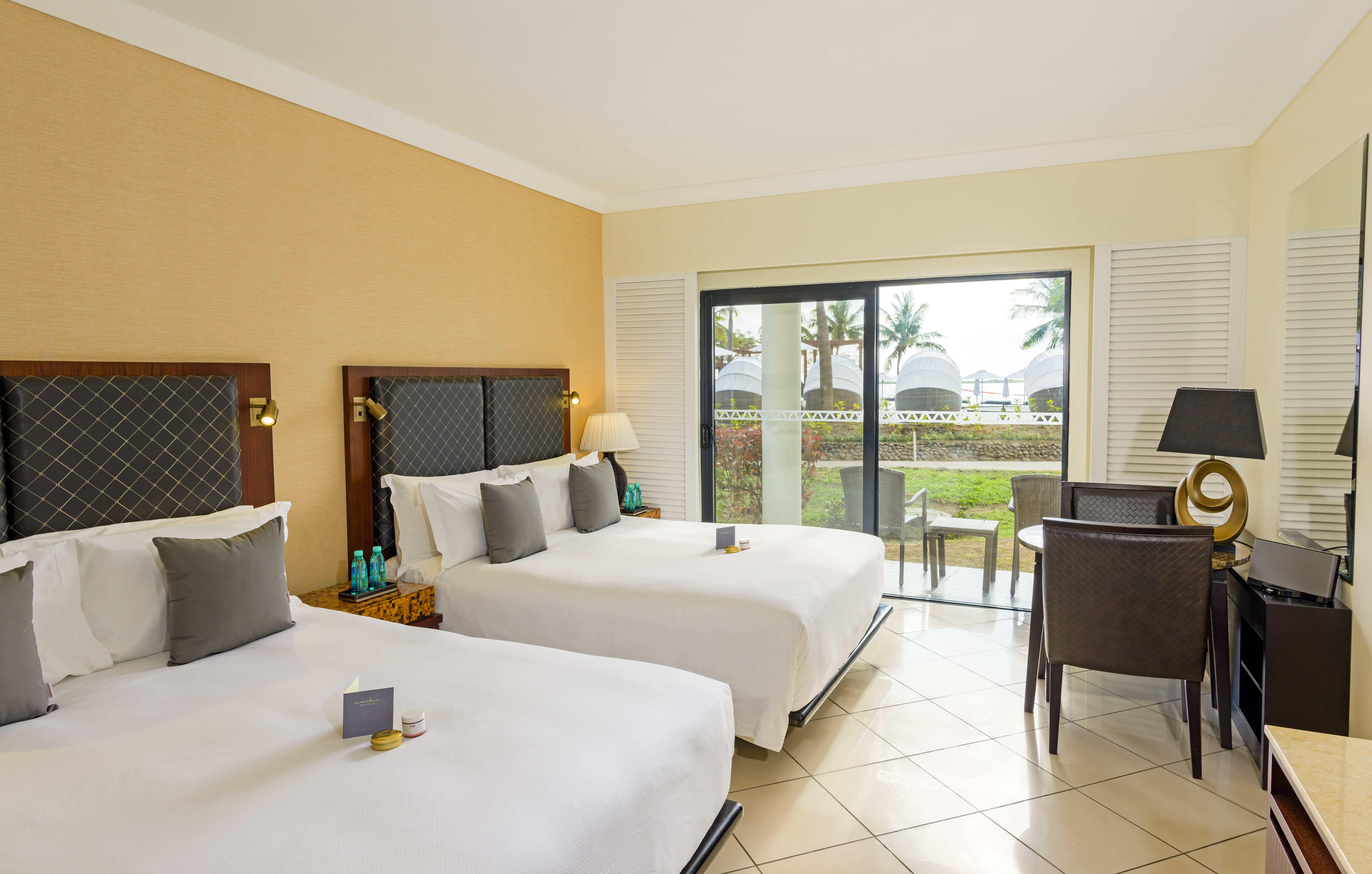 We have long been fans of the Waitui Club, having seen it from the building phase through to the opening, and having been to some great cocktail functions there. During the day, it feels like you are in a whole different resort, as it is well away from the popular main pool area. At Waitui, adults can be seen there bright and early, having breakfast on the beachfront, or relaxing having an early morning swim. By 9am in April it is always really warm (about 32 degrees when we were there) and we were happy to see the sun again.
Starting the day with a perfectly brewed latte is always on the cards for me, and it wasn't long until breakfast was served for us at the dining area. Breakfast was a lovely combination of fruits and pastries, with more coffee and a glass of champagne. My favourite item was the beetroot and ginger juice, which was both refreshing and a little bit peppy thanks to the fresh Fiji ginger. It's always great to have a healthy start to the day, and (asides from the slightly indulgent glass of champagne) the breakfast was just perfect not being too heavy or too light.
The only other thing to do was to relax and enjoy the day. It was my first time in the pool for a couple of months and it was particularly nice not being splashed to death by my kids! The ambient atmosphere of Waitui with the music playing at a low volume in the background, plus the relaxed nature of the staff and guests alike, is literally the perfect environment for doing nothing but relaxing for the entire day. After a semi-snooze in the sun, a cocktail at lunchtime was in order and another swim. Like-minded individuals were also doing the same, and every one was all geared up for a day in the sunshine.
At the end of the afternoon it was time to head back to real life and a busy week ahead. Despite our time away being so short, the quality of time together was the important part. The Sanctuary Spa package certainly ticked every box for me, it allowed us to time to relax, to reconnect and to enjoy each others company. I can certainly understand why this is a very popular package and I'd highly recommend it to anyone looking for an min-escape within their holiday!
For more information on the Sanctuary Spa package contact the Sofitel Resort & Spa for more information.
IN THE KNOW
Who Did They Use?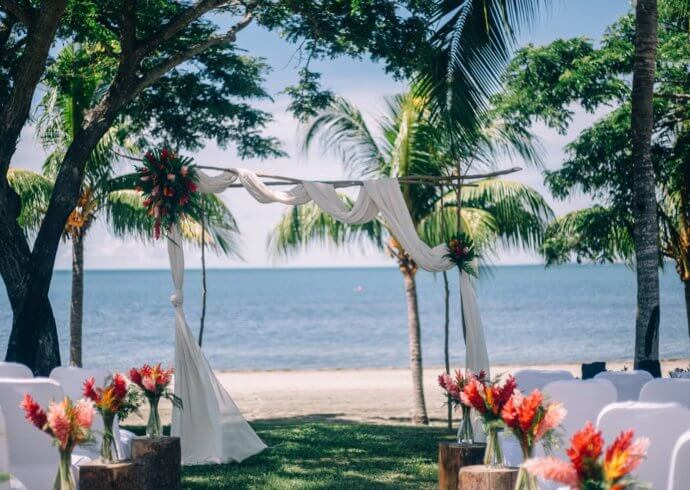 Wedding Venues
Sofitel Fiji Resort & Spa
Read More