5 reasons why Fiji should be your wedding destination
Ok potential "Bula Brides" to-be, have you been on the fence about planning a destination wedding in Fiji??
We asked our previous brides why a destination wedding in our beautiful Fiji is the perfect way to tie the knot. The list was so long that it was hard for us to narrow it down, but we have picked out the top five reasons our followers feel Fiji is literal matrimonial magic.
Reason 1. It allows only your nearest and dearest to be present.
Let's be real, one of the hardest parts of planning your big day is…..drum roll please…… The guest list. "Who do I invite?"…" If I invite so and so, do I have to invite so and so?"… Relax girl, we got you!
Planning a destination wedding means it's not on you anymore! Send out the announcement and only those who REALLY want to attend, and who will overlook the cost of being there, will fly over to watch you when you exchange vows!
Having a wedding in Fiji guarantees only your nearest and dearest are with you and your future spouse, on the most important day of your lives (and Sue from HR won't be giving you nasty looks all year long, because she didn't make the cut.)
2. Wow factor.
Its FIJI you guys! You don't get more amazing than this! We offer luxury, privacy, intimate or large scale island and coastal resorts, which offer incredible experiences to all. Fiji has perfected the art of luxury accommodation + hospitality and it doesn't even have to come with a huge price tag.
One reason we have such a HUGE return guest rate is because hospitality is not just a job here. It is an actual part of the Fijian culture. Experience it first hand from the moment you land, to the moment you leave. Trust us, you will already planning your next visit back for more WOW.
3. Authenticity.
The main reason we are fast becoming a leading wedding destination worldwide is us! The people of Fiji. Your wedding day should be one of the happiest day of your life. Why not share it with the worlds happiest people in the "Isles of Smiles" and where you get a friendly 'Bula' everywhere you go.
Fiji has been able to grow and develop, while maintaining its culture. Heritage and tradition are at the forefront of all aspects of life here. This makes your experience more than just a wedding, or honeymoon. It makes it a once-in-a-life time journey that you won't soon forget.
4. Affordable Wedding and Honeymoon combo.
Want to get married on a pristine white sandy beach, surrounded by palm trees, while waves of azure blue lap up on the shore in front of you? Fiji is the spot for you! Want to wake up the day after you get married and spend your honeymoon exploring, scuba diving, sky diving, and surfing in those waters? Perfect! That's exactly what happens when you book your wedding/honeymoon combo in Fiji!
To top it all off, as far as destination weddings go, Fiji is pretty affordable, with most resorts and travel agents having great deals and specials on offer and will work with you to help you create your dream wedding experience. A lot of brides we talk to seem to think that it will cost more than getting married in Australia or NZ and are surprised when we tell them it's CHEAPER. So have your wedding & honeymoon in one, and don't break the bank doing it.
5. Wedding pictures to DIE for.
Let's be real. You want the photos of your wedding to be fantastic, magical, unreal, and Instagram worthy. We have one word for you = FIJI. Our little islands are home to some of the most amazing photographers and videographers around. These brilliant artists will work with you to capture the perfect images for you to share, with your family and friends.
The idyllic beaches, pristine waters, lush forests, and stunning highlands offer the perfect backdrop for your wedding memories. You only need to check our Real Weddings section to see hundreds of couples with wedding images to die for.
So there you have our it! We could honestly go on forever, but instead we will leave you with these 5 reasons Fiji is the best wedding destination on earth and your key to a picture perfect wedding in paradise.
Need some help getting started? Get in touch with us to start making your dream Fiji wedding a reality.
IN THE KNOW
Who Did They Use?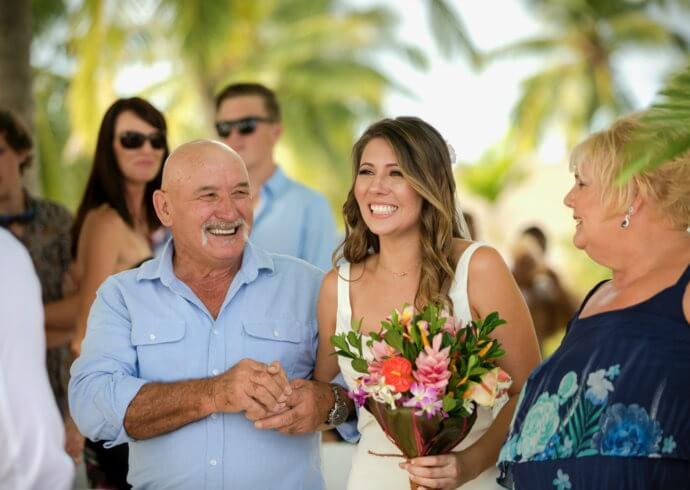 Fiji Wedding Photographers
Zoom Fiji
Read More