Planning a Unique Fiji Wedding
For some brides and grooms, the best place to have their Fiji wedding is at an all-inclusive resort. It's a great option for those that need to stick to a budget, and still include their friends and family in their destination wedding. The upside to having a package wedding somewhere is that you don't have to do as much wedding planning, because most of the decisions you'll be making will be simple. Choose bouquet A, B, or C. Do you want wedding cake option 1, or wedding cake option 2? You won't have to hunt down a bunch of different vendors because the hotel does all of that for you either in house or with a preferred vendor list.
However, the idea of having a "package" wedding is a turn off for some brides and grooms. They don't want to be one of two couples getting married in the same place on the same weekend (or same day, in some cases), having the same décor and the same cake as everyone else. If you're looking to be a little "different" from everybody else, there are plenty of great locations in Fiji where you can fully customise your day (or days!) to suit your personalities and get something totally different from a standard package offering.
We came across a great example of this at Koro Sun Resort in northern Fiji, as we watched the wedding video of couple Sarah & Euri with tears in our eyes! We were blown away at how this bride and groom made their wedding so personal and so much fun for their guests. So we caught up with Koro Sun Resort to say Bula! and learn more about how they put together the wedding week of Sarah & Euro's dreams.
Photography: Allan Zepeda
Tell us how it all got started? What were the initial conversations you had with S&E to establish what their dream wedding would be like?
The special couple came to us with the idea that they were not getting married to just "settle down" they were ready to take off together! The destination wedding was an important component for them to set the tone for the marriage and life they wanted to craft with one another. Koro Sun and Fiji was a place they had fond memories from a previous holiday together. They wanted to share this experience rich in culture and adventure with friends and family. Sarah being a photographer herself, had a specific vision for most aspects of this week-long wedding experience. They wanted to incorporate a chic and tropical bohemian ambience with lots of entertainment and variety in event locations from the Rainforest to the beachfront.
How long did the wedding experience take to plan? What type of communication did you have prior to them arriving in Fiji?
This wedding was planned in partnership with designers and coordinators based in many different time zones over the course of a year. We would schedule regular conference calls to walk through the specifics of each event to carry out the couples' vision. We hand crafted many of the props such as photo booth back drops, a custom tiki bar and more so it was important we worked together on every aspect of the design and build for the event.
Who came up with the ideas for the theme nights?
Sarah and Euri are a really fun couple and knew they wanted to have events that represented who they were like the Toga party (Euri is Greek) and the Rehearsal dinner at the beach with entertainment. Together as a team, we put together the details of each event along with the logistics of how to move people to and from locations as well as bringing in talent.
What did the resort need to do to put together these events? We worked with Rosie Holidays to ensure we had the appropriate tables paired with custom coconut benches we built in house for example. For logistics, we hired a local transport company to move guests to and from locations like our private beach venue. The wedding designers and planners hired by Euri and Sarah were wonderful to collaborate and work with.
It looks like all of the wedding celebrations were beautifully put together, and the overall wedding experience, with their own taste and style, was specific to S&E. What advise can you give other couples wanting to plan something unique and special for their day?
If you have a vision for the look and feel of your wedding, we are excited to execute that vision and make it your own, Fiji style! If you are not sure where to start, you can always work on an inspiration board within Pinterest where our local wedding planner can help guide that inspiration into reality while offering images of past weddings at our location. It is important to remember no matter your budget, the destination and warmth of the Fijians will be the backdrop to your union. People are coming to support you as a couple and enjoy the surroundings.
What are your favourite suggestions for putting together a truly unique wedding?
We love to encourage guests to offer a welcome reception to friends and family at the resort owner's Mountain Top Villa perched high along the hillside with panoramic views of the lagoon. This is a great way for folks to get to know one another on arrival and set the magical tone for the week ahead. We feel that less is more when it comes to the ceremony. We have an incredible backdrop of Rainforest or Lagoon so let the setting speak for itself with a simple flower arch that speaks to the destination and your preferences as a couple.
Bula Bride's top tips for lasting memories and magical weddings
1. Greet your guests at the resort with welcome bags, or baskets, full of usable and consumable items they'll enjoy during your wedding weekend. Include a welcome letter, maps, and other information about your wedding plans. Don't forget to give them bottled water, something yummy, and perhaps sunscreen. Local edible treats, local beer and wine, and fresh fruit are always big hits. You can make personalized labels for the water bottles, with a special message for your guests. Wherever possible, support local artisans and source everything from Fiji. See our page: https://bulabride.com/accessories/ for ideas and suppliers.
2. Spend time creating beautiful ceremony programs, and place cards and table numbers for the reception. DIY them if you're artistic. Have a talented friend do them or bite the bullet and pay to have them made. But don't let the hotel use generic ivory or white— choose them yourself and make them beautiful and unique. These are things that some of your guests will be keeping as wedding souvenirs.
3. Hand-make — or Etsy — something special for your wedding favours. Make it something you obviously did yourselves, not something the resort could have as standard. Something that's edible is always the most popular, but if you want something permanent, just remember to make sure it's something that can go in carry-on luggage, so it doesn't get left behind in a hotel room.
4. Set up photoboards with your guests' photos and a quick description of who they are. This will help guests to know each other and if they forget a name it's a great reference point!
Utilise pre-and post-wedding functions to bring everyone together. We loved how Sarah and Euri had a 'Mermaid party' planned and activities organised for all their friends and family. It's a special time to spend together with your loved ones.
IN THE KNOW
Who Did They Use?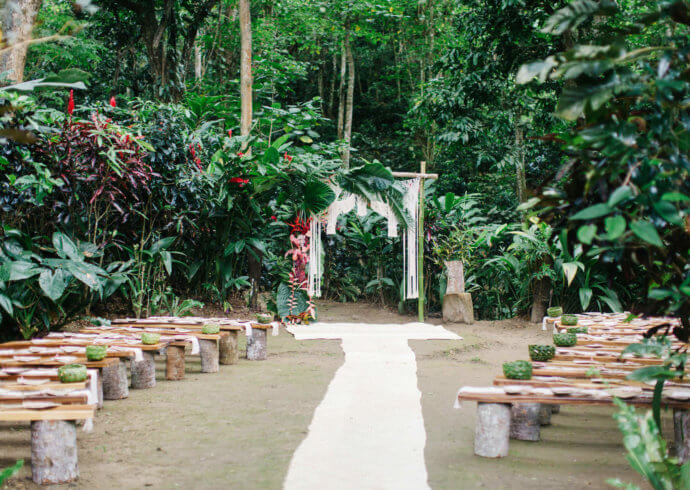 Wedding Venues
Koro Sun
Read More