The Wedding Takeover – Resort Buy Outs
Have you ever dreamed about your own private island for your wedding day?
Imagine having your wedding in a stunning location where everything is exclusively yours, from a beautiful white sand beach, to the pool and bar, where all of the restaurants, activities and staff are catering to you and your guests' every need. When else other than your Fiji wedding will you have the chance to bring everyone you love under one roof, on a magical holiday, to celebrate and toast and laugh into the early hours of the morning? Enjoy time together with your friends and family?
If this sounds like the type of Fiji wedding you've been dreaming of, you'll be happy to know that buying out a whole resort is no longer just for the rich and famous. Many resorts in Fiji have buy-out options where you and your wedding guests can enjoy the resort all to yourselves.
We enlist the help of Anita Gatley from Wedding Travel, a Destination Wedding expert, on exclusively taking over a resort in Fiji for your wedding day.
Photos by Lia & Stu Photographers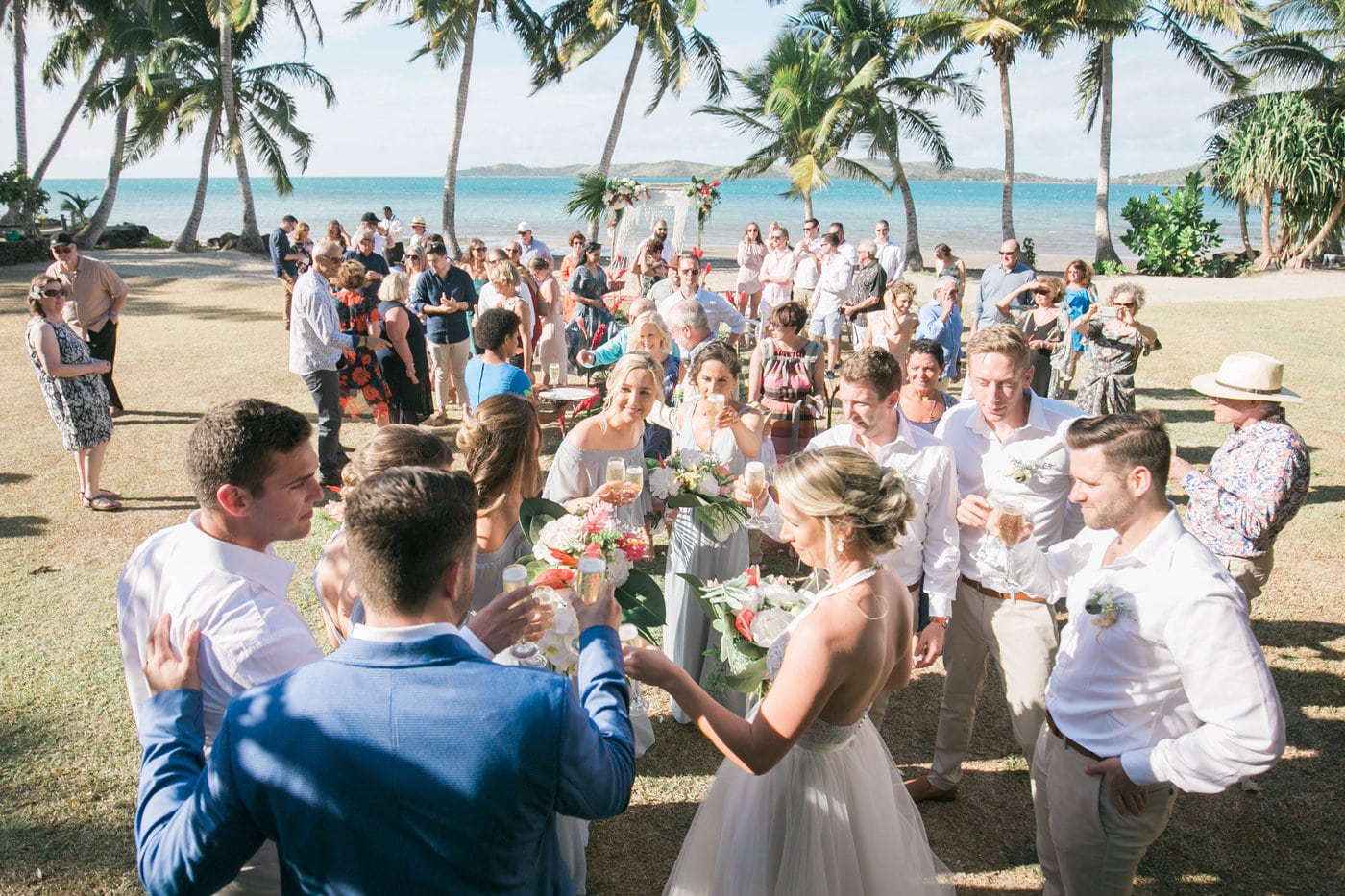 What is it?
A wedding takeover or resort buyout is when a couple, their wedding group and their guests reserve all the rooms of a resort I.e. no outside bookings will be taken during that time. Guests who arrange a resort takeover can fully customize their wedding. Options are endless; your own activities and celebrations, personalised signage throughout the property, specific cuisine options and much, much more. The overall look, feel and experience can be created to fit a couple's needs and make their wedding as unique as they are.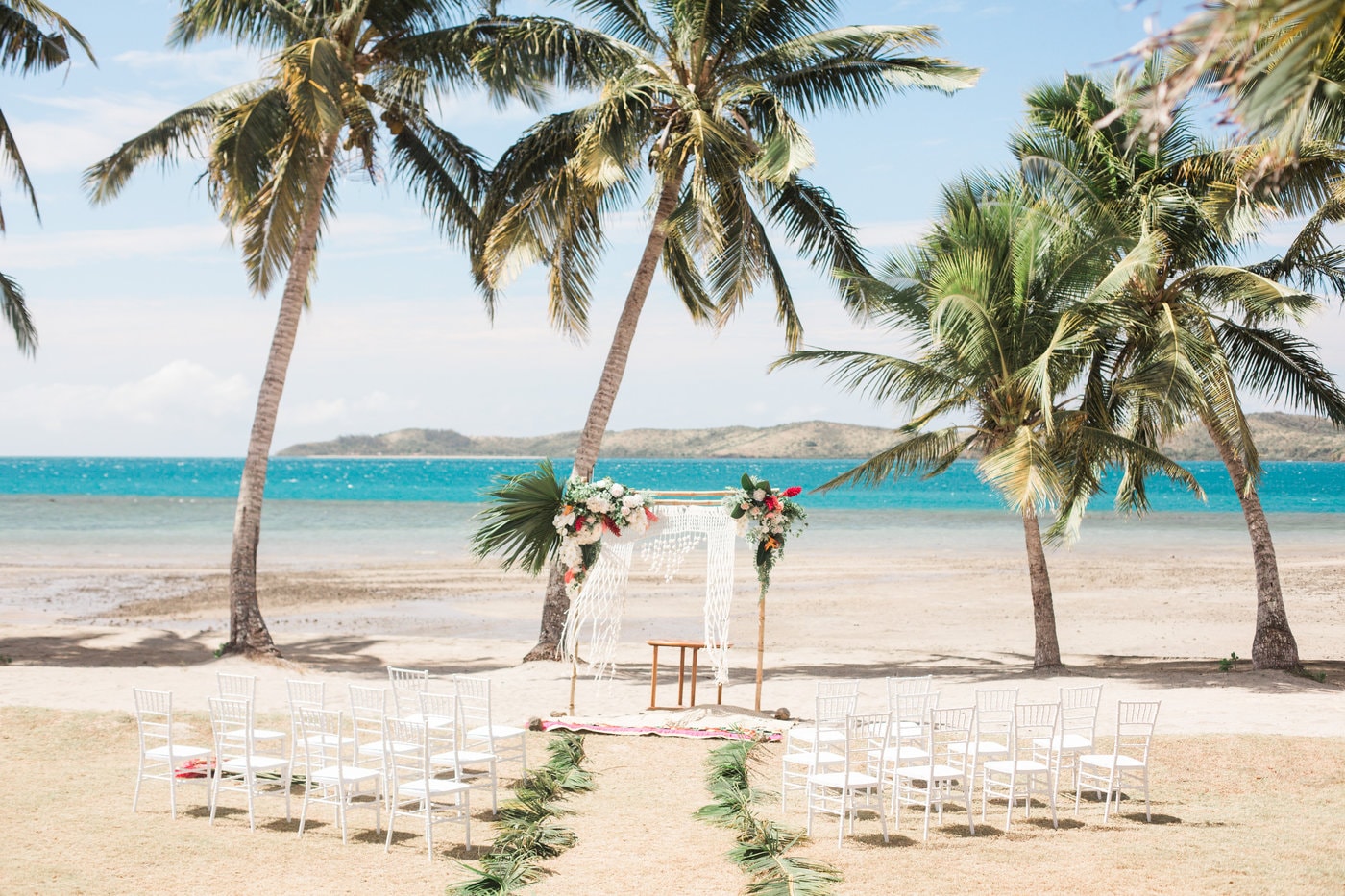 Why do it?
Couples who reserve an entire property don't have to worry about other resort guests either watching their wedding from a distance or walking by while they are taking pictures. They can play the music at the reception to any time at night and not worry about disturbing other guests. They have flexibility for ceremony times and locations and get to choose the perfect spot to hold the reception as the resort is all theirs. Other activities can be arranged for your groups and you don't need to worry about it fitting in with any others. Kids can attend "Adults only" resorts too if you do a buy-out. Essentially, if you want privacy and flexibility, a buy-out is a great option!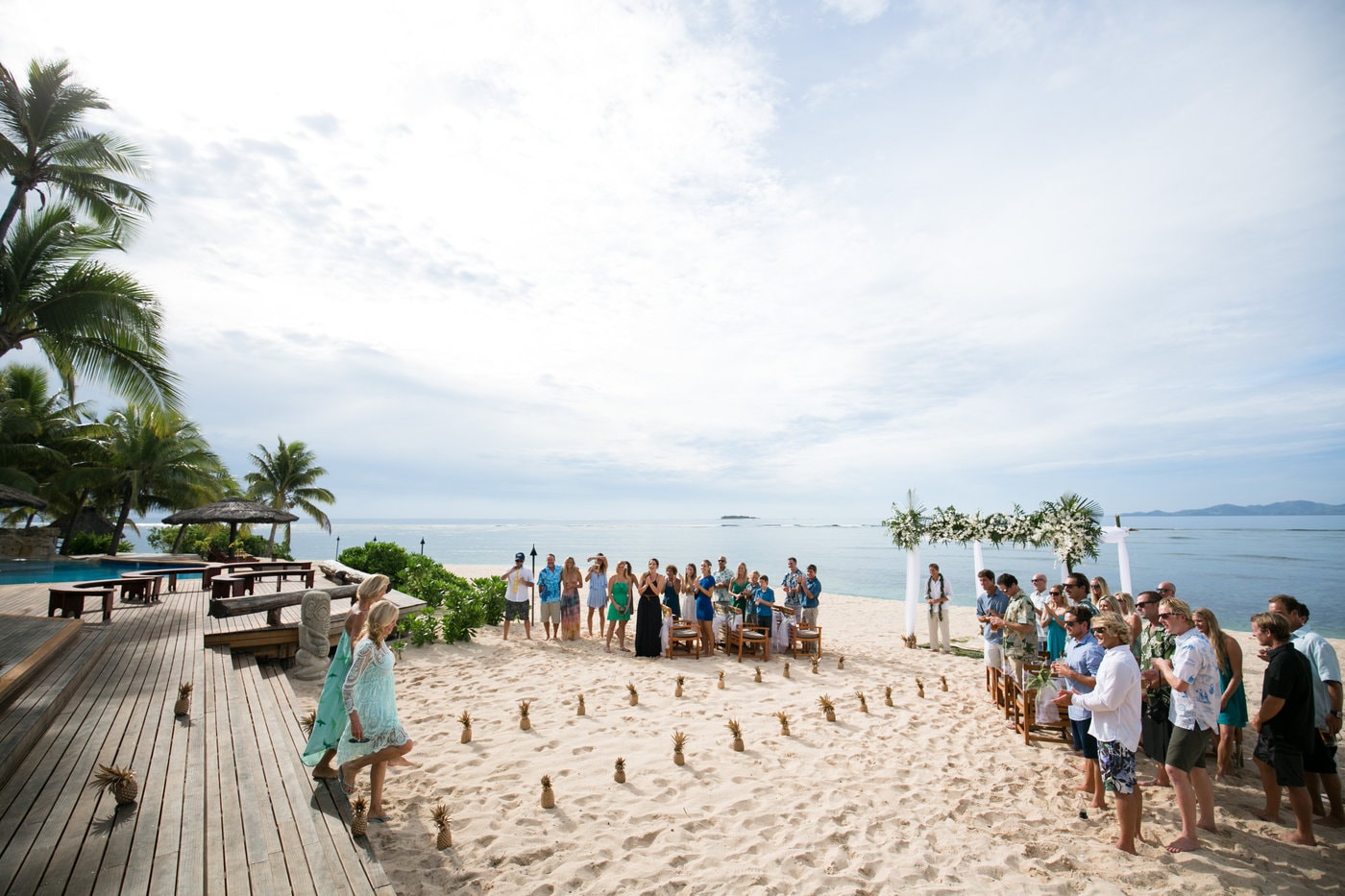 Where to begin
As a wedding specialist we will set up an initial consultation to discuss your wants, needs, expectations and budget to better understand your vision. Our packages are catered to each couple and their guests. Because of this, pricing will be different for each individual wedding celebration. We can help book the entire resort as your very own island wedding oasis in paradise once we have explored a few options with you.
Buy-out packages are able to accommodate groups anywhere from 10 to 100 people so wedding group size is not an issue. If your party is a different size, ask us how we can still make your dream Fiji wedding come true. Some resorts do impose minimum nights but we can advise that prior to booking. Remember some of these resorts are so remote that to really enjoy the experience you wouldn't want to only stay a night or two anyway! We can also help with your transport to/from and once again tailor-made transport just for your group.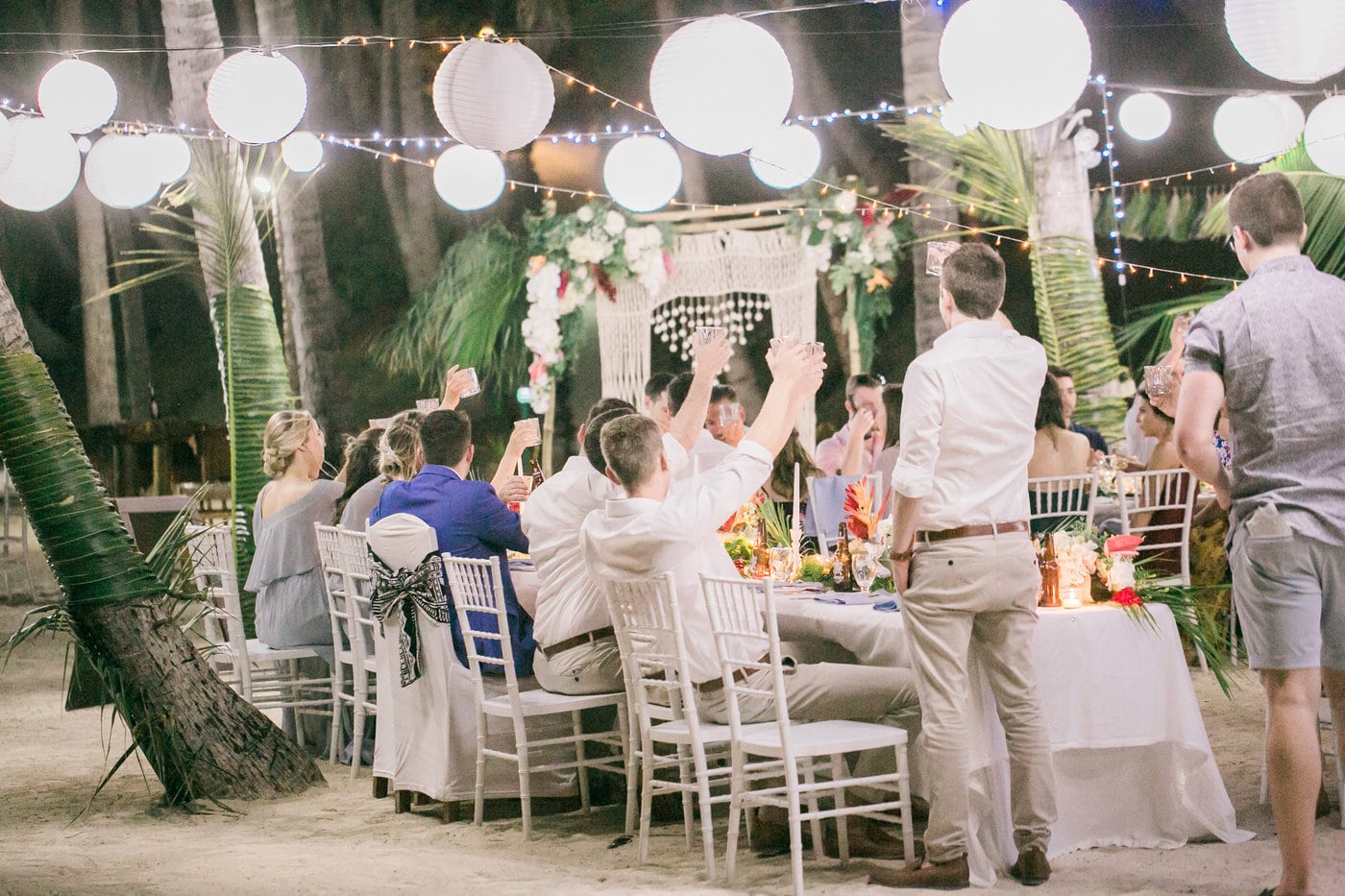 Some options to get you started
Budget friendly
Uprising Beach Resort
Want something affordable but still want to buy-out an entire island? Then Uprising Beach Resort is the perfect option. For you and 90 of your closest friends & family (yes that is 90) the cost is a mere $NZD6750.00 per night (approximately) and this includes daily continental breakfast for all too! (The resort can comfortably accommodate 100 people).
Uprising Beach Resort is a beachfront 3 ½ -star property located in Pacific Harbour and presents a stunning and impressive selection of authentic, Fijian-styled accommodation. There are 24 private rooms which can sleep up to 3 per room, if required, and The Tree- house dormitory which sleeps 20 people with shared facilities.  A 3-night minimum applies.
Winner of Fiji's Best Budget accommodation for several years Uprising Beach Resort offers an island- experience with Mainland convenience off the beaten tourist trail. Around 3 ½  hours' drive from Nadi airport or 1 ½ hours from Suva. Due to the location of the resort being in Pacific Harbour, the Adventure Capital of Fiji, there are a myriad of activities within close proximity – white water rafting, scuba diving, horse riding, jet skiing and diving with sharks at Beqa Lagoon to name a few!
Also as an extra bonus if this was an island buy-out and you wanted a wedding they would include a free Wasawasa Wedding package (conditions apply).
Photos courtesy of Uprising Beach Resort
Quality
Tropica Island Resort
Nestled into Na Toba O Lakalaka, a private sheltered bay on the beautiful island of Malolo lies Tropica Island Resort. Facing West and offering breathtaking views over nearby islands of the Mamanuca group Tropica Island Resort is an intimate, boutique resort created especially for adults. Although an adult's only resort, if you take the whole resort then children are welcome.
Elegant accommodation sits beachfront amongst swaying palms and lush tropical gardens. Offering 24 bures/suites and after a recent major refurbishment this beautiful 4-star property offers 18 of the 24 with their own private plunge pools. Made up of the following room configurations; Tropica can cater for just under 50 people – the perfect group size for a small intimate island buy-out:
6 x Beachfront Bures
7 x Sanctuary Pool Suites
6 x Beachfront Pool Bures
1 x Honeymoon Pool Bure
An approximate guide would be FJD$22,130.00 per night (minimum 3 night stay). That is around NZD$15,395.00 per night, so for 3 nights the total is NZD$46,185.00 (F$66,390.00). (Subject to change due to currency fluctuations)
This gives you a 3- night holiday for 48 people based on double/twin accommodation including full breakfast daily and all government taxes (25%). There would be times of the year when we could be a bit more flexible with the pricing as well.
Tropica Island Resort is a unique tropical oasis that embraces romance and is the perfect location for a fabulous dream wedding. The Tropica Celebration Team will handle all details to ensure you experience a perfect wedding day and beautiful sunsets are almost guaranteed!
Photos courtesy of Tropica Island Resort
Yatule Resort & Spa
Situated on stunning iconic picture-postcard Natadola Beach is Yatule Resort & Spa. An easy 45-minute drive from Nadi Airport and close to Natadola Championship Golf Course. Yatule is a boutique beachfront property perfect for a wedding group getaway with all the amenities you can expect from a 4-star resort.
Throughout Yatule Resort & Spa modern tropical architectural blends with the natural environment while sophisticated, contemporary interiors add rich contrast. Yatule is perfect for an island buy-out to cater for your smaller group as there are 36 bures and a 3-night minimum is required but more nights are recommended!
For approx $NZD12,500.00 per night you can book out the 36 bures and make the island paradise your own. Daily breakfast is included (continental + a hot plate breakfast per person), welcome fruit juice and leis on arrival, free wifi in lobby area, restaurant & bar. Spa Vishala is a heavenly treat and can be highly recommended with personal experience!
So if you are seeking peace, relaxation, rejuvenation and your wedding your way Yatule Resort & Spa could be the perfect choice.
Photos courtesy of Yatule Resort & Spa
Toberua Island Resort – Fiji
Your very own island for the couple and 34 friends for just $NZD12,990 per night including all meals and transfers from Nausori airport
Hire your island as a couple and invite 34 of your closest friends to stay in 16 oceanfront bures for a minimum of 5 nights. Intimate, boutique and spectacular, this private island paradise could be yours in the middle of a stunning turquoise lagoon. Your beachfront hammocks, your bar, your restaurant, your spa and no stress!
Your island wedding in paradise awaits. Step ashore your very own island and celebrate with friends and family your wonderful tropical wedding. Enjoy your last unwedded night with 'Hen and Buck' parties prior to your celebrations. It's Your Wedding – Your way. This is your dream of a stress-free wedding.
A 10-minute vehicle transfer from Suva Airport to Nakelo Landing, followed by a 30 minute scenic boat ride along the Navaloa River to the Bau Waters will have you arriving at your island home for your unforgettable island experience. Or a short flight from Nadi Airport to Suva within 30 minutes. We can even organise helicopter transfers to make your experience even more awesome!
Toberua Island Resort, Full Island Wedding Charter – NZD$12,990 per night
INCLUDES:
-A FREE Sweet & Simple Wedding Package
-Rental of entire private island for up to 36 adults
-16 bures accommodation
-Three gourmet meals per day for up to 36 adults
-Every guest accommodated receives return transfers from Nausori Airport
-A minimum of 5 nights apply
-Total island capacity is 50 guests
All meals and transfers included for the 5 nights and an island night can be added for an additional fee.
(Bookings of 12 or more bures is considered a full island resort charter)
Photos courtesy of Toberua Island Resort
Luxury
Qamea
Thinking of venturing further afield than just Denarau or the Mamancua group? Then think Taveuni and in particular the beautiful island of Qamea. Kiwi-owned and operated Qamea (pronounced Garmeah) really will make your island buyout special! By the team you leave Bryce and his team will be friends you'll be sad to leave behind.
Qamea is a small exclusive luxury resort and can accommodate a total of 37 persons with 17 rooms in total. An approximate cost of about $16,300.00 per night. This includes all meals and return transfers from Taveuni.
If you love snorkelling, catered picnics at local cascading waterfalls or mountain hikes then this is the place to go. If you are more partial to spa treatments then the award-winning Guinot spa is the only one of its kind in the South Pacific and is personally recommended. The attention to detail at Qamea is exceptional – this is true authentic paradise!
Take it from me – it may take a bit longer to get to Qamea but you will not be disappointed and want to return and wonder why you didn't stay longer!
Blue Lagoon Cruises
If you've thought of small ship cruising then think chartering a small ship and cruising around the beautiful islands of Fiji (especially around the Yasawa Islands) with 67 of your nearest and dearest!
Blue Lagoon Cruises boutique cruise ship, Fiji Princess has been purpose-built for cruising and selected for the ocean-going conditions of the Fiji waters, especially around the stunning and picturesque Yasawa Islands. There are many things that makes cruising with Blue Lagoon so special. Being a smaller ship the Fiji Princess can access bays and islands that would be impossible on larger ships. The ship can literally tie off to a coconut tree and you can swim or paddle-board to the beach! It goes without saying that Fijian hospitality is second-to-none and Blue Lagoon take this a step further (if that is even possible!!). Enjoy you wedding on the ship or a private island. Your experience will be relaxed, casual and informal with exceptional meals from internationally-trained chefs and activities galore – but you can do as much or as little as you want.
Costs below are indicative only and extras such as fireworks, different menus, upgraded beverages, different wedding set ups are available and are additional costs.
LOW SEASON – 1 NOVEMBER 2018 TO 31 MARCH 2019
3 Night Charter – FJD $100,000
4 Night Charter – FJD $119,000
7 Night Charter – FJD $189,000
HIGH SEASON – 1 APRIL 2018 TO 30 OCTOBER 2018
3 Night Charter – FJD $125,000
4 Night Charter – FJD $155,000
7 Night Charter – FJD $250,000
Photos courtesy of Blue Lagoon Cruises
Nanuku Auberge Resort & Spa
An exclusive beachfront boutique property set on a 550-hectare Estate and a 2-acre private island Nanuku really has that wow factor! Located on Fiji's main island of Viti Levu in Pacific Harbour this luxury resort offers an outer island experience on the mainland with panoramic ocean views, a 2km sandy swimmable beach, house reefs and lush mountain backdrop. There is so much to do when staying at Nanuku Auberge Resort & Spa as Pacific Harbour is the Adventure Capital of Fiji. Famous for its pristine rainforests, water rafting, world class shark diving, food safaris, eco parks and more. You will also have exclusive use of their 78- foot cruise boat.
Nanuku Auberge Resort & Spa is an all-suite & villa beachfront property perfect for a group. A short 25 minute flight from Nadi – why not arrive by helicopter onto the properties helipad? The drive from Suva is 1 hour or 2 ½ from Nadi.
With 24 villas/units an approx. cost is $NZD35,000 per night. From 1 October 2018 there will be an additional 13 Villas taking us up to a total of 37 villas and this would then be approx. $NZD52,000 per night (subject to change).
They can cater for treetop dining, under the stars cinema with a pop up bar and food service, a Spa, Yoga, pilates … Of course there is dining on the beach or romantic picnics on the private island or even the Sand Bar.
Every room has its own private pool and there are plenty of rooms to cater for all groups!
"A wedding venue as unique as you" – Nanuku offers a choice of idyllic locations to make dream weddings in Fiji a reality. Imagine a beachfront sunset ceremony, an intimate vow exchange in a lush tropical garden, cocktails by a shimmering pool, an oceanfront dinner celebration. The magic and romance of Fiji is unrivalled and provides the perfect backdrop for your special day. Packages tailored to you as a couple by accomplished wedding planners will create an unforgettable beachfront "I do" experience.
Photos courtesy of Nanuku
Royal Davui
This property really does have the wow factor!! An exclusive 5-star adult-only resort situated in spectacular Beqa Lagoon. The property is hidden on a remote island atop a living reef, fringed by white-sand beaches and sapphire waters. Transfers are available from both Suva and Nadi airports.
A minimum 4-night stay is required to confirm a buyout – but let's face it why would you want to stay any less at such a remarkable property!
A nightly cost of approx. $NZD41,500.00 will get you this entire island. A maximum of 32 people are able to be accommodated with 16 villas in total.
Inclusions: Kava ceremony, Nightly canapes, Twice daily made service, Pure Fiji bathroom amenities, heated private plunge pools, all meals (breakfast, lunch and dinner), welcome refreshments, free use of all non-motorized waters sports.
Weddings are a specialty and Royal Davui really will make your wedding day unforgettable.
Photos courtesy of Royal Davui
Still need help?
Wedding Travel pride ourselves on getting to know you as a couple as well as your guests and will tailor-make packages specific to you. We can talk you through the specifics of resort buy-outs at any of the resorts listed, as well as having access to packages for a number of other resorts.
Wedding Travel offer a one-stop travel experience and can assist with flights, including wedding specifically negotiated wedding airfares, accommodation, transfers, cruises, tours and insurance for the entire wedding group. With options for every taste, budget and destination, Wedding Travel is excited to be a part of making your wedding vision come to life.
Contact us to explore any of the resort buy-out options.