Bula Bride's Tips for creating your dream wedding cake 
Hi Brides! Let's chat about your Wedding Cake!
Your wedding cake is one of the centrepieces of your wedding reception, and will wind up featuring in a number of photos. Picking your cake can be tricky! You will want it to make sure you keep the following things in mind, especially if you are planning a destination wedding.  
1. You need to finalise your guest list (and wedding menu) first.  
First things first ladies….PLAN AHEAD! Picking your guests, finalising your guest numbers and organizing your wedding menu are all crucial to deciding what kind of a cake you will end up choosing. We suggest making sure you have all your guests dietary needs noted down as well. (Having a gluten free, or sugar free option like cupcakes is always nice for your guests that have strict health and diet restrictions.) 
 
Cakes by Taste Fiji
2. Selecting your baker 
Choosing who will make one of the most important cakes you will ever eat is a daunting task. So make sure you research the bakers that are in your wedding location.  If you are reading this, then you are considering Fiji as your destination wedding location (we second that idea!). We have a list of bakers who specialize in wedding cakes in our Vendor Directory. This should help you decide who will create your cake. These bakers are specialists in their craft and can create for you a bespoke cake creation to make you go WOW! and YUM!
If you are getting married at a resort and have chosen one of their wedding packages, then you most likely have a wedding cake included in that deal. We suggest following the same guidelines we have laid out, but working with the head chef or baker at the resort. Most Resorts, especially ones that are well versed in hosting weddings, will be more than happy to assist you in making your wedding cake picture perfect and delicious to boot. 
Cakes by Baked In The Tropics
3. Picking your cake style should be one of the last things you do
Your cake should be an eatable reflection of your wedding. A wedding cake should be a subtle nod toward your wedding décor and theme. For example if your theme is more Boho Chic, a naked cake, or simple cake with real flowers, would make more sense than a frilly cake with a classic cake topper.  You should chat with your baker either via video call or in person to discuss the particulars. We suggest using images as much as possible when explaining what you want. This gives both you and your baker a clear vision for what the end product should be, and avoids miscommunication and disappointment on your big day.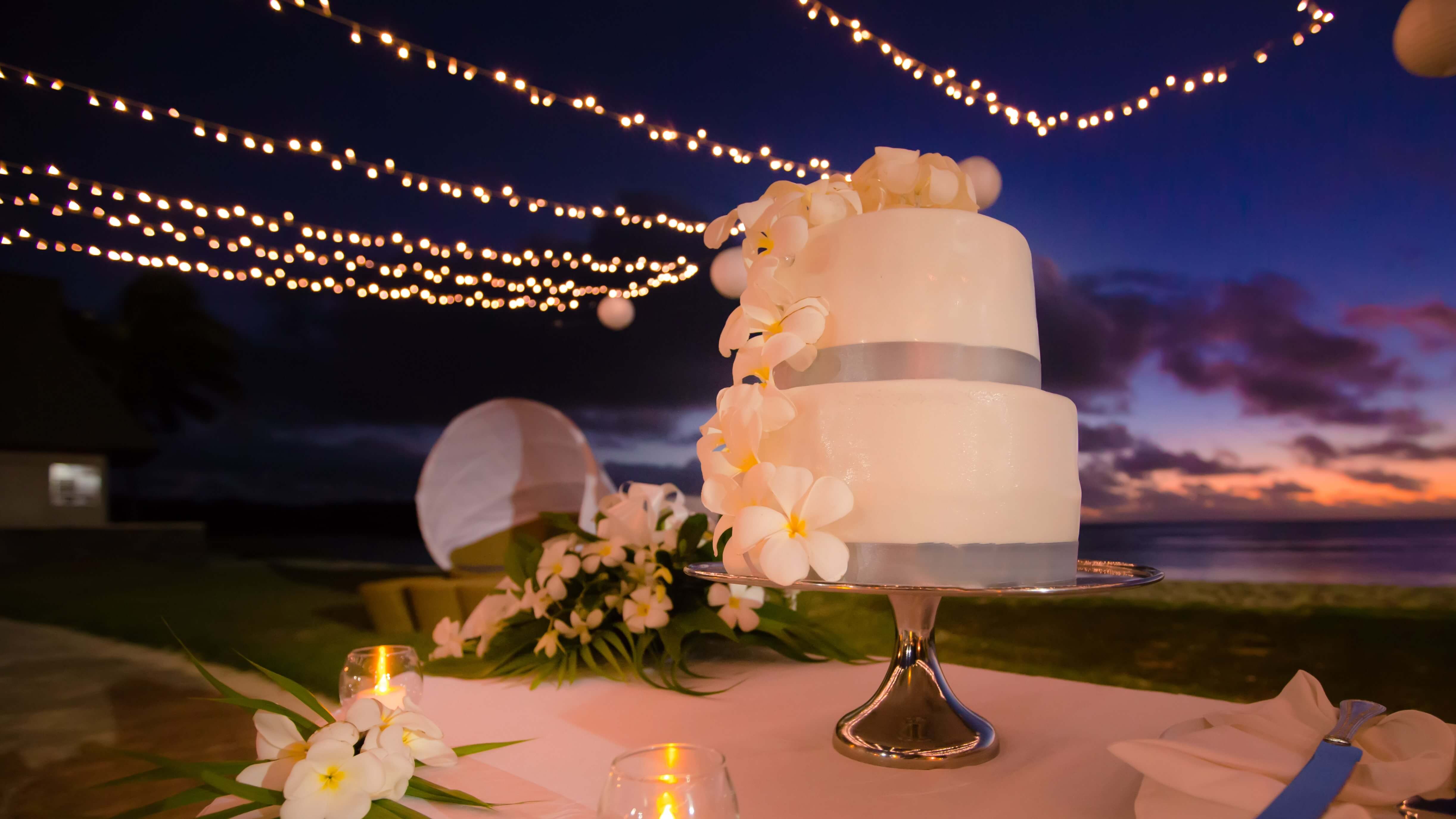 4. What size is best? 
The size of the cake you select is important for many reasons. For one thing the size has a lot to do with the price you pay. A popular option right now is to have an intricately decorated smaller 'cut cake' for photos etc, while ordering a few larger sheet cakes of the same flavour that are served to guests. That way you get your actual dream cake, your guests get the exact same flavoured cake, and you don't have to fork over a chunk of cash for a cake.  
Make sure you advise your baker how many people the cake will be expected to feed. They will be able to give you a guideline as to the size of the cake you will need.
Some people also choose to go for larger cake options as they want to wow their guests with something really amazing and make sure they get more than a little nibble. Your wedding cake can replace dessert on your menu, and if so, make sure the portions are generous.
 
Cakes by Sheraton Fiji
5. Always consider the weather
Ok. We cannot stress this enough. When choosing frosting/icing and style is super important to consider the weather.
Take into account the venue. Are you outside? Then maybe something that is more solid, that will be less affected by the humidity will be best if your cake is not going to be inside in air conditioning. Are you going to be transporting the cake from an external supplier to your venue? This is where your baker consultation will come in super handy. They will know what is the best way to transport your cake, what spot is best for your cake to sit, and what types of icing etc will hold up the best for photos etc. Again, if you are having your dream day at a resort, the head baker will have a good idea of what type of topping, icing etc, is best for the weather, what time the cake should come out and where the best spot is to have the cake displayed.  
Cakes by Mana Island Resort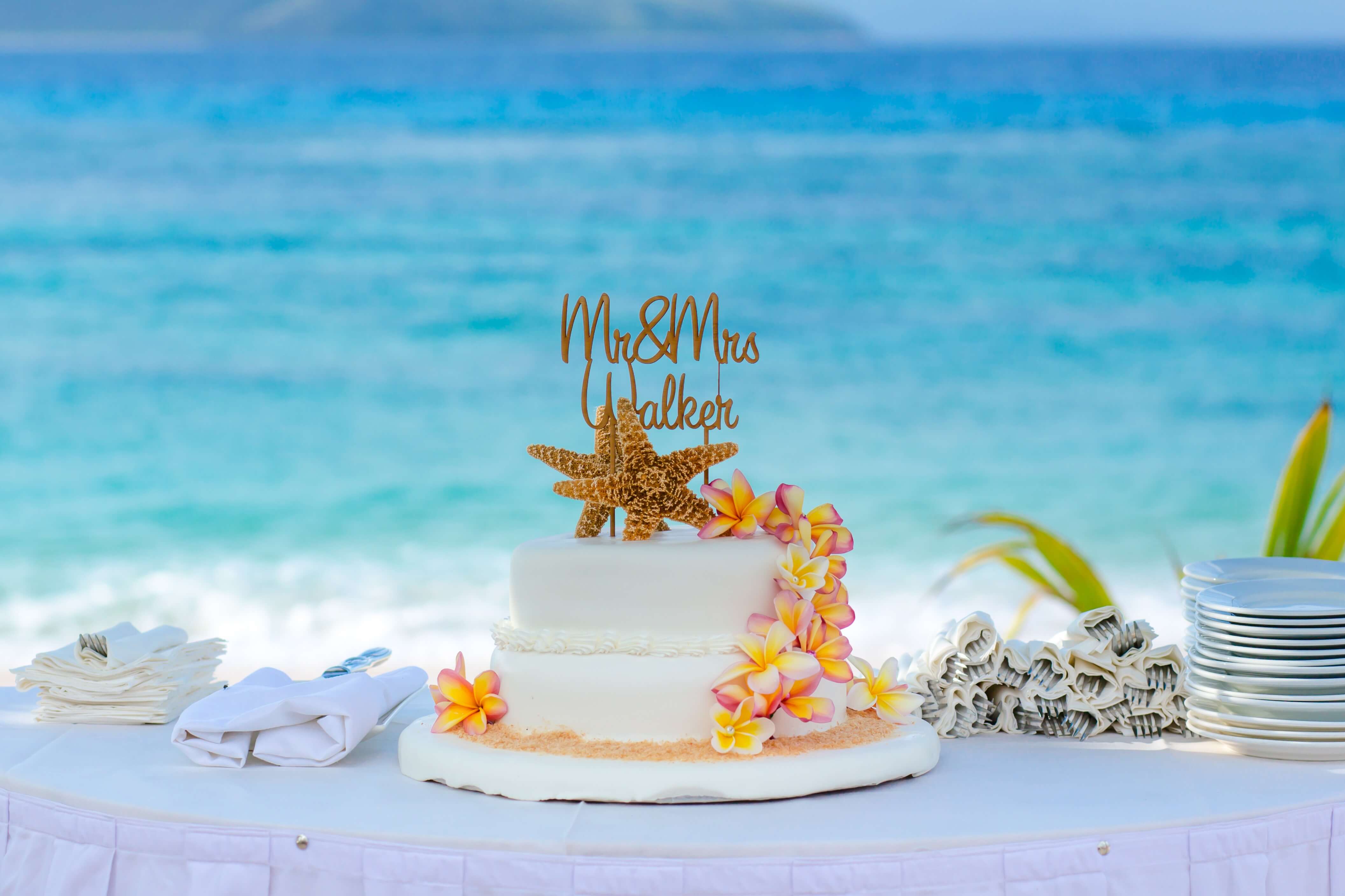 6. Don't forget to enjoy a piece! 
Everyone does the obligatory "lets feed each other / squish cake in each others faces" moment. But don't forget to take a second to sit down and enjoy a piece of YOUR wedding cake! YOU DID IT GIRL! YOU GOT MARRIED! Take a second to enjoy it, sink your toes in the sand, sit under a palm tree, or take a walk with your new spouse and enjoy your special day. Because we think after all the effort of creating your dream cake, you should EAT IT TOO!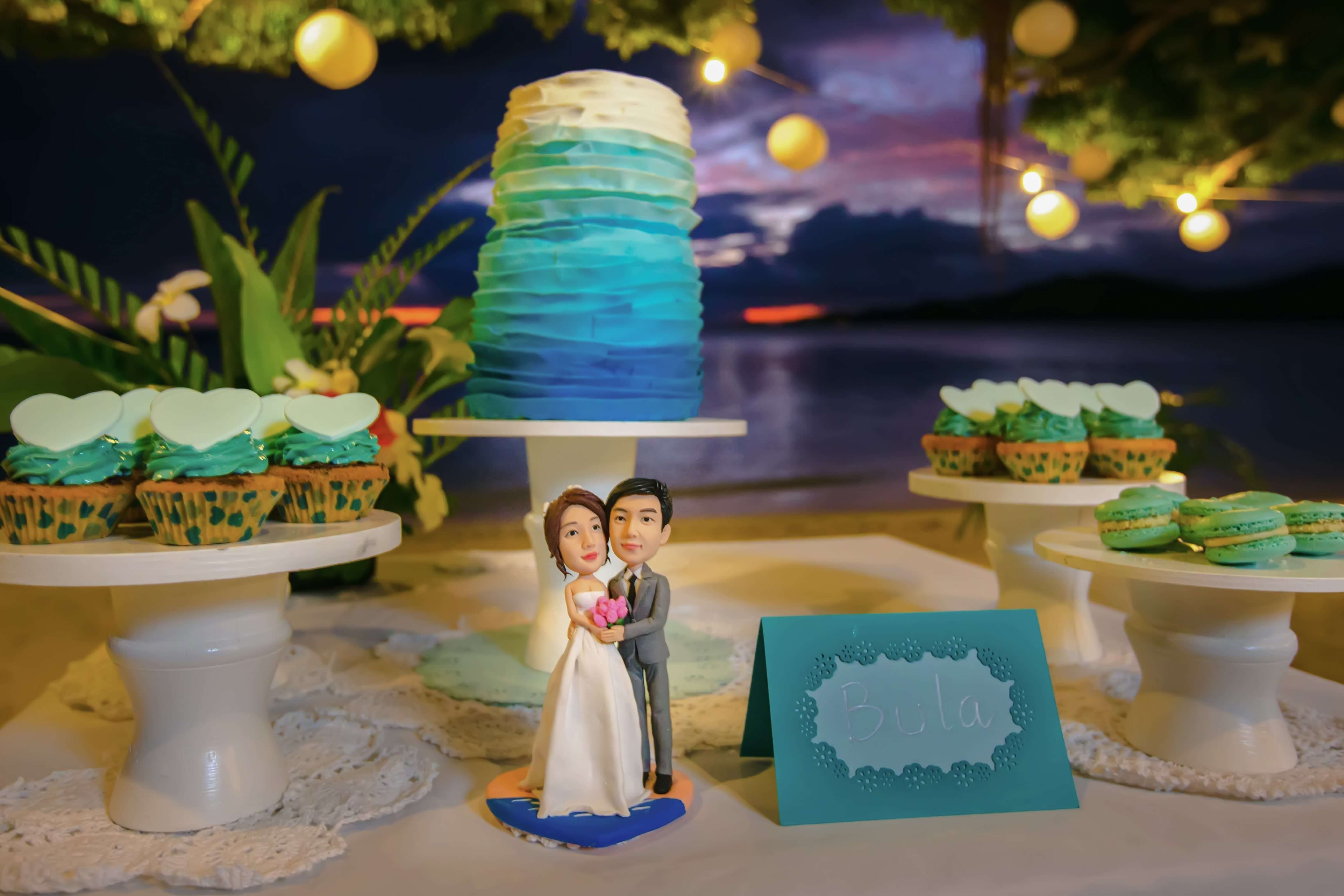 Bula Bride's super helpful cake glossary for all you non-bakers out there!

Basket Weave
A piping technique that features interwoven horizontal and vertical lines like a wicker basket

Beading
A border along the edge of tiers that resembles tiny pearls

Buttercream
A butter and sugar cream with a smooth rich texture. It doesn't survive well in heat, so be sure to check with your baker regarding storage requirements

Cornelli
An elaborate piping technique that is a lace-like pattern

Fondant
A stiff dough-like icing that can be spread and rolled over cakes for a smooth finish

Ganache
A soft rich mixture made of chocolate and cream used as icing or filing

Gold-leaf
Edible shiny and crinkly gold decoration pressed into icing

Hand-painting
Patterns are brushed on to the cake by hand and are completely edible

Marble
Mixing together different coloured icings or cake batter to create a swirled effect

Marzipan
A paste of almond, sugar and egg white that can be mopeds into flowers or designs to decorate the cake

Naked cake
A cake with no outer layer of icing, meaning the layers of cake are on full display. Fruit or flowers are often the decorate element

Ombre
Tones of icing colour blend in together, usually graduating from light to dark

Pillars
"Legs" of wood or plastic used to seperate layers of cake

Royal icing
A white, glossy, hard icing perfect for decorations such as dot or lattice-work

Ruffles
Fondant or buttercream used in a way to make it look like fabric folds

Sheet cake
A large rectangular cake to provide supplementary slices from a smaller cake used for cutting.

Tier
One layer of a multi-layered cake
Main image: Cake by Taste Fiji, Photo by Ocean Studio Fiji
Sheraton, InterContinental & Mana images all courtesy of Ocean Studio Fiji.