Temporary Suspension of Boeing 737 MAX To and From Australia/NZ
13 March 2019
If you are travelling to Fiji Airways in the near future please take the time to check if your flight has been rescheduled so you can plan and prepare for any changes.
The below statement follows the temporary grounding of Fiji Airways' Boeing 737 MAX 8 aircraft.
Fiji Airways will use its existing Boeing 737 NG aircraft as well its Airbus A330 fleet to replace flights which were to be operated by the MAX 8s. Some flight times may be impacted as a result, and all affected customers will be notified of any change in their flight schedules.
Customers wishing to query their flight schedules can contact Fiji Airways Reservations, however, there may be extended waiting times. Customers are requested to ensure their direct contact details in their bookings are up-to-date. If your flights are booked through a travel agency or third party agency, please contact them.
Customers can receive up-to-date flight status information on the Fiji Airways website, by visiting www.fijiairways.com.
13 March 2019

New Zealand's Civil Aviation Authority has suspended the operation of the Boeing 737 MAX Aircraft to or from NZ. Fiji Airways is the only operator flying the Max 8 Aircraft into NZ, and the airline will be doing everything it can to minimise disruptions by using replacement aircraft for the 4 to 5 flights a week that are operated by the MAX 8.
12 March 2019
Australia's Civil Aviation Authority has temporarily suspended the operation of the Boeing 737 MAX Aircraft to or from Australia in light of two recent fatal accidents involving these aircraft. Fiji Airways flights will be affected by this suspension, however CASA is working with Fiji Airways to minimise any disruptions. Some schedule changes are likely and affected customers will be notified.
How do I know if I am on this aircraft?
Refer to your ticket which should advise of the type of Aircraft you are traveling on.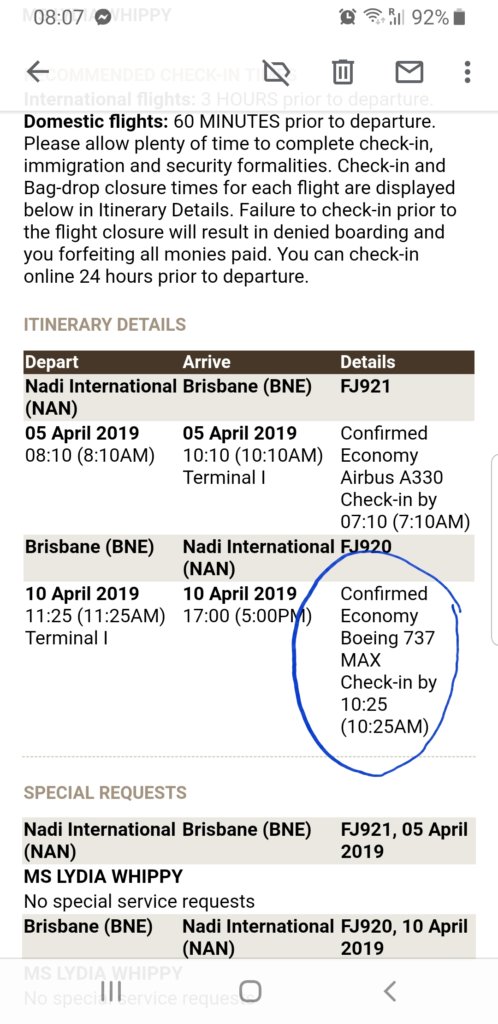 What if I'm travelling to Fiji in the near future?
In case your flight is impacted, keep a close eye out for on any communications from the Airline and recheck your flight 24 hours before departure.
Keep up to date here:
Fiji Airways official travel alerts